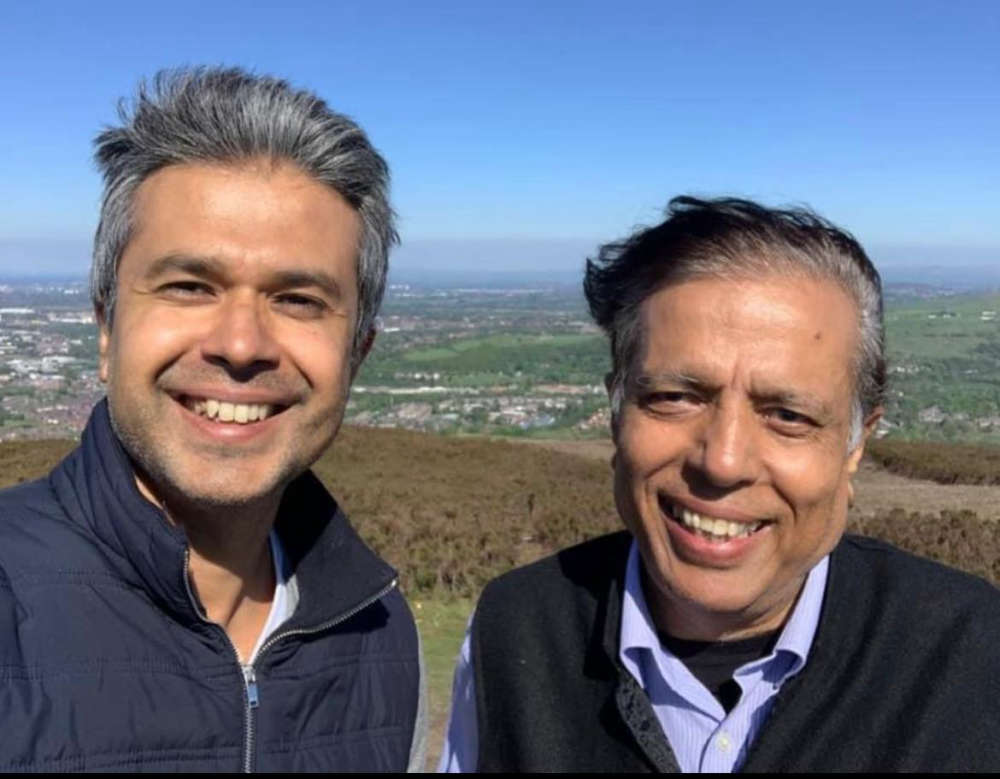 MY INSPIRATION: Dr Aseem Malhottra with his father Kailash.
Consultant cardiologist Dr Aseem Malhotra has become the chairman of a new public health charity as he keeps his father's legacy alive.
Aseem's father Dr Kailash Chand OBE, a former award-winning Ashton GP and ardent NHS campaigner, suddenly and sadly passed away just a few weeks ago aged 73.
Tributes poured in literally from around the world in memory of his great work, particularly on defending the free services of the NHS, with a special ceremony held in his honour at Dukinfield Town Hall and attended by more than 100 eminent family and friends.
His son Aseem, who grew up in Ashton and attended Manchester Grammar School, has just been made the chair of the Public Health Collaboration (PHC), a rival to Public Health England and created to 'boost the nation's health'.
Aseem said: "The new health charity will continue my father's legacy to defend the NHS and its core values.
"In fact my greatest inspiration for this mission to protect and sustain the NHS was my father. He wholeheartedly supported all my medical and public health work and I will do all in my power to ensure his legacy for Tameside, the nation and the world is kept alive."
The cardiologist, now based in London, explained that the charity has been created by more than 200 doctors as a rival body to Public Health England in a campaign to do more to combat especially the problems of obesity, poor diet and 'medical misinformation'.
In a hard-hitting video posted across social media, he states: "The first step in solving any problem is recognising there is one. When it comes to our health we have a major crisis."
He says that crisis is now so huge the NHS can not cope with the demand, not least due to the 'pandemic of chronic physical and mental disease'.
He says the PHC has "grown a grass roots army of 300 members over the last few years, plus 200 ambassadors - half being doctors, nurses, dieticians, nutritionists pharmacists and health coaches, with the other half made up of patients and members of the public.
"This army is ready to take action to clean up the health and medical misinformation mess that destroys millions of lives on a daily basis," he said.
"Unlike many other health charities we take no corporate sponsorship, and we are funded by the public for the public."
Dr Malhotra says Public Health England had failed in its responsibilities to the public, which include making people healthier by promoting healthier lifestyles, and said the PHC will be lobbying MPs to make changes that move the country towards "a healthier and happier society".
He appeals for people to seek out the charity and find out more to fix 'a broken NHS'.
Public Health England will be officially replaced by a new agency next year to incorporate the pandemic response work of the PHE and NHS Test and Trace as well as well as the analytical capability of the Joint Biosecurity Centre under a single leadership team.
As we have previously reported, Dr Malhotra co-founded Action on Sugar and is the author of the Pioppi Diet, The 21-Day Immunity Plan and 'A Statin Free Life'.
Read more from the Tameside Reporter
Click here for more of the latest news
Click here to read the latest edition of the paper online
Click here to find out where you can pick up a copy of the paper