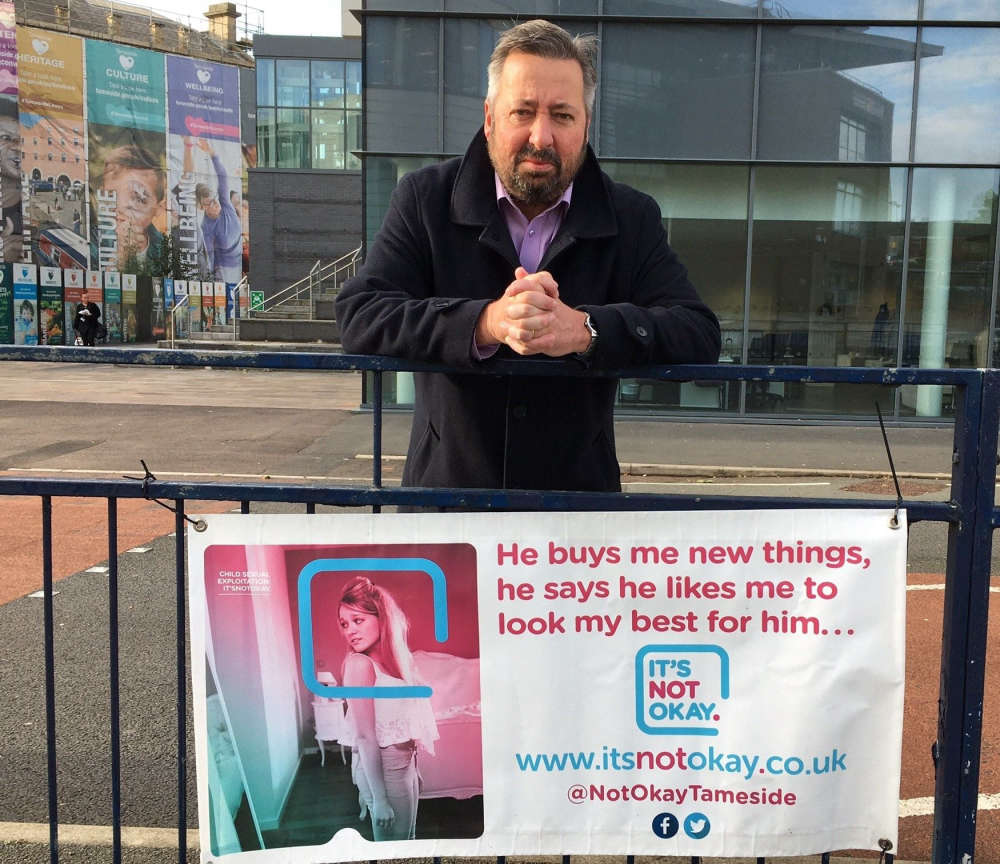 Councillor Bill Fairfoull with the campaign banner in Ashton.
Parents and people who work with children in Tameside are being urged to keep on the look out for signs of exploitation.
A Greater Manchester month of action is running throughout October to raise awareness that child sexual and criminal exploitation is still happening and partnership work is taking place to help tackle the issue.
Tameside Council say it is working with the police and other partners on joint enforcement visits to premises where concerns have been identified. There will also be multi-agency training for professionals that work with young people and social workers will be talking to young people about the risks.
Packs are also going out to schools to raise awareness and roadside railing banners have gone up across the borough to highlight the campaign.
Child sexual exploitation (CSE) is a type of sexual abuse. When a child or young person is exploited they're given things, like gifts, drugs, money, status and affection, in exchange for performing sexual activities.
Children and young people are often tricked into believing they're in a loving and consensual relationship, which is called grooming. They may trust their abuser and not understand that they're being abused. For more information, see www.itsnotokay.co.uk
Child Criminal Exploitation is when organised crime groups and gangs as well as individuals use promises, threats and intimidation to persuade or force people to commit crime. It will look like they are wanting to be friends, but they are trying to gain trust and create a false friendship, leading to the victim feeling like they owe them something.
One type of child criminal exploitation is known as 'County Lines' and is when children and young people are forced to transport drugs, within the area they live and/or up and down the country. But it can also include children being forced into other criminal activities such as shoplifting. For information, visit www.programmechallenger.co.uk
Councillor Bill Fairfoull, Tameside Council Executive Member responsible for children and families, said: "There has been so much going on in the world with Covid and changes in normal routines and pastimes, but child sexual and criminal exploitation is still happening and people are being reminded to remain vigilant. It's important people know the signs to look out for and that there's help and support available."
Some of the signs a child may be caught up in exploitation include:
• Changes in usual behaviour
• Not coming home when they say they will, or going missing
• Overly protective of their phone and social media content
• Increased use of alcohol or drugs
• Sudden changes/fear of people/friends
• Unexplained gifts or money
• Use of language that is not usual for them
• Unexplained injuries
• Detailed knowledge about drugs and/or criminal activities
• Knowledge of areas which they do not have any links to
Anyone who has any concerns should speak with Greater Manchester Police via LiveChat on their website gmp.police.uk/ or dial 101. Alternatively, you can make a report to Crimestoppers anonymously on 0800 555 111.
Read more from the Tameside Reporter
Click here for more of the latest news
Click here to read the latest edition of the paper online
Click here to find out where you can pick up a copy of the paper