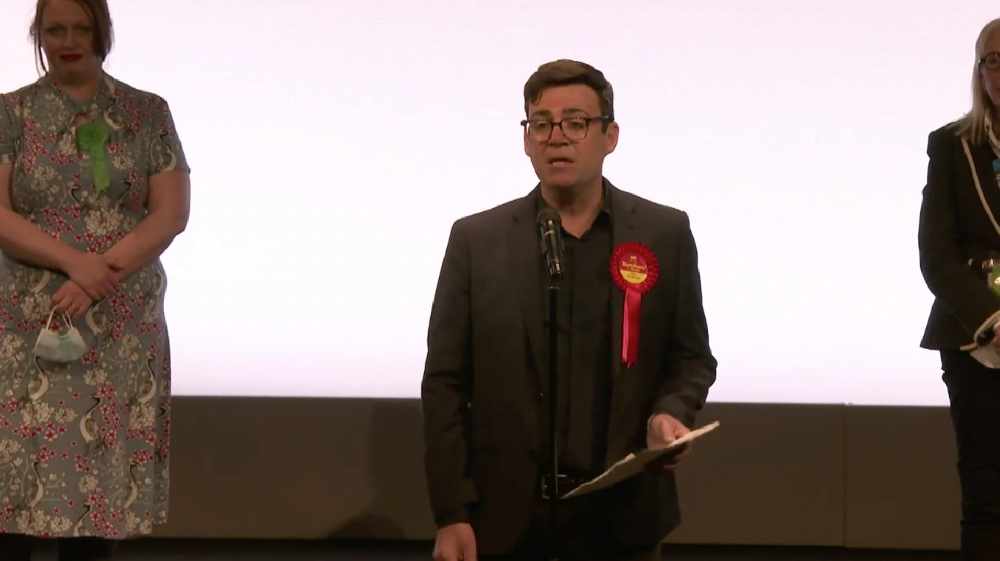 Andy Burnham on the stage after being re-elected as the region's mayor.
Andy Burnham has been re-elected for a second term as mayor of Greater Manchester with an overwhelming majority.
The nine candidates vying for the position were - in alphabetical order by surname - Nick Buckley (Reform UK), Andy Burnham (Labour), Laura Evans (Conservative), Marcus Farmer (Independent), Melanie Horrocks (Green), Simon Lepori (Liberal Democrat), Alec Marvel (Independent), Stephen Morris (English Democrat) and David Sutcliffe (Independent).
Former MP and government minister Burnham, 51, was first elected into the £110,000-a-year role in 2017 with 63.4 per cent of the votes cast.
This time around, he has increased his share of the vote to 67.31 per cent.
His nearest challenger, Laura Evans of the Conservatives, got 19.6 per cent while the Green Party's Melanie Horrocks was third with just 4.37 per cent.
The full results
Andy Burnham (Labour) - 473,024 first preference votes; 67.31 per cent
Laura Evans (Conservative) - 137,753 first preference votes; 19.60 per cent
Melanie Horrocks (Green Party) - 30,699 first preference votes; 4.37 per cent
Simon Lepori (Liberal Democrats) - 22,373 first preference votes, 3.18 per cent
Nick Buckley (Reform UK) - 18,910 first preference votes; 2.69 per cent
Stephen Morris (English Democrats) - 9,488 first preference votes; 1.35 per cent
Marcus Farmer (Independent) - 6,448 first preference votes; 0.92 per cent
David Sutcliffe (Independent) - 2,182 first preference votes; 0.31 per cent
Alec Marvel (Independent) - 1,907 first preference votes; 0.27 per cent
After residents from across the region went to the polls to have their say on Thursday, the votes were verified on Friday night and the counting of the ballot papers got under way at the Manchester Central Convention Centre on Saturday morning. The result was officially declared in the auditorium at around 4.15pm on Saturday afternoon.
The election was due to take place last May but it had to be postponed as a result of the coronavirus pandemic.
How the votes were cast
Turnout is up almost six per cent on the last election, from 28.9 per cent to 34.74 per cent for all 10 boroughs. In total, 714,745 votes were cast.
The turnout in Tameside was 32.40, while in Oldham it was 37.72.
These are the votes cast by borough:
Manchester: 113,999 (Electorate: 381,563; Turnout 29.88)
Stockport: 89,406 (Electorate: 223,387; Turnout: 40.02)
Trafford: 77,487 (Electorate: 172,639; Turnout: 44.88)
Bolton: 74,556 (Electorate: 205,388; Turnout: 36.30)
Wigan: 73,049 (Electorate: 242,786; Turnout: 30.09)
Oldham: 62,454 (Electorate: 165,556; Turnout: 37.72)
Bury: 59,268 (Electorate: 145,190; Turnout: 40.82)
Rochdale: 55,826 (Electorate: 164,783; Turnout: 33.88)
Tameside: 55,178 (Electorate: 170,293; Turnout: 32.40)
Salford: 53,522 (Electorate: 186,058; Turnout: 28.77)
Overall in Greater Manchester: 714,745 (Electorate: 2,057,643; Turnout: 34.74)
'This vote sends a clear message to all Westminster parties'
In an - at times - emotional victory speech, Mr Burnham thanked the "wonderful people of Greater Manchester" and sent a message to Prime Minister Boris Johnson, urging him to "show us you're serious about levelling us up with London".
The mayor said: "I value every single vote you have given me. I know that people who normally support other parties have voted for me. I will always remember that and respect it. I will continue to be a voice for all people and all communities.
"I will continue to adopt a place first, not party first, approach. Where the government gets it right and treats us fairly, I will work with them. But where they don't, I will challenge them for you as forcefully as I can. Greater Manchester expects nothing less.
"This vote sends a clear message to all Westminster parties. People are buying into English devolution, they are telling you to deliver more of it - not less. They like us having the ability to do more for ourselves, to do things that are right for Greater Manchester.
"They can see how it's making politics work better for them and that is reflected in the council results across Greater Manchester. They value the stronger voice that it's given to the North of England and they expect us to use it. Don't give us devolution and be surprised if we answer you back - particularly if you do things here that you would never dare to do in London.
"People are saying that they want the levelling up that has been promised. I read this week that there is 'widespread cluelessness' within the government about what levelling up means, so here is where I can help you, Prime Minister. Let me define it.
"It can't be achieved by scattering funds across a few favoured places, it can be achieved when you give millions of people in a city-region like this one a modern, affordable public transport system. When it costs the same to catch a bus in Harpurhey as it does in Haringey - £1.55, not £4 or more that people pay here.
"Levelling up is achieved when you give all people the dignity of decent work with wages that don't have to be topped up with visits to the foodbank, and when we have the kind of jobs here which means our young people don't have to move south to get on in life - which I had to do 30 years ago.
"And levelling up is achieved when every single one of our fellow citizens has the foundation of a good secure home beneath them. Better jobs, better homes, better transport - these will be my top priorities.
"We will hit the ground running next week with major moves on all three, starting on Monday with transport. This is a resounding mandate to bring our buses back under public control. The Greater Manchester public have called time on 35 years of bus companies having the run of the road, of rising fares and routes being cut.
"Make no mistake, we are going to build the Bee Network - a London-style public transport system with London-level fares. It will create the foundation for a more productive economy and it will connect our residents to opportunity. To the bus companies, I say respect democracy and do not stand in our way. To the Prime Minister, I say work with us, make it happen more quickly, show us you're serious about levelling us up with London - it's in your interests and it's in ours.
"The time for debates is over, it is time to deliver. We are building the new Greater Manchester and from now it goes faster. This is our place, this is our time."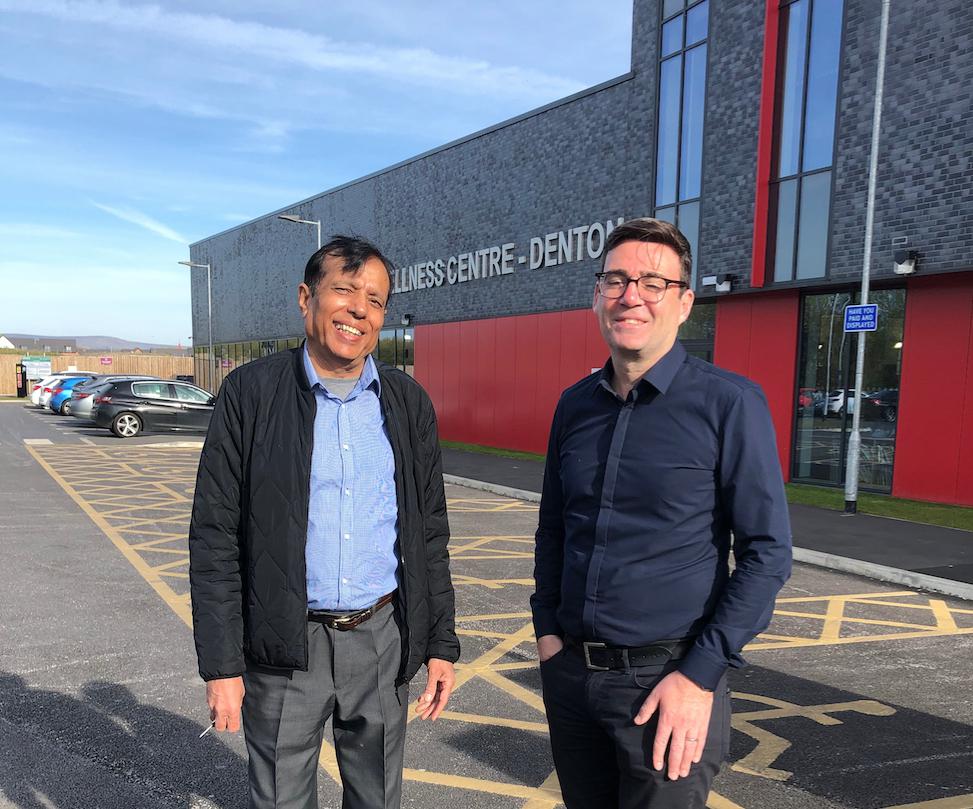 Andy Burnham campaigning in Denton earlier this month, pictured with former Ashton GP and NHS campaigner Dr Kailash Chand, OBE.
How the losing candidates have reacted
The Green Party's Melanie Horrocks tweeted:
Third.

Doubled our vote share

30,669 1st preference votes

30% ish of 2nd pref anecdotally

Promises from Andy about bikes on trans

With a tiny crew of Brian, @OwainAlty Ryan & stace - plus guest appearances from Astrid, Scott & Dan WE DID GOOD!!! 💚💚💚

— Melanie Horrocks (@MelHorrocks19) May 8, 2021
Liberal Democrats' Simon Lepori, who came fourth in the vote, said on Twitter:
Thank you Greater Manchester, especially all 22,373 of you who put your faith in me. Especially thanks go to my agent @SebastianBate #gmelects #gmmayor pic.twitter.com/3vXjZj6tbJ

— Simon Lepori 🔶🇬🇧🌈🐝 (@SimonLeporiLD) May 8, 2021
Reform UK's Nick Buckley said:
It's over. Labour win with a big majority. The people have spoken and @AndyBurnhamGM has a mandate to continue his vision for Greater Manchester. No complaining. The answer is to be a better candidate next time. 👍 @reformparty_uk @TiceRichard

— Nick Buckley MBE (@NickBuckleyMBE) May 8, 2021
More reaction to Burnham's re-election
Deputy Labour party leader Angela Rayner congratulated Burnham on Twitter:
Congratulations to @AndyBurnhamGM for a deserved landslide victory. He stood up for the people of Greater Manchester, and we stood up for him.

As Mayor he showed he was on the side of our people, he connected with people and I know he will work tirelessly for Greater Manchester. pic.twitter.com/uZjkNIpaBS

— Angela Rayner (@AngelaRayner) May 10, 2021
Denton MP Andrew Gwynne tweeted:
🎉🎉🎉 CONGRATULATIONS to @AndyBurnhamGM on his superb re-election as Mayor of Greater Manchester with an increased majority and 67.3% share of the vote (up from 63% in 2017).

So proud to have chaired Andy's campaign! Bloody brilliant mate. 👏🏻👏🏻👏🏻 pic.twitter.com/tLStuxXnRg

— Andrew Gwynne MP 😷💙 (@GwynneMP) May 8, 2021
Stalybridge and Hyde MP Jonathan Reynolds tweeted:
A tremendous result. Well done @AndyBurnhamGM https://t.co/nVLdz3yUd4

— Jonathan Reynolds (@jreynoldsMP) May 8, 2021
Oldham East and Saddleworth MP Debbie Abrahams reacted:
Absolutely delighted. So well deserved! @AndyBurnhamGM https://t.co/meEveUe2kL

— Debbie Abrahams MP (@Debbie_abrahams) May 8, 2021
What the mayor is responsible for
The directly elected metro mayor is responsible for strategic governance in the region that includes health, transport, housing, strategic planning, waste management, the fire service and skills, as well as chairing the Greater Manchester Combined Authority and assuming the powers of a Police and Crime Commissioner.
Burnham had resisted calls for him to resign after serious failings by Greater Manchester Police emerged in a damning report by the police inspectorate last December.
Chief Constable Ian Hopkins quit his post last December, claiming he "felt the time was right" to bring forward his retirement. But Burnham confirmed in March that he had ordered Mr Hopkins to resign.
The report had found that the force, the third largest in England, had failed to record 80,000 crimes over a 12-month period - including one in four violent crimes - and that people were being "denied justice".