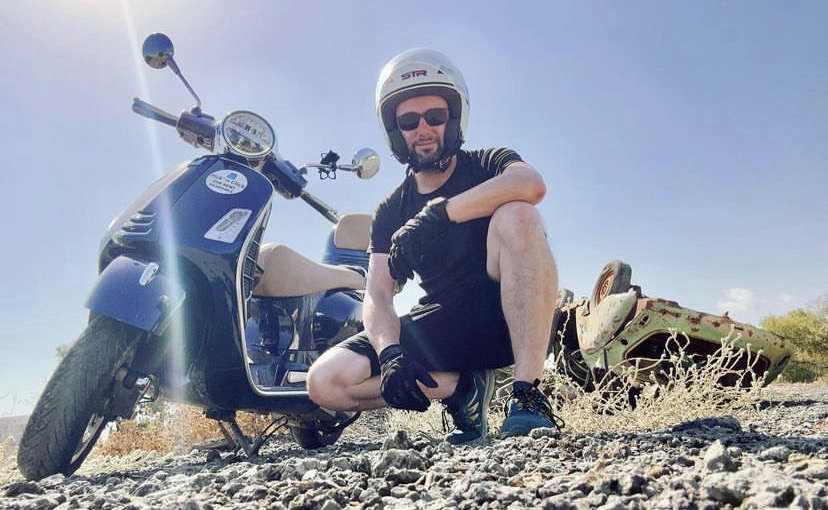 When 39-year-old Jamie Parker announced to his family and friends that he would be taking a short career break to ride his motorbike abroad, he failed to mention that his plan entailed an eleven week tour of every country in Europe.
"I had this vague idea in my head that it would be fun to visit all of the countries in Europe but I hadn't told my friends that because I thought they would think I'd lost my mind," Jamie said.
It was his exhaustion and the idea he had started 'started something [he] couldn't stop', in regard to his business, that had spurred him on.
He felt that he had reached a point where 'things needed to change' and so made the life-changing decision to sell his company and the properties he owned before upping sticks and travelling 14,266 miles across the continent.
The former property developer said he had didn't prepare for the trip - merely buying a few 'bits and pieces' and doing some 'loose planning' - as it had felt more like a 'fantasy' in his head, so he had resorted to 'winging' the majority of the trip.
"I'd only just got my motorbike licence so it was a very new thing for me. I just, sort of, cleared a few things in my life so that I could be free, then set the date of August 1 and just disappeared. I think as it became reality, it felt very different"
After beginning his challenge in the Lake District, Jamie stayed a night in Wales and then headed over to Ireland on the ferry.
"I was only three days into the trip at this point but I had an accident and fell off. I had this point where I was questioning whether it was all a stupid idea. 'Do I give up and go home?' I kept asking myself - it really scares you though.
"My friends were telling me 'you need to just get back on it and carry on' and so I did. The following day, I caught the ferry to Spain and then it really began."
He continued: "It was a very strange moment of riding the motorbike off the ferry onto Spanish land and suddenly reality kicked in. It's very different riding abroad to in the UK.
"So everywhere I could, I camped. I got through three tents on the trip because the first two I had got crushed in Iceland."
Jamie described Iceland as 'beautiful yet very brutal' due to its intense weather conditions.
"Iceland is just incredible, it's like nothing else possibly in the world, it's so unique and just an amazing place to be. There's proper road around the circumference of the island but in the middle it's just off-road, which is hard to ride over on a motorbike so it definitely challenged me as someone new to motorbikes.
"I was riding there with three other people - one of whom fell off twice in one day, breaking his bike, and then after I left, the other guy broke his collarbone."
He added that he had met lots of 'incredible' people on his journey, which he felt was a result of being 'so exposed' and 'unable to hide' on a bike.
"It becomes a survival thing day by day," the 39-year-old continued.
"Towards the end, you definitely get into the flow of things and it's almost like autopilot. There's the daily checklist of ensuring there's petrol in the motorbike and you have water, food and somewhere to stay."
He emphasised that a crucial aspect of the trip, which he had decided beforehand, was to not be 'a typical tourist' - he didn't want to do any sightseeing or follow 'tourist routes'.
"I also wasn't aiming to go to restaurants. So for the most part, I took a cooker and just made myself one-pan meals from supermarkets; then when my cooker broke in the last few weeks, I just ate cold food."
Jamie is photographed below with the guitar he took on the trip, engraving each country into it as he went.