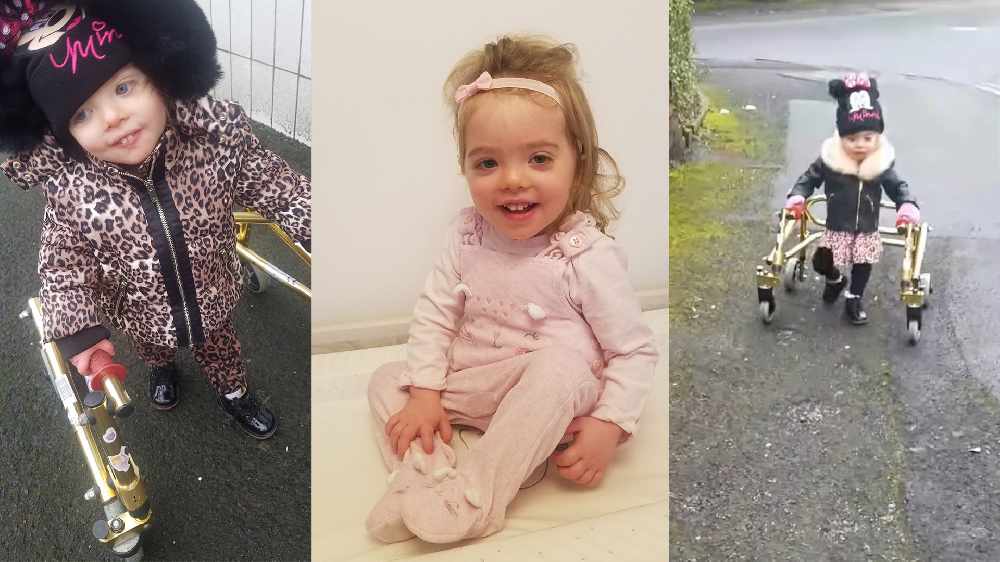 A little girl from Ashton is looking to raise awareness of a rare genetic condition by doing a sponsored walk - and she's hoping it'll take place around her favourite football team's stadium.
Two-year-old Ella Cooper suffers from Wiedemann-Steiner syndrome, a rare genetic disorder that causes developmental delay, short stature and a reduction in muscle tone.
The condition means that young Ella needs a walker to move about, and she's hoping to take that and do a lap of the Etihad Stadium, home of her City-mad dad's favourite team.
The family have been in touch with the club and are awaiting an answer from the charity department of the club.
It's an incredibly rare affliction, with only a few hundred people worldwide diagnosed with the disease, which led to a 22-month battle for Kay Garratt and dad Scott Cooper to find out what was wrong with their baby.
"As soon as she was born she couldn't put weight on," explained Kay.
"She had to be tube fed through the first part of her life.
"We had test after test to see what was wrong, but they came back normal."
After being born in Tameside Hospital, she had to be referred to Manchester Royal after young Ella left doctors baffled by what was causing her symptoms.
Kay continued: "It took 22 months, but genetics at Manchester Royal found a rare syndrome called Wiedemann-Steiner.
"They don't know how it's going to affect her in life. She has hyperaemia, her bones are very weak. She's tiny for her age - only 18 and a half pounds.
"They're trying to build up her muscles. She's been given a walker to help her learn to walk."
It's been a tough start to life for young Ella, spending Christmas in hospital, unable to have many experiences other children would have.
That's why her mum wants to do something big, to make everyone aware of the condition, which doctors think could be more common than is currently diagnosed.
"We've emailed Manchester City to see if she can walk around the stadium to see if she can raise money," she said.
A fundraising page for the Wiedemann-Steiner Syndrome Foundation has already reached £490, smashing Kay's target of £50. She wants to raise awareness of the disease so others won't have to go through the same as her family.
"From day one when she was born she ended up on the neonatal ward," Kay added.
"Once she came out of hospital they had to change her milk so many times - she wouldn't drink it. They thought she had a cow protein allergy at first. We ended up tube feeding her for 18 months because she wouldn't drink the milk.
"She spent the first 12 months of her life in hospital.
"It was 22 months of not knowing what was wrong with her. She just kept dropping weight.
"Manchester Royal have been fantastic with her. We're under a really good doctor, Dr Kannan, he's been brilliant with her and has pushed for every test."
As the illness is a genetic one, Kay was also tested to see if she carried the gene, but is thankfully negative.
Despite such a tough start in life, her mum says that Ella's incredibly resilient and is looking forward to starting nursery.
"She's beautiful, we always get people telling us that," Kay said.
"She's had needle after needle, tubes down her throat and she's been so brave through it all. They don't know if she'll ever walk or talk properly. We've just got her into nursery to start in April to see if that helps."
Kay is hoping they will hear back from the club soon so that planning for the walk can begin, but in the meantime, you can donate, just go to her fundraiser on Facebook by visiting https://www.facebook.com/donate/1078206036019981/1078206049353313/
Read more from the Tameside Reporter
Click here for more of the latest news
Click here to read the latest edition of the paper online
Click here to find out where you can pick up a copy of the paper