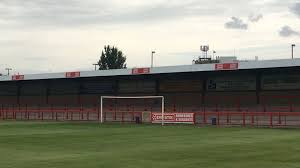 BetVictor North West: Droylsden 3-3 Colne
The points were shared in this opening day clash at the Butchers Arms in a game of two halves.
The visitors took a 3-1 lead into half time, Sefton Gonzales on his return to the Butchers Arms heading home from close range on 12 minutes after Droylsden had lost the ball on the half way line.
Colne could have got a second minutes later, Thompson saving well at the feet of Hazeldine before Droylsden equalised.
Rhys Clooney's shot was well saved by Burton but Colne failed to clear and Liam Caddick picked up the ball just outside the area and fired home.
Chippendale scored two in three minutes for Colne, Gonzales laying off the ball for him to score the first from inside the area, the second from a penalty after Thompson had brought down Hazeldine as he burst through the centre of Droylsden's defence.
The Blood were denied a second shortly after with Burton pulling off a brilliant point blank save to deny Aaron Burns.
A revitalised Droylsden started strongly in the second half and pulled one back on 51 minutes, Clooney heading home for his first for the club from a superb Wilkins cross
And nine minutes later Droylsden were level, Caddick with his second threading the ball through the defence into the back of the net.
By Nigel Barlow