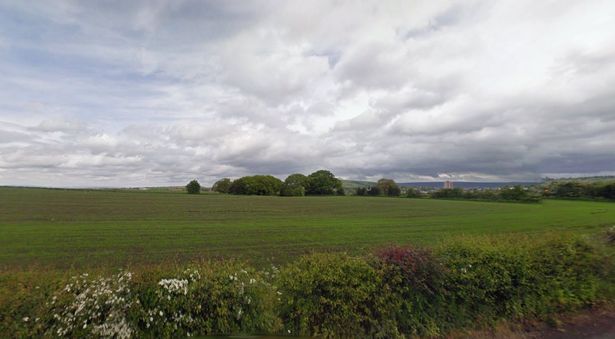 UNDER THREAT: Land in Godley.
Campaigners opposing plans to build Godley Green Garden Village are continuing to ramp up their protests against the proposals.
Tameside Council is backing the bid to create the 'green village' which would see the building of some 2,350 homes on greenbelt land near Hyde.
Chair of Hyde Conservatives, Andrea Colbourne, is fiercely battling the proposals in the fight to save the greenbelt.
She has now contacted the Ministry of Housing, Communities and Local Government regarding the development and has shared their response.
The ministry states that the village is not one which the government is officially supporting through its 'Garden Communities'.
The response states: "All planning applications must be advertised by the council... residents may make comments during this time and the council must take these views into account in reaching a decision."
Andrea added: "I'm pleased with the reply from the Ministry of Housing. At present GGGV is not and has not been a part of the Garden Communities project.
"It was part of the Greater Manchester Spatial Framework (GMSF), but Tameside Council want this proposed village to go ahead.
"Our local MP and Tameside Council leader are fully backing this development. This surprises me as we are constantly being reminded by the council how there is no money, but I am unable to understand how they can find millions of pounds to fund GGGV, whilst residents expect their council tax to be put towards frontline services such as fixing potholes or fixing gullies to prevent flooding.
"The government awarded the Greater Manchester Mayor over £80m to fund brownfield funding regeneration projects. The first two phases the council have brought forward have mainly been in Ashton and Denton where the leader and deputy leader have their seats with none of this money going to Hyde.
"So, on one hand the council is saying to people in Hyde, there isn't enough brownfield to develop on and we won't be regenerating your brownfield sites, but we will take your greenbelt to build on - it's not very fair.
"The response from the Ministry of Housing gives us good leverage as it states exactly what the council need to do if this is to go ahead and one of those stipulations is 'the council must take into account the opinions of local residents' - I'm certain there will be hundreds if not thousands of objections to this proposed development. Especially if Compulsory Purchase Orders (CPO) may be used to bully landowners into selling their land."
As already reported, council chiefs recently agreed the potential use of compulsory purchase powers to allow the controversial development to go ahead.
Following that news, many members of the Save Tameside Greenbelt Facebook group reached out to their local MP, Jonathan Reynolds, to ask about the subject.
In a letter to a constituent, the MP stated: "I can assure you that I do not think that CPOs should be required for landowners, and I will be pressing the council to ensure that their use on landowners are an absolute last resort.
"There is, however, a need to utilise CPOs when ownership of parcels of land are unclear and there is no landowner to negotiate with. It is for these reasons that the recent approval of their use was granted."
The Godley Green Garden Village is estimated to be a 17-year project, encompassing two multi-purpose district centres that include community, health and retail infrastructure.
In a statement, Tameside Council said it had a longstanding commitment to creating Godley Green in line with Garden Village principles.
A spokesperson said: "The council made two bids to join the national programme, firstly in 2016, then in 2018. However in the last round the Government only selected five locations each of which would deliver more than 10,0000 new homes, our scheme is smaller in scale and was not included.
"Although MHCLG has not included the scheme in their Garden Green programme the council has promoted Godley Green as a garden community through strategic planning frameworks and it is these principles that the vision for the project are built on.
"Organisations like the Town and Country Planning Association (TCPA) and RIBA have been promoting garden villages for decades as a positive and responsible way of delivering homes and communities and our scheme is in line with those principles.
"It is also worth noting that Godley Green has accelerated past many of the schemes in the current Government's garden community programme.
"The Government have supported Godley Green as a garden village through £10,000,000 of Housing Infrastructure Funding.
"Furthermore, the proposal is a part of the Council's approach to meeting mandated government housing targets. If the Council does not meet its housing targets then we run the risk of national government controlled planning policy allowing for less control of development across the borough. This would potentially allow much more dense, less environmentally responsible development on this site which does not bring benefit for the wider community.
"Our intention is to create a quality environment which protects and opens up greenspace (currently much of this site is inaccessible to the public and in private ownership, we are seeking to open this site up and create much more public open green space).
"The Ministry for Housing Communities and Local Government website clearly describes the Godley Green Garden Village as a key part of their plan to deliver much needed housing across the Country £866 million investment to help unlock potential 200,000 new homes - GOV.UK (www.gov.uk).
"In providing funding in support of Godley Green the Government set out their priorities as below:' Our priority is building the homes this country desperately needs. This first wave of investment totalling £866 million will help get up to 200,000 homes off the ground, making a huge difference to communities across the country. This is just one of the many ways this government is taking action to get Britain building homes again.'"
Read more from the Tameside Reporter
Click here for more of the latest news
Click here to read the latest edition of the paper online
Click here to find out where you can pick up a copy of the paper