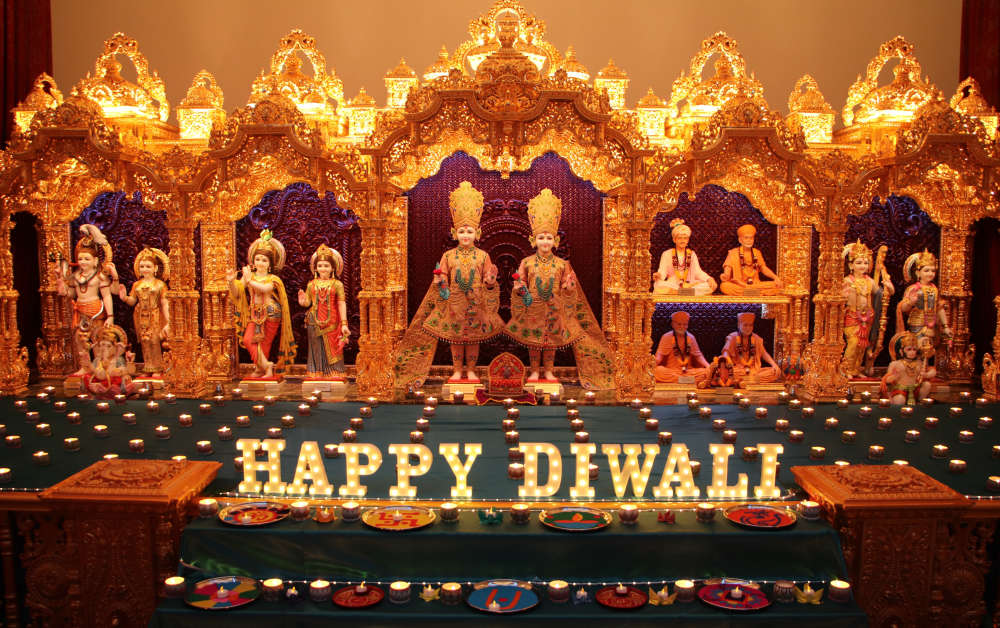 BAPS Shri Swaminarayan Temple in Ashton-Under-Lyne celebrated festivities of vibrant sounds, lights, flavours, and colours of Diwali, the Festival of Light on Sunday, November 12, and the Hindu New Year on Monday, November 13.
Hundreds of people from the local community came together at the BAPS Shri Swaminarayan Mandir, marking one of the largest holy celebrations in the Greater Manchester area.
Kinjalbhai Patel, a volunteer at the temple, explained:
"Diwali and the Hindu New Year bring values of goodwill, charity and harmony across communities in the UK. As families grapple with challenges, it was heartwarming to bring festive joy and smiles to the people of Tameside and Greater Manchester and share memories that will bring hope and light for the rest of the year and beyond."
The Diwali festivities included a special ceremony to bless business owners, families, and students with righteous prosperity and success.
The key ceremony at the Temple on Diwali is Sharda Pujan on November 12, when homage is paid to Saraswati Devi, the Hindu deity of knowledge, arts, and wisdom. Also known as 'Chopda Pujan', the ceremony involves blessing new account books and praying for happiness and prosperity for the coming year. Students similarly sanctify their textbooks, notebooks, and laptops for a successful and fulfilling academic year ahead.
One of the highlights for visitors was the 'Annakut' (a mountain of food), consisting of hundreds of dishes freshly prepared by devotees – that was artistically arranged as a devotional offering of the first meal of the New Year made in thanksgiving to God.
To add to the festive experience, visitors enjoyed delicious vegetarian sweet and savoury snacks and various souvenirs on both festival days.
Civic Mayor of Tameside, Councillor Tafheen Sharif, also joined the Hindu New Year celebrations and enjoyed taking part in this celebration and meeting many families.
The BAPS Shri Swaminarayan Mandir (Hindu Temple) on Lees Road in Ashton-under-Lyne provides various educational, community and spiritual activities for children, youths, families, and older adults. It is also a focal place of worship for hundreds of Hindus in the Greater Manchester area.
"The Mandir forms a part of BAPS Swaminarayan Sanstha (BAPS), an international community-based Hindu organisation affiliated to the United Nations, caring for individuals, families, and societies through its more than one million members, 80,000 volunteers and 5,025 centres.
Under the spiritual leadership of His Holiness Mahant Swami Maharaj, BAPS strives to build a righteous, peaceful, and harmonious community that is spiritually elevated and free of addictions and violence," said Mansukh Dhokia from the Mandir.
"In the UK, BAPS is respected as one of the country's largest and most active Hindu organisations. It is particularly known for its myriad community outreach activities and the internationally acclaimed BAPS Shri Swaminarayan Mandir in Neasden, London," he added.
*For more information about the Mandir, please visit baps.org/Manchester.
**To learn more about BAPS and the Neasden Temple, please visit baps.org and londonmandir.baps.org.