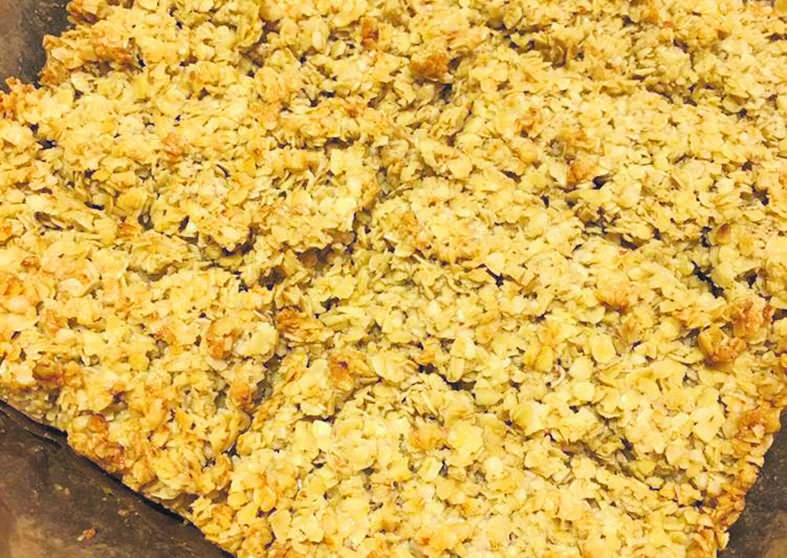 For her latest recipe, Lisa has an easy and versatile treat that always goes down well and you can make at any time...
I have lost count of the times I have made flapjacks over the years.
They are a wonderfully easy treat to make and always go down well with youngsters craving a tasty snack.
But instead of using my usual ingredient of golden syrup, I switched to honey and the result was a wonderful sticky treat. It can be a challenge trying to find healthy snacks for your children.
There are far too many fatty foods available nowadays which tempt the younger generation.
So it is always a good idea to have a go at providing home cooked snacks and ones which will help them concentrate at school are even better.
Flapjacks are ideal for a lunch-time or mid-morning treat as they are made with oats which provide a slow release of energy which cuts the desire to snack on sugar-based foods.
They are also quick, easy and cheap to make and keep well in an airtight container.
Ingredients
175g/6ozs unsalted butter
175/6ozs dark muscovado sugar
Two tbls golden honey
225g/8ozs porridge oats
Method
1. Preheat the oven to 190C/375F/Gas Mark 5.
2. Line a medium sized baking tin (a Swiss roll tin is ideal) with baking paper.
3. Melt the butter, sugar and honey gently in a small saucepan (don't let the mixture burn or it will be ruined).
4. Remove from the heat and pour into a mixing bowl with the oats. Mix thoroughly with a wooden spoon.
5. Spoon the mixture into the prepared tin and press down with the back of a metal spoon making sure the mixture is evenly distributed.
6. Bake for 20-30 minutes until the mixture is golden brown.
7. Remove from the oven and leave the flapjack mixture in the tin. Place on a wire rack. Mark out the flapjacks with a sharp knife while the mixture is still hot. The flapjacks will harden as they cool.
8. Leave in the tin until the flapjacks are cold and then store in an airtight container. The flapjacks will keep well for two to three days.
How about a competition?
This week, we are giving away a Magical Princess Cupcake Kit, courtesy of Meri Meri.
Yummy cupcakes are essential for a happy party, so make yours look extra special with this magical princess kit. Featuring beautifully illustrated toppers and cases fit for royalty! Visit merimeri.co.uk for their unique range of treats, kits and dressing up bits.
To win the Cupcake Kit, just answer the following question:
What is the main ingredient of flapjacks?
DUE TO THE CURRENT SITUATION WE WILL ONLY BE RECEIVING COMPETITION ENTRIES VIA EMAIL.
Email your answer and full contact details to: competitions@questmedianetwork.co.uk.
The closing date is Thursday 10 September.