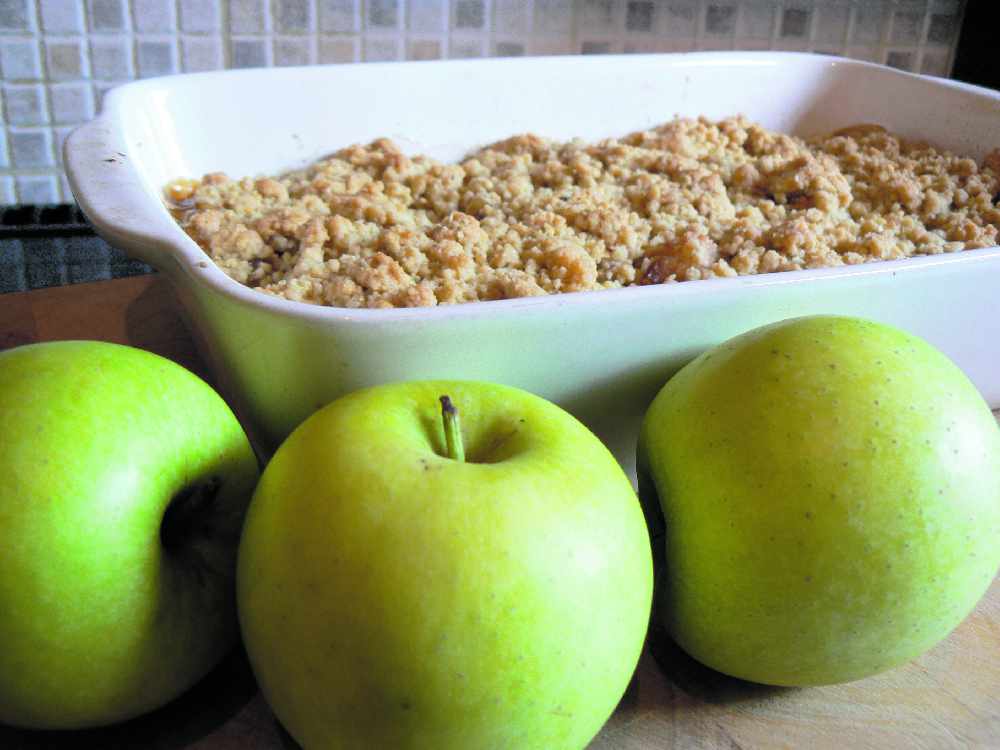 Here's Lisa's recipe for a firm British favourite which you can make at home.
Apples are in great supply this time of year and if you are lucky enough to have an apple tree or two in your garden, then you should have a ready supply of one of nature's most versatile fruits.
Apples can be used in many recipes, both sweet and savoury and they come in many different varieties.
Different apples are used for various tastes and uses, including cooking, eating raw and cider production.
I was recently given some apples by friends from trees in their garden.
The apples were of two different cooking varieties, so I decided to jumble them up in a delicious crumble, cooked with a hint of cinnamon for a wonderful late summer treat.
Traditional apple crumble and custard conjures up memories of childhood and is a wonderful pudding to keep out the chilly autumn weather.
The history of apple crumble is unclear and it did not appear in recipe books until the 20th century. But there is no doubt that it has now established itself as a firm favourite on the British menu.
Ingredients
900g/2lb cooking apples
115g/4oz soft light brown sugar, plus another 50g/2oz for the crumble
Half tsp of ground cinnamon
115g/4oz unsalted butter
115g/4oz plain flour
50g/2oz medium porridge oats
Method
1. Preheat the oven to 200C/400F/gas mark 6.
2. Peel and chop the apples into wedges.
3. Put in a large pan and cover with water.
4. Turn on the heat and allow to simmer for a few minutes.
5. Remove from the heat, drain and place in a shallow ovenproof dish.
6. Add two tablespoons of water and sprinkle on the 115g/4oz of brown sugar. Then sprinkle on the cinnamon.
7. Meanwhile, to make the crumble, dice the butter into small cubes in a large bowl and rub into the flour until it resembles fine breadcrumbs.
8. Add the oats and 50g/2oz of the brown sugar.
9. Continue to rub in until the mixture begins to stick together, forming large crumbs.
10. Cover the fruit with the crumble topping.
11. Put in the hot oven and cook for 15 minutes, then reduce the heat to 190C/375F/gas mark 5 and cook for a further 20 minutes until golden brown.
12. Serve warm with custard, cream or ice cream.
How about a competition time?
This week we are giving away Cute Canine Cookie Cutters, courtesy of Meri Meri. Dog lovers will be delighted with tasty cookies that look like cute canines. Made from stainless steel, the perfect baking tool for whenever adorable treats are needed. Visit merimeri.co.uk for their unique range of treats, kits and dressing up bits.
To win the cookie cutters just answer the following question:
Which spice is used in the apple crumble?
DUE TO THE CURRENT SITUATION WE WILL ONLY BE RECEIVING COMPETITION ENTRIES VIA EMAIL.
Email your answer and full contact details to: competitions@questmedianetwork.co.uk.
The closing date is Thursday 17 September.