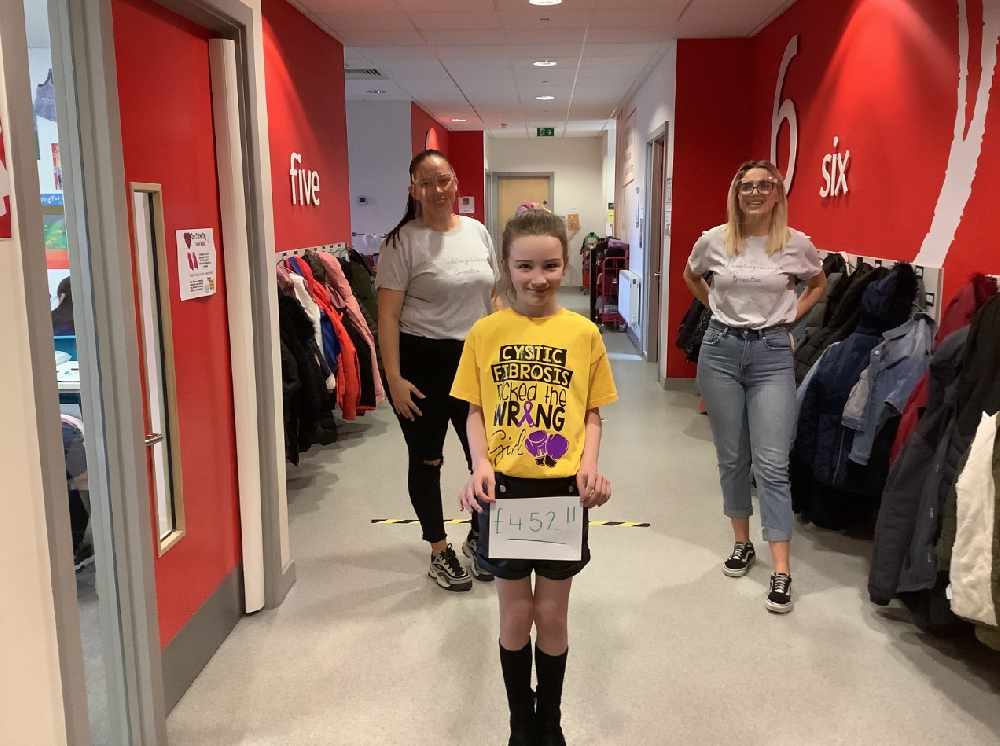 An Ashton school came together to support one of their pupils who has been busy helping to cheer up other children who, like her, are living with cystic fibrosis.
Last month, we reported how nine-year-old Layla Evans has had the progressive genetic disorder – which causes persistent lung infections and limits the ability to breathe over time – almost from the moment she was born.
Whilst lots of children are at home enjoying the Easter holidays, the Year 5 pupil at Oasis Academy Broadoak will return next week to the Royal Manchester Children's Hospital, where she is admitted every three months for two-week periods – on top of regular monthly appointments.
But such is the caring person she is, Layla has been doing everything she can to help other youngsters going through the same tough experiences that she is.
She raised over £1,000 for the Cystic Fibrosis Trust by walking and cycling 100 miles during March, has put together parcels full of goodies with her mum Charley to send to other children with cystic fibrosis, and designed t-shirts to help raise money for the cause.
Layla also donated 230 chocolate eggs (pictured below) so that children on the ward where she normally stays in hospital could enjoy a sweet treat over Easter.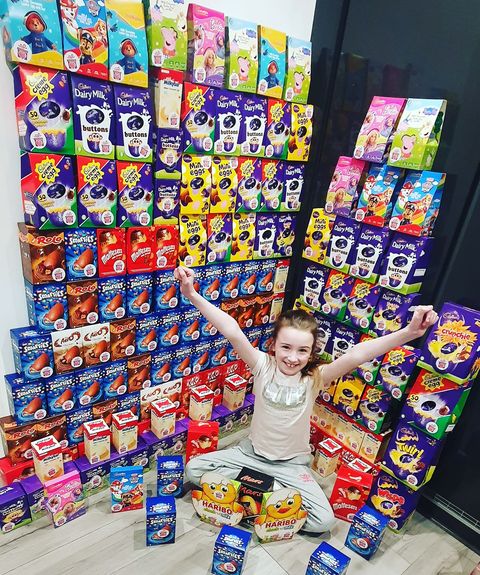 Her school, based on Norman Road in Ashton, have always been supportive of Layla and wanted to do something special just before the Easter break to help her mission.
It was organised by Layla's class teacher Adelle Davies and teaching assistant Haley Poulston, with the support of Principal Fiona Lomas.
Adelle told the Reporter: "In school, Hayley spoke with Layla, her mum and the head teacher about organising a non-uniform day for the last day of term so as a school we could support Layla with her fundraising.
"As a class, both myself and Hayley decided to do a staff raffle where we had donations brought in from members of staff. We created different raffle prizes and then sold raffle tickets to the staff in school.
"In the end, we raised over £460 which was really appreciated by Layla and her parents, which I thought was really nice."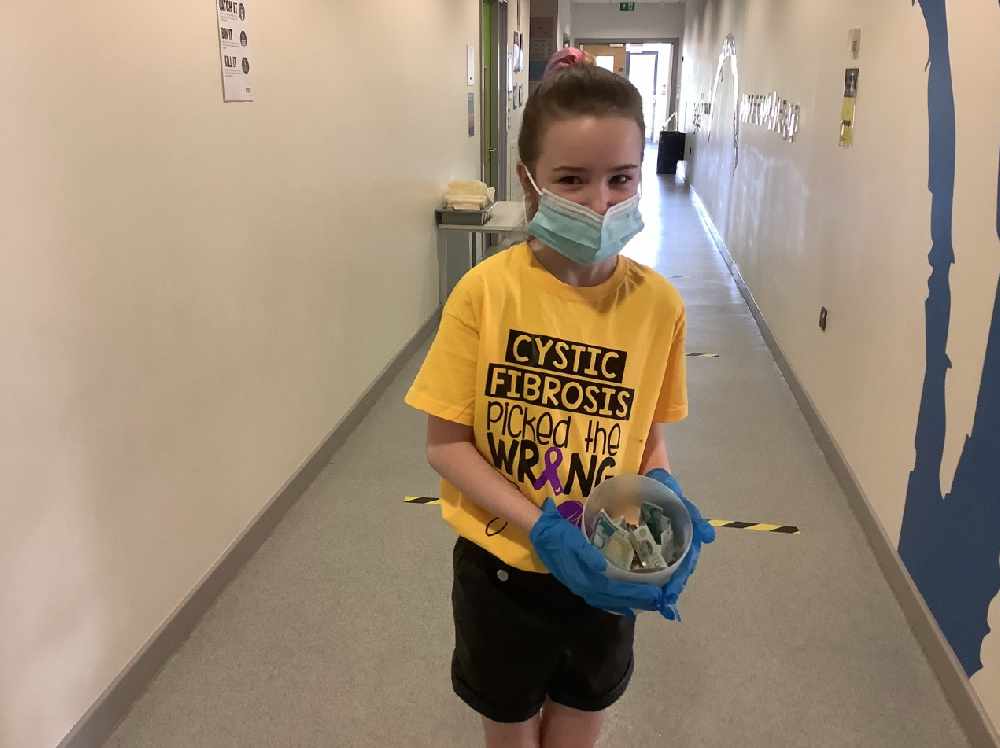 Layla with the money raised by staff and pupils at her school
'Layla absolutely works her socks off'
The past year has been incredibly tough for Layla, exacerbated by the coronavirus pandemic, and it would have been easy for her to fall behind with her school work.
But her teacher has nothing but admiration for the youngster's determination and willingness to learn, which has ensured – with the help of technology – that she is up to date.
"Layla looks perfect on the outside and a lot of the issues are on the inside so, it's not forgotten but we do forget sometimes just how poorly Layla is," Adelle said.
"Throughout lockdown, whilst we were doing home schooling and I was working from the classroom, Layla would log in to Microsoft Teams from her hospital bed and do the maths lessons which I thought shows great character. It was nice that she got to see her friends as well during such a difficult period. I know she has loved being back in the classroom now which has been great.
"It was difficult for her, bless her. She logged in as much as she could but there were times when it was quite difficult, when nurses were constantly in and out and obviously we were still sticking to a timetable where we were teaching everything we could so there were certain things she would miss.
"But Layla has such good perseverance and she hasn't fallen behind at all, believe it or not, with the number of hospital trips and time off she had to have. She absolutely works her socks off and she comes back from her hospital appointments, gets her head down straight away and works on what she's missed."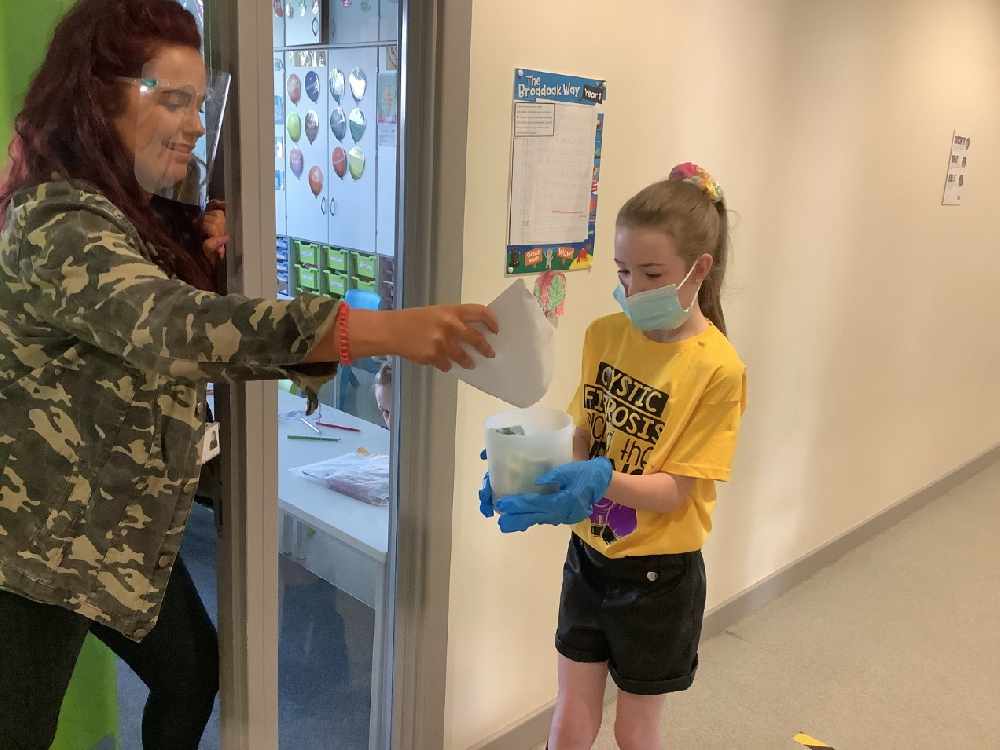 Layla collecting funds from staff members at school
Adelle continued: "She's going to be out of hospital in the first week after the Easter holidays and her mum has asked for work to be put together for her so she doesn't miss out on anything and she can come back to school not being a week behind. Having that support from her parents and also Layla wanting to do it is brilliant.
"Layla is not a child who kind of huffs and puffs and sees it as a negative – she's always willing to learn and do as much as she can which is great – especially from a teacher's point of view. It's nice to have a child who wants to learn so much and wants to work hard.
"Her school work is like having added pressure and the worry of falling behind. I'm a parent myself so I know how I would feel if my little boy was missing out so there is that added pressure but Layla deals with it so well. Her family as a whole deal with it really well which is great."
Layla's mum Charley told us last month that she could not ask for a better and more supportive school than Oasis Academy Broadoak – where the staff and entire community have got behind the youngster's cause and supported her wherever possible.
"We try to be as supportive as possible as a school and the school community that we have - that's one of the reasons why I absolutely love working at Broadoak so much," said Adelle.
"We have a really big community ethos and we try to support them as much as possible. It's like I've got 30 extra children when they step into my classroom. We try to support them in and out of school.
"Layla was making t-shirts for her cystic fibrosis cause and myself and Hayley purchased them out of our own pockets to support Layla as well. We do go above and beyond to make sure they are supported in and out of school."
Main image:
Layla with her class teacher Adelle Davies and teaching assistant Haley Poulston.
Read more from the Tameside Reporter
Click here for more of the latest news
Click here to read the latest edition of the paper online
Click here to find out where you can pick up a copy of the paper