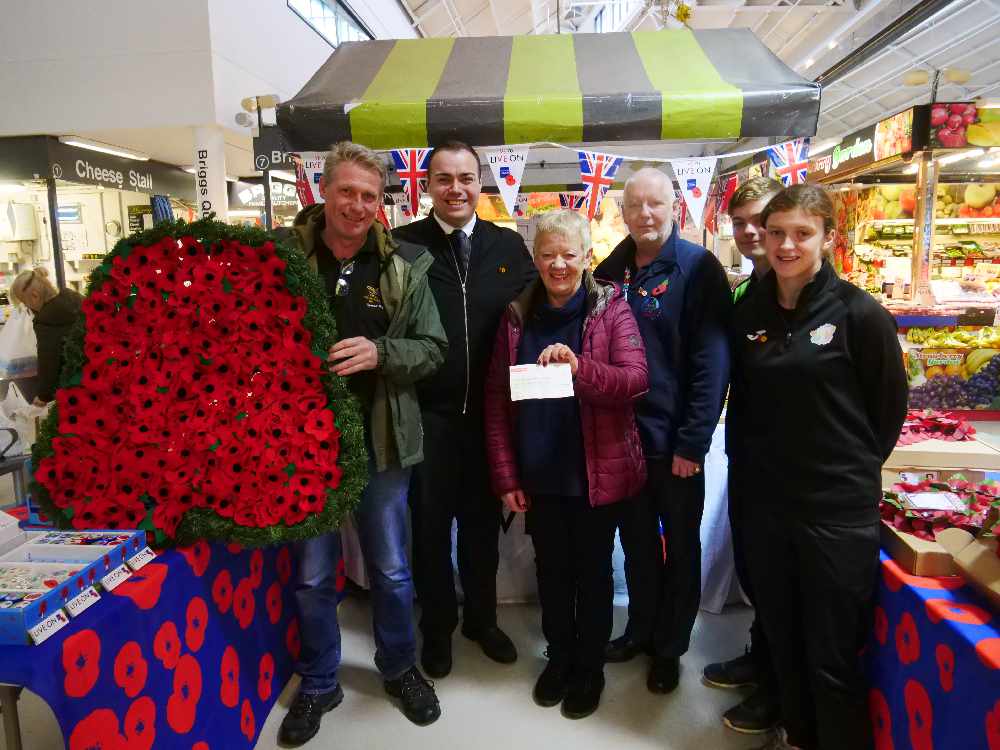 Members of Ashton Town Team present the Royal British Legion with a cheque for £140 thanks to their poppy display
Shops, traders and businesses in Ashton Town Centre have raised over £140 for the Royal British Legion ahead of Remembrance Sunday.
They'd each contributed to buy a poppy, which they wrote their businesses name on before it became part of a giant display.
It was the idea of Ashton Town Team, who wanted to recognise the work that the Royal British Legion do and show that local businesses supported them.
The display, which forms the outline of a giant poppy, will travel around Ashton town centre throughout the week, before being placed at the cenotaph on Remembrance Sunday [10 November].
Kevin Taylor, part of Ashton Town Team, explained: "We wanted to reflect the contribution and give recognition to the businesses in Ashton Town Centre with this years poppy appeal.
"We came up with and devised this years plan so that we have something physical that we can show and display but equally something that would benefit the British Legion."
Tameside College students have also been supporting the Royal British Legion, with members of the Public Services course manning the stall in Ashton Indoor Market. David Brown, Ashton Branch President of the Royal British Legion said that their support is vital and the legion couldn't function without volunteers. "It's important because as we get older, if we don't bring the younger generation through and get them to understand what has happened, then remembrance will be forgotten. Tameside College have been brilliant - they support us every year with their students and without them we would be stuck for volunteers.
"The poppy appeal is important because veterans who have fallen on hard times or are in ill health need the support of the Poppy appeal. All the money that is raised goes into the welfare pot which supports them, gets them out of trouble and back into society again."