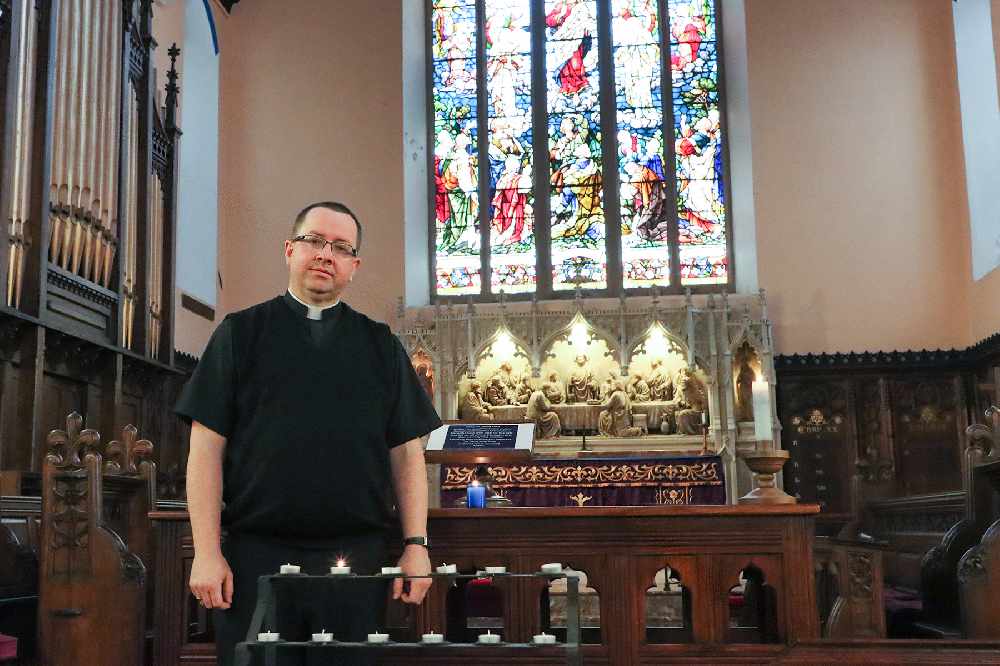 Reverend David Warner, the Vicar of Mossley.
The Vicar of Mossley Father David Warner is celebrating a special anniversary this weekend.
Father David has been in Mossley for five years and said he has thoroughly enjoyed his time so far in the town.
Throughout his time as vicar of St George's and St John's Churches, he has seen many changes and been part of many events.
He told us: "It's hard to know where five years have gone since I was installed on September 4, 2016 - I've thoroughly enjoyed getting to know our community.
"Our churches, Church of England and other schools, Emmaus, the Town Team and many other groups, businesses and individuals have been hugely welcoming, encouraging, and central parts of my ministry here.
"I'm so proud of what has been achieved: our Christmas tree festivals, the visit of Terry Waite in 2019, our Armistice 100 and Peterloo exhibitions, being Mayor Irene Raddings' Chaplain, leading the annual Remembrance Sunday service, supporting our food bank, Whit Fridays (of course!) and all the day-to-day encounters that are the mainstay and the joy of my work.
"Becoming a member of the communities of our Church of England primary schools, leading their worship, visiting classes and supporting our teaching staff, has been amongst my highlights.
"As a 'comer-inner' I've been grateful for the welcome from all of the community here, not just for me, but also for Penny when we got married in 2019.
"There is always more to do, and more we could do in a parish, and Covid-19 has been, and will continue to be a huge challenge for us all," he added.
"I've been astonished by the way the community has pulled together, and continues to do that to help each other out.
"Church of England parishes receive no state, church, or other statutory funding, and everything needed for our buildings, churchyards and the funds needed for me to be here is found by our congregations and those who use the buildings - I'm so very grateful for all who support our life, and our massively important pieces of Mossley heritage."
The Rev Warner said: "To baptise, marry, take funerals and lead services is perhaps the obvious stuff a vicar does, and each and every service I'm involved with is a huge privilege for me, and for our parish.
"The vicar and the parish churches are here for everyone - if you want a child or yourself to be baptised, if you wish to get married or hold a funeral in your parish churches, or if you need spiritual care and support, we are here for you - for ALL our community.
"My hope and prayer, working with Fr Ian, our PCCs, congregations and our community, is that St John the Baptist Roughtown and St George's Mossley continue to grow and to flourish, while serving the community we are placed in: we are here for you, always.
"I'm pleased that on September 5, five years and a day since I started work here, we will be involved in a memorial event at Mossley Football Club for those who've lost loved ones this year - that occasion will be special and emotional, and it's the privilege of my life to serve you."
Read more from the Tameside Reporter
Click here for more of the latest news
Click here to read the latest edition of the paper online
Click here to find out where you can pick up a copy of the paper