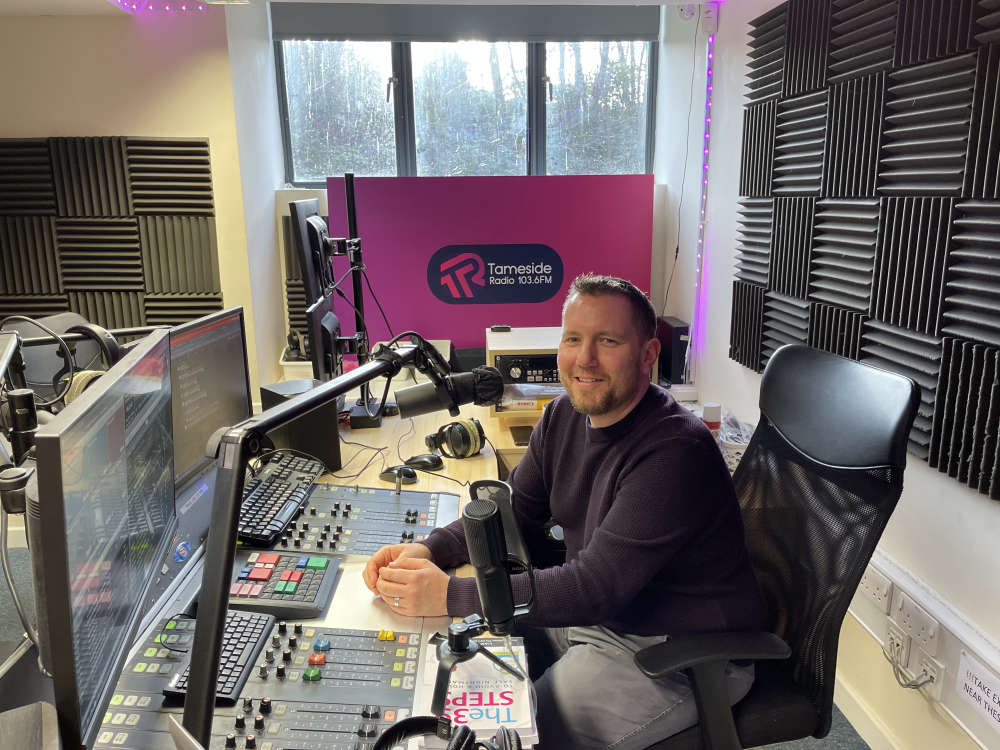 Tameside Radio presenter Alex B Cann.
In his latest column, the Tameside Radio presenter 'weighs in' to the debate on using imperial or metric measurements...
Abba have been back in the headlines as their holograms take to the stage and perform a set of 20 of their biggest songs.
The Swedish group's back catalogue was also reportedly blasted out in Boris Johnson's flat by his wife on June 19, 2020, amid calls for a further investigation into a second lockdown gathering on the Prime Minister's birthday. Whatever your take on all of the revelations, I'm certainly not ready to move on from the arrogant, tone deaf hypocrisy at the heart of our democratic machine. As opposed to a karaoke machine.
I've had a look in my camera roll, and on the night in question, I was at a party too.
I was sitting alone at our kitchen table, sipping a beer with 15 other people on Zoom. This was long before 'zoom fatigue' set in and most of us would rather swim with piranhas than attend yet another zoom quiz. It was a convivial evening, but at the time I hadn't seen my parents for three months and was missing them terribly.
One way to attempt to get us to move on is a political technique known as the 'dead cat'. Throw something out there that instantly dominates the news agenda, and appeals to your core supporters.You might have also heard the phrase 'red meat', and this week's pledge by Johnson to go back to Imperial measures is definitely tapping into the heart of Brexit Britain, in my opinion.
Having spoken to lots of people young and old, I've concluded most of us use a mixture of imperial and metric measurements. I have no issue with describing myself as five foot seven inches tall, and I do the weekly weigh in with Slimming World Tameside in imperial too (my target is to get down to 12 stone by my birthday in early August).
The point with this is - nobody ever banned imperial measures. There wasn't ever a time when you weren't permitted to go into the corner shop and ask for a quarter of aniseed balls.
At markets, traders were perfectly free to use both imperial and metric, and in spite of claims made recently by some of the tabloids, there was never a ban on imperial measures! It's pure fiction.
I can't imagine the lack of a crown on pint glasses was brought up much on the doorstep during the recent local elections. Indeed, they are also not banned.
They are on 568ml glasses of liquid in Malta, which sits within the European Union. As long as the "CE" stamp is clearly visible on glasses, I could legally place a Tameside Radio logo on them. Or a crown. Or anything else I like. It hasn't been banned under EU law, but it taps into the narrative that somehow our British way of life has been threatened. File it under bendy bananas.
Back to the cat, and comedian Stephen Mangan tweeted: "This dead cat weighs 6lbs 4oz". Is the ability to sell champagne in pints really a priority when most of us are struggling with the weekly shop? I've seen lots of shoppers having to put items back, and most of us are having to make changes, whether that's buying cheaper brands or in some cases skipping meals altogether.
It's also been reported this week that some schools are shrinking the size of school dinners, and substitute hot meals for cold sandwiches, due to the rising cost of food. This is surely much more of a worry than whether petrol is £1.67 a litre or £7.58 a gallon!
To be clear then, the law never changed to outlaw selling goods in imperial measures. In the meantime, have a wonderful Bank Holiday weekend celebrating the Platinum Jubilee weekend.
Raise a glass of 568ml of craft beer, or a pint of champagne if you prefer, and let's pay tribute to someone who showed true dignity all through the pandemic and stuck to all the rules.
I'll never forget the heartbreaking image of Her Majesty sitting alone at the funeral of Prince Philip. It's quite a contrast with the other photos which have been published recently. From Dancing Queen to our wonderful Queen in one column! Cheers!
You can listen to Alex every weekday from 7am to 11am and on the 'Super Scoreboard' show on Saturdays from 3pm to 7pm, on Tameside Radio 103.6FM.
Read more from the Tameside Reporter
Click here for more of the latest news
Click here to read the latest edition of the paper online
Click here to find out where you can pick up a copy of the paper