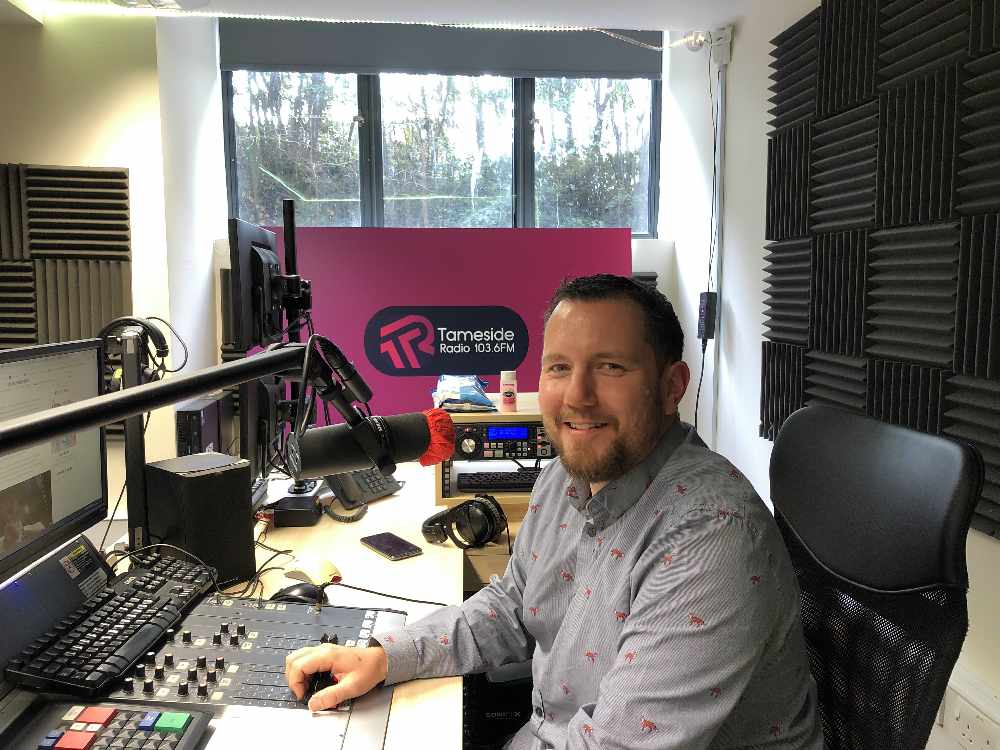 Tameside Radio's Breakfast presenter Alex B Cann.
Featured in the Tameside Radio presenter's latest words for us are the Downing Street garden party everyone's been talking about, his own weight-loss journey and a film recommendation.
Cast your mind back to 20 May 2020. It was the hottest day of the year so far, and we were still very much in lockdown in Tameside and Glossop.
A trudge along the canal path or a stroll in your local park was about all that was allowed at the time. We were in the time of Zoom quizzes, missed birthdays and anniversaries, and in some cases funerals.
I think this is at the heart of why I've found the latest 'bring your own booze' party leak so upsetting. It's a cocktail of emotions (rather than a ready mixed cocktail can to be enjoyed in the Downing Street garden), and if you scroll through your camera roll on your smartphone, I'd imagine your day was much like mine.
I sat outside in my deckchair soaking up a bit of the sweltering May sunshine, my wife made us a delicious chickpea curry, and I did a bit of radio. In short, I stuck to the rules at the time.
I know some think we just need to move on, and that it's opportunistic politics to rake up events from 2020 now. I honestly think it runs much deeper than that, and like peeling an onion, I cry every time another layer of arrogance is revealed from those who set the rules that the rest of us were expected to abide by.
I've also heard it argued that we all took liberties with the regulations, and that there are more important things to worry about.
Call me old fashioned, but I want to be led by politicians who respect the rules they implement.
To pluck two examples from my social media feeds, Rachel's son Archie had no friends at his first birthday party. Luckily, she writes, 'his mam and dad are really fun.' Bless him.
Meanwhile, my friend Kevin wrote movingly about his mum's illness during 2020, and the blatant disregard our Government appears to have had for its own rules.
Muslim families had to cancel plans for Eid, walkers were pursued by police drones in Derbyshire and told to go home, and friends walking with a coffee were threatened with the prospect of a fine for breaking lockdown regulations.
I could name many more examples. All of this whilst our smirking leaders were enjoying prosecco in their huge enclosed garden and 'making the most of the lovely weather.'
This is not a media bubble story. It goes to the very heart of our political system. The Government's recent approach of going to ground when faced with criticism is also not particularly winning. Surely we deserve better.
I missed my parents so much during lockdown. For much of 2020, we were in the highest tier of restrictions, and couldn't visit them in York. It leaves you feeling like you were foolish for sticking by the rules, although then you remember that they were in place to stop the spread of the virus and prevent our health service from being overwhelmed.
Perhaps those who think this is a storm in a teacup have already forgotten the timeline of the various lockdowns, or they genuinely don't think the double standards are important.
I think we deserve some proper accountability, and hiding behind a half-hearted enquiry is not going to provide us with that.
On a lighter note, I've started the ball rolling today with my renewed weight loss journey. I'll be weighing myself live on Tameside Radio each Thursday morning, and receiving support from Jane and Gail at Slimming World Tameside. I sincerely hope I don't let them down, as I really want this to be the year I finally shed some of my wobbly bits. I'm delighted that pickled eggs are 'syn free', although sadly the same can't be said for craft beer.
If you're on a weight loss journey at the moment, good luck, and please do share your tips with me! If you're after a film recommendation, I rather enjoyed The 355 this week at Cineworld, with a feisty female cast chasing after a hard drive that has the power to bring planes down, cause power cuts and generally wreak havoc in the wrong hands.
It's far-fetched Bond-style action at its finest, and the perfect popcorn movie. Or in my case, just a bottle of water!
Next up are Spiderman and the new Scream. I'll do my best to resist the tasty treats at Cineworld Ashton, and not end up in the naughty corner when I step on the scales! Have a good week.
You can listen to Alex every weekday from 7am to 11am and on the 'Super Scoreboard' show on Saturdays from 3pm to 7pm, on Tameside Radio 103.6FM.
Read more from the Tameside Reporter
Click here for more of the latest news
Click here to read the latest edition of the paper online
Click here to find out where you can pick up a copy of the paper