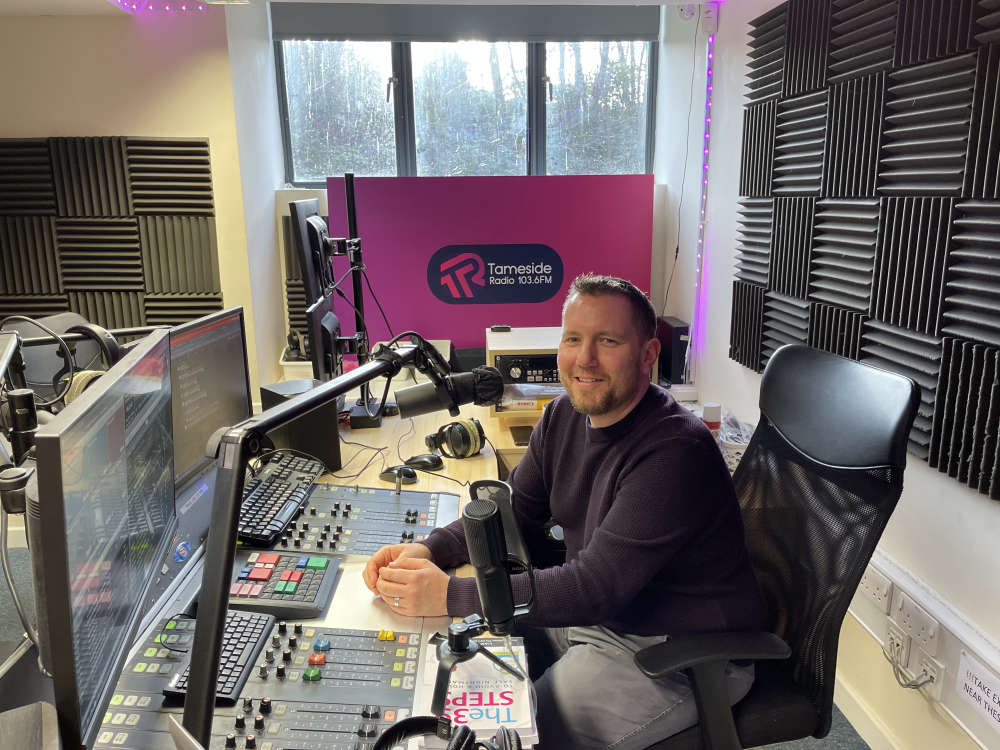 Tameside Radio presenter Alex B Cann.
The Jubilee weekend, gestures of goodwill and commitments on losing weight and gaining sleep all feature in the Tameside Radio presenter's latest words of wisdom.
I hope you enjoyed the Festival of Bunting last weekend! Even the most cynical folk can't have failed to have their spirits lifted a little surely, and it was nice to have something positive to focus our energy on - rather than getting cross about the double standards of some politicians or shouting into the void on social media about the Clean Air Zone.
I know not everyone is a huge fan of the Royals, but I'm thinking more about the oodles of community spirit on display at street parties. We need more of this, especially after the last couple of difficult years we've all been through.
I was a little disappointed not to find lots of excess jubilee stock at M&S on Monday though, as I went hunting for yellow sticker bargains. I guess I'll never get to try the special edition sandwich with a boiled egg plonked between slices of bread. Not as bad as an ice cream scoop I spotted, where the Queen's head had been replaced by a spoon!
Anyway, in spite of all the excitement of Rod Stewart reinterpreting Sweet Caroline and Prince Louis's facial expressions, I chose to work the entire weekend. I am lucky to say I do a job I love, so it never feels like a chore. I always use the line 'it beats a proper job' and I have the utmost respect for those in the health and care professions and numerous other high pressure jobs, who are never off duty on Bank Holidays.
After hosting a Jubilee event in the drizzle on Sunday, I popped to a well known bath bomb emporium and plumped for my favourite treat, a Big Blue (which is packed full of seaweed... smells amazing in the bath tub but can tend to clog up the plug hole a bit!)
When I got to the till, I was asked if the bath bomb was for me or for a gift and I explained it was for a bit of 'me time' after a frenetic few days. The assistant handed me a card that said 'Pay It Forward' and said to me it was her treat.
It took me a moment to realise that I didn't have to hand over any pennies and she was literally giving me the item for nothing! What a lovely gesture and it really made my afternoon. Perhaps more firms could look at doing something similar.
It's really important to be kind and however busy you are, it doesn't take long to do something thoughtful. Send a friend a quick text or WhatsApp to check in with them. If you've got a few more minutes, write them a postcard, stick a stamp on it (once you've raised enough cash to buy a book of stamps!) and send it in the post. Old fashioned mail is really nice to receive, amongst a sea of soaring utility bills, pizza menus and other junk that goes straight into recycling.
Also this week, I'm attempting to refocus on losing the final 12lbs in my mission to be 12 stone for my birthday. I've got just shy of eight weeks to lose it, so that's quite a leisurely pace. I am proud to have shifted two and a half stone and feel much better for it. I don't think I'd have been able to juggle my jubilee shifts in my bulkier days, as I have more energy and more drive than before. Thanks, Slimming World Tameside!
I do worry about my average amount of sleep. Lots of experts say you need seven to nine hours, and a new study from the University of Arizona has concluded adults who share a bed with a partner or spouse sleep better than those who sleep alone. The results were published in a new journal called Sleep.
In Germany, apparently the Premier Inn provides you with two sets of bedding as the custom is for couples to have their own duvet. It sounds like that might reduce instances of arguments about cover hogging, anyway! I slept for an average of four hours and 52 minutes per night last week. I'm making my commitment to getting this above six hours! I'll lose my youthful good looks otherwise.
You can listen to Alex every weekday from 7am to 11am and on the 'Super Scoreboard' show on Saturdays from 3pm to 7pm, on Tameside Radio 103.6FM.
Read more from the Tameside Reporter
Click here for more of the latest news
Click here to read the latest edition of the paper online
Click here to find out where you can pick up a copy of the paper