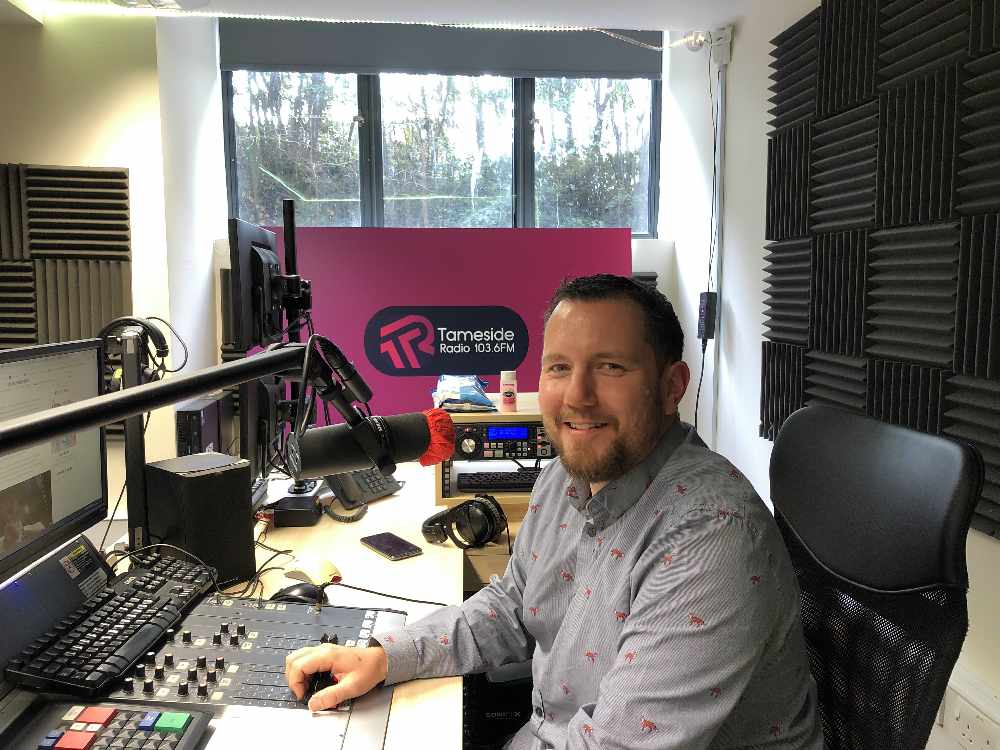 Tameside Radio presenter Alex B Cann.
What do alcohol free beers, face coverings and festive music all have in common? The answer, of course, is they all feature in Tameside Radio presenter Alex B Cann's latest column...
Now that the season of hearty bowls of soup and bonfire night parkin are upon us, I've decided to have a bit of a detox before the work Christmas party this year. That's assuming the festive season goes ahead this time round.
I really wish the government would just stop mentioning their determination to have a 'normal Christmas', as it is the dictionary definition of tempting a fate worse than overcooked soggy sprouts or witnessing Michael Gove doing the Cha Cha Slide in a late night bar.
Anyway, I'm writing this week's column whilst sipping a nice glass of Doom Bar Zero.
The alcohol free beer market is booming, as a visit to any supermarket will testify. From gin to cider, craft beer to lager, you can buy a pretty impressive range of drinks in either zero or sub-0.5 per cent alcohol form. They also taste a lot nicer than the days when Kaliber was about all that most pubs had on offer for the desperate designated driver.
Nowadays, rather than being a last resort in situations where you can't drink, it's more about saying 'I can drink alcohol, but I just don't want to'. Drinks are made in the same way, and then the booze is magically extracted, using some kind of liquid sorcery that I don't understand.
Social situations lead to a lot of pressure to imbibe alcohol, and I have been guilty of trying to keep pace with others in the past, despite my knowledge that I'm a bit of a lightweight.
These days, I drink a few craft beers on a Friday night because I enjoy the taste of them, but don't feel any regret in my decision to knock them on the head for a bit.
I've not tried the nought per cent gins yet, but I expect with a nice flavoured Fevertree tonic and a truckload of ice, you can barely tell the difference.
The ale and lager options are certainly excellent, and a lot less calorific too, which I'm hoping will help me with the Thursday weigh-ins on Tameside Radio! I'll be doing 28 dry days in November, and might even continue for a bit longer if it's going well.
Elsewhere this week, our Prime Minister was grilled by US Network CNN about his decision not to wear a face covering when sitting next to 95-year-old Sir David Attenborough at COP26 in Glasgow.
The footage did the rounds on the social media, and Johnson's response was to mumble something about confined spaces and taking an appropriate judgement.
I really don't know what the big deal with wearing a mask is, as I've said in this column before. No-one loves it, but it's about being considerate to others when in a packed social setting.
It genuinely baffles me why some people are so averse to it, unless they are genuinely exempt. If there's a chance it will protect others, it's just the right thing to do.
Finally, there has been ferocious debate amongst the team at Tameside Radio this week about when we should start playing festive music.
I would happily stick a track or two from the Buble Christmas album on right now, if I had my way, but I know a lot of folk get upset if a single note of Mariah Carey plays on the radio before December!
It's been another difficult year in so many ways, and in my book, anything that spreads a little sunshine should be encouraged. I've already had my first festive drink, thanks to the team at Starbucks in Cineworld Ashton (caramel waffle latte...gorgeous!), and I'm ready to press the sparkly yuletide button.
Andy Hoyle from our Weekend Breakfast Show has other ideas though, and he's locked my Now Christmas CD collection in a safe for another four weeks. Bah humbug!
I shall console myself with the reboot of Home Alone, which arrives on Disney+ in just over a week's time.
Oh, and if you are having a tipple this week, may I recommend Camden Marmite beer?
I bought it on a whim from Morrisons last weekend, thinking I'd hate it, but it's genuinely very tasty! It also goes exceedingly well with a Sunday roast. Lisa Burns, this newspaper's resident culinary expert, doesn't seem convinced though, so I doubt you'll catch her using it in any recipes any time soon. Have yourself a merry little weekend and keep smiling.
You can listen to Alex every weekday from 7am to 11am and on the 'Super Scoreboard' show on Saturdays from 3pm to 7pm, on Tameside Radio 103.6FM.
Read more from the Tameside Reporter
Click here for more of the latest news
Click here to read the latest edition of the paper online
Click here to find out where you can pick up a copy of the paper