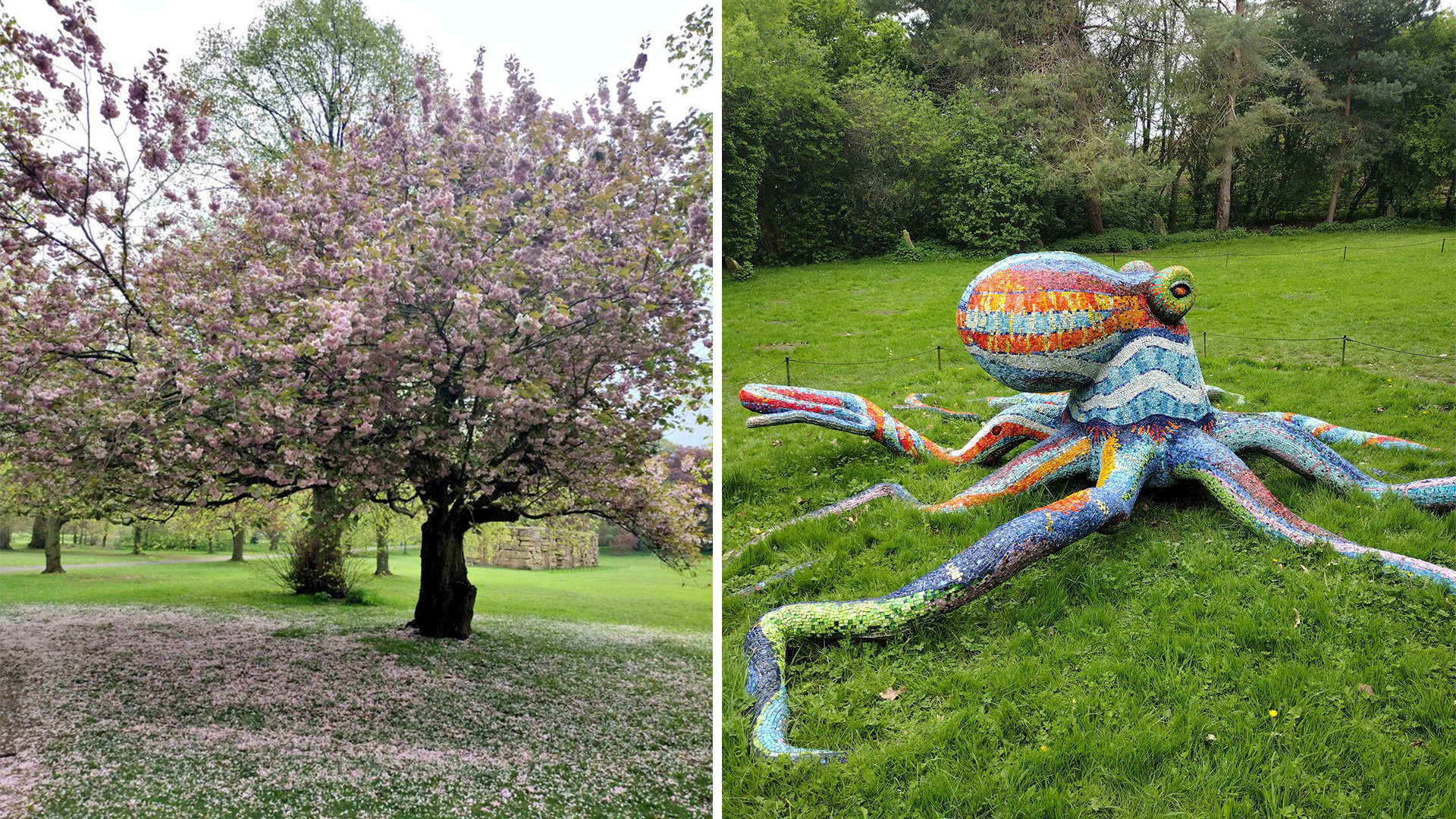 Some of the delightful sights at open-air art gallery Yorkshire Sculpture Park. Images: Alex Cann.
The Tameside Radio presenter endorses spending some quality time in the fresh air and recommends one place you could visit.
Sometimes, you need to leave behind the world of notifications, rolling news and smart devices, and enjoy a few hours in the great outdoors.
It is hugely cathartic for the soul, and I can recommend Yorkshire Sculpture Park based on a recent visit with my parents.
It will take roughly an hour to get there from Tameside and Glossop, via the wonderful Isle of Skye road. It's one of my favourite routes, aside from one perilous journey in my Fiat Panda which almost resulted in me receiving a unanimous 10 out of 10 from the Dancing On Ice judging panel when I trusted Google Maps' verdict that it was absolutely fine, in spite of the Woodhead and Snake being closed due to the blizzard conditions.
Anyway, now we're into the season of bluebells and asparagus, you should have a smooth run over the tops, and down through Holmfirth.
You'll be rewarded on arrival at the Sculpture Park by the views of rolling Yorkshire countryside, dramatic hillscapes, towering trees and lambs gamboling joyfully around the lush green fields. It really is an unspoiled oasis of greenery, and has been around entertaining visitors since 1977. It's as old as me! Many of the gardens were first landscaped back in the 18th century, and are even older than this newspaper.
I believe there are more than 80 sculptures on display across the sprawling West Bretton Hall estate, and you'll struggle to fit them all into a visit (but I guess if you like a challenge, I've just thrown down the gauntlet!).
This was the first sculpture park in the UK, and remains the largest of its kind in Europe. It's also a place that's special to me, as it's one of the first trips out I had with my mum and dad as we began to emerge from the isolating period of lockdowns. All that missed time together, and a simple catch-up on a picnic bench with a sandwich and some crisps was so special. This week, we did much the same, but without the crisps, as I'm still being super good on my Slimming World regime and wanted to preserve my syns!
If you love fresh air, art, weird and wonderful sculptures, and a nice long walk, this is the perfect day out for you. Kids will have plenty to look at too, although I'd imagine many of the paths would be very challenging with a pram!
There is currently a Robert Indiana exhibition as well; I learned that he had a difficult childhood, and changed his surname so he was named after the state where grew up.
The most powerful sculpture for me was a series of numbers, each of them representing a stage on life's journey. As Indiana points out, our lives are dominated by numbers right from the moment we are born. One represents birth, four is adolescence, nine is in yellow and black and signifies danger as we reach the end stages of our journey through life. It all sounds a bit deep the way I've described it, but like all good art, you'll find your own interpretation and your own standout bits.
I took away a feeling of time well spent, with people I love, in a place filled with lovely landscapes, ancient oak trees that could tell many stories of what they've seen over the centuries, and a reminder that life's for living adventures whenever you can.
Look out too for the colourful octopus sculpture, the giant handbag, and the Chinese zodiac signs, along many other highlights I spotted on our recent visit.
I also easily hit my step count for the day, which has become a more healthy obsession than my previous one with the contents of our kitchen 'junk drawer' (that's sadly a bit emptier nowadays!).
My other recent highlight this week was hosting a huge carnival event across in Ilkley, which was recently voted best place to live in the UK by the Sunday Times.
The sight of over a thousand people parading through the streets with their colourful decorated floats was fantastic, and another reminder of the power of human connection. I don't know about you, but I still feel like I appreciate these things more after the surreal couple of years we've all lived through. Cheetham Park and Stamford Park have also hosted similar fun events recently, with more coming up soon across Tameside and Glossop.
And it was the first Eid for a couple of years when Muslims could fully celebrate, so Eid Mubarak to all who have been enjoying cake and other treats at the end of a month of fasting. I am hoping someone invents a syn free version of gulab jamun before the next Eid in July, although my mother-in-law keeps telling me to stop losing weight and eat more! Her food is so amazing, it's exceedingly tempting, I'll admit. Have a good week.
You can listen to Alex every weekday from 7am to 11am and on the 'Super Scoreboard' show on Saturdays from 3pm to 7pm, on Tameside Radio 103.6FM.
Read more from the Tameside Reporter
Click here for more of the latest news
Click here to read the latest edition of the paper online
Click here to find out where you can pick up a copy of the paper