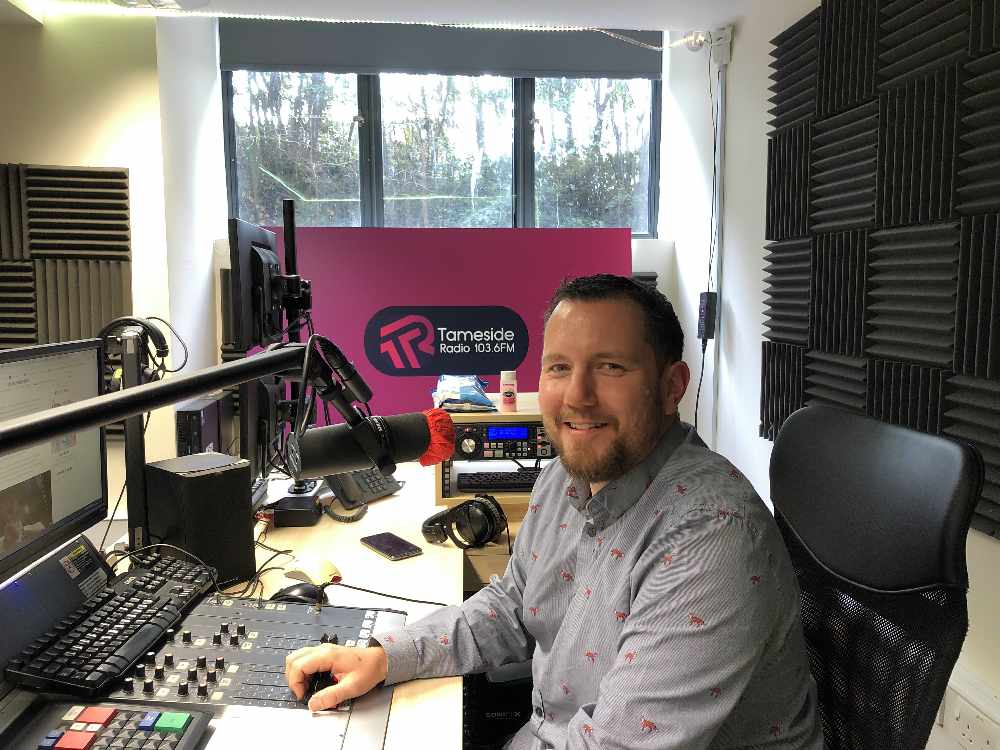 Tameside Radio's Breakfast presenter Alex B Cann.
What have you made of the fuel availability issues and panic buying? Tameside Radio presenter Alex B Cann has his say and doesn't hold back...
It's certainly been a good week for manufacturers of jerry cans, with Halfords reporting that sales soared by 1,656 per cent over the weekend as panic set in at the petrol forecourts.
This led to a number of fire services warning motorists about the dangers of storing petrol in their boot or their home. Indeed, the law states any quantity over 30 litres must be reported to the authorities. It's been a truly baffling situation, with queues snaking out of some filling stations across Tameside and Glossop, although not all of course.
A number I passed in Oldham were coned off on Saturday night. The queues I saw in Bradford later that evening whilst at my mother-in-law's were as bananas as the ones I remember clearly from the year 2000, when I was driving home from Manchester Airport on vapours, with no way of filling up. It wasn't a welcome flashback, although I wouldn't mind being 23 again.
It's widely agreed that there is no shortage of fuel. Drivers are a different story though. The price of oil is bouncing back strongly after the pandemic, and pump prices are responding enthusiastically, with the average cost of a litre heading perilously towards £1.40. A few garages have taken advantage of motorists' desperation, with reports of one charging £1.98 a litre. That's almost as expensive as a fruit smoothie that's not included in a Tesco meal deal.
A combination of Brexit and the pandemic, plus a shortage of trained HGV drivers to replace those who have left a tough and often badly paid profession, has largely led to this situation.
Whatever your politics, you have to accept that the vote to leave Europe has added to the problems. If I were an EU driver being offered the chance to help out the UK for three months, only to be kicked out again on Christmas Eve, I know what my response would be.
Something that's really got my goat is the amount of abuse being targeted towards the 'mainstream media', as social media experts like to term us.
From local newspapers like this one to the BBC and Sky News, we've received a huge amount of blame and vitriol, and the popular narrative seems to be that we have caused this crisis somehow. Last time I checked, the media's job was to report what's happening in the country, and not one article I've seen has been encouraging us to panic buy.
I'm not sure if it's something that's woven into the tapestry of our country, or perhaps just our distrust of the authorities, but our reaction when told not to panic is to do the polar opposite. It was just the same last year with the Bog Roll Bandits. I bet some still have them falling out of every cupboard at home!
Even worse than general stick towards the media is individual journalists being targeted on Twitter and Facebook for personal insults and abuse.
When did the level of discourse get to this level of tawdriness? It's just not acceptable. I've seen threats, insults and worse, aimed at people just doing their jobs. One ambulance driver in London reported being insulted and the target of numerous rude gestures when she was allowed access to emergency fuel supplies; I hope none of those doing the jeering require an ambulance soon.
I'm not sure how, but we need to restore a bit of calm when it comes to discussing news stories. I am fervently European in my outlook, and hate the fact we voted to leave Europe in 2016.
I'm perfectly willing to accept it's happened though, and have a rational discussion with anyone who holds opposing views. Having said that, I am yet to see a single Brexit fan admit that it's a large contributing part of our current problems with fuel and food supplies, but I live in hope.
Journalists must be allowed to do their jobs, and social media platforms need to do more to tackle abuse. As for panic buyers, it's something I'll never understand. I'm clumsy enough with a cup of coffee, let alone a jerry can filled with five litres of flammable liquid.
Another interesting finding from Halfords is that bicycle sales are up 23 per cent, and electric e-bike sales are even higher, jumping 106 per cent. Perhaps this is one positive benefit of fuel becoming a bit harder to come by. I think my dad is selling his electric bike, so I'll start saving up by putting £1 in a swear jar every time I read a comment on social media that winds me up. I'll have the grand needed in no time!
You can listen to Alex every weekday from 7am to 11am and on the 'Super Scoreboard' show on Saturdays from 3pm to 7pm, on Tameside Radio 103.6FM.
Read more from the Tameside Reporter
Click here for more of the latest news
Click here to read the latest edition of the paper online
Click here to find out where you can pick up a copy of the paper