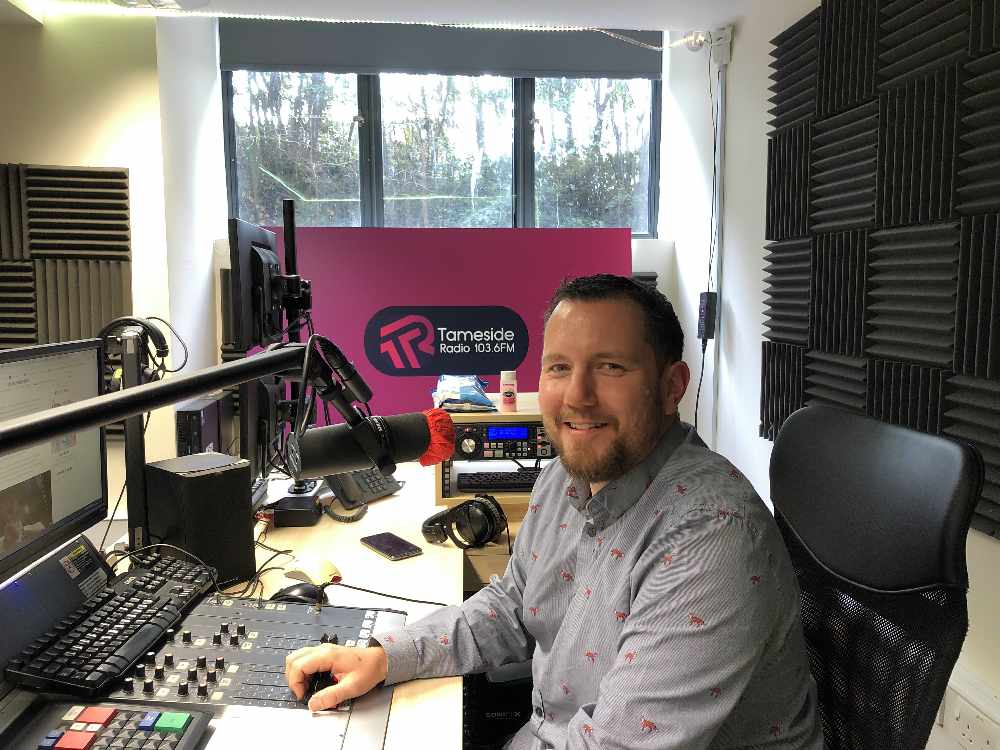 In this week's Reporter column, Tameside Radio Breakfast presenter Alex B Cann gives his latest unique take on lockdown life - including what he's missing and what he thinks could change once restrictions are eased.
I was thrilled to get a message at the weekend from my parents to confirm they'd had their first coronavirus jab. It was a real feeling of relief, and came off the back of my mother-in-law having her vaccine a week ago.
Whatever the politics of the pandemic, you'd be hard pressed to find fault with the terrific pace of the vaccine rollout, and we've been doing particularly well here in Tameside and Glossop.
I have huge respect for all those who have worked tirelessly to make it happen, and continue to do so. The weather has certainly done its best to make things difficult at times recently, with a real blast of winter coming from Russia and the Ukraine... the so-called 'Beast from the Baltics'.
Aside from missing trips to the cinema after my radio show and dreaming about being able to get my hair cut again, I've become fairly accustomed to lockdown life.
When I drive past closed pubs, it's hard to imagine what the hospitality sector has been going through. Such venues are more than just a place to have a pint. In many towns and villages, they are at the heart of the community, and I worry about the rates of loneliness whilst their doors remain shut.
One of last Saturday's national papers mooted the idea of them reopening in April without beer being served and, whilst I initially scoffed at the suggestion, perhaps that might be better than nothing. I know I can't wait for a proper real ale in the pub with my friends Andrew and Patrick, and promise to leave my mobile phone firmly in my pocket after almost a year of weekly video calls with them.
Talking of things going back to normal, how do we think gyms will fare? Many people have been buying all sorts of home kit during lockdown, judging by the soaring prices online for things like kettlebells (I'm selling mine this week... I've never used it since buying it on a whim ages ago from the middle of Lidl!).
I was a real gym bunny for a while, which is hard to believe now. It becomes addictive, and we have many passionate gym owners raring to go here in Tameside.
I'm fairly sure people will return once they can, but perhaps some classes might stay on Zoom. I know my wife has been a big fan of the Body Coach's workouts and eating plan during lockdown, and whilst I've swerved the keep fit element, I'm enjoying trying the cooking!
I guess a mix of home and office working might also become the norm, and that makes sense.
The slight reduction in traffic on the roads has certainly been nice, although it's far less marked than in the apocalyptic scenes last March, when my journeys to Doncaster (where I worked at the time) were the quietest I've ever known.
I've written before about my admiration for parents who are home schooling, and the impact of the pandemic on our kids, and it's been good to see this more widely discussed recently. I hope they can get back to school in the next month.
I hope to see Portland Basin Museum back in business soon too, as it's sad to walk past it daily and see the lights off.
The same goes for our wonderful theatres and tourist attractions. I know how hard all arts venues are working behind the scenes, grappling with how they can safely reopen.
As for the High Street, with the news that Boohoo has bought up several of Arcadia's brands but not the bricks and mortar stores, a lot of imagination is going to be needed to fill the gaping holes on our high streets.
Business Rates desperately need reforming in the forthcoming budget, and I support calls for a digital sales tax on the likes of Amazon.
Recent figures showed a big disparity in the rates paid on UK sales, with online averaging 0.37 per cent and stores closer to 2.3 per cent. This gap needs closing urgently.
So much of life is still on hold and in a state of flux right now, and whilst Covid cases are now on the wane, it feels like we've still got a long way to go, especially in this coldest of weeks. Stay warm, stay safe, and see you in the pub when this is all over.
You can listen to Alex every weekday from 7am to 11am and on the 'Super Scoreboard' show on Saturdays from 3pm to 7pm, on Tameside Radio 103.6FM.
Read more from the Tameside Reporter
Click here for more of the latest news
Click here to read the latest edition of the paper online
Click here to find out where you can pick up a copy of the paper