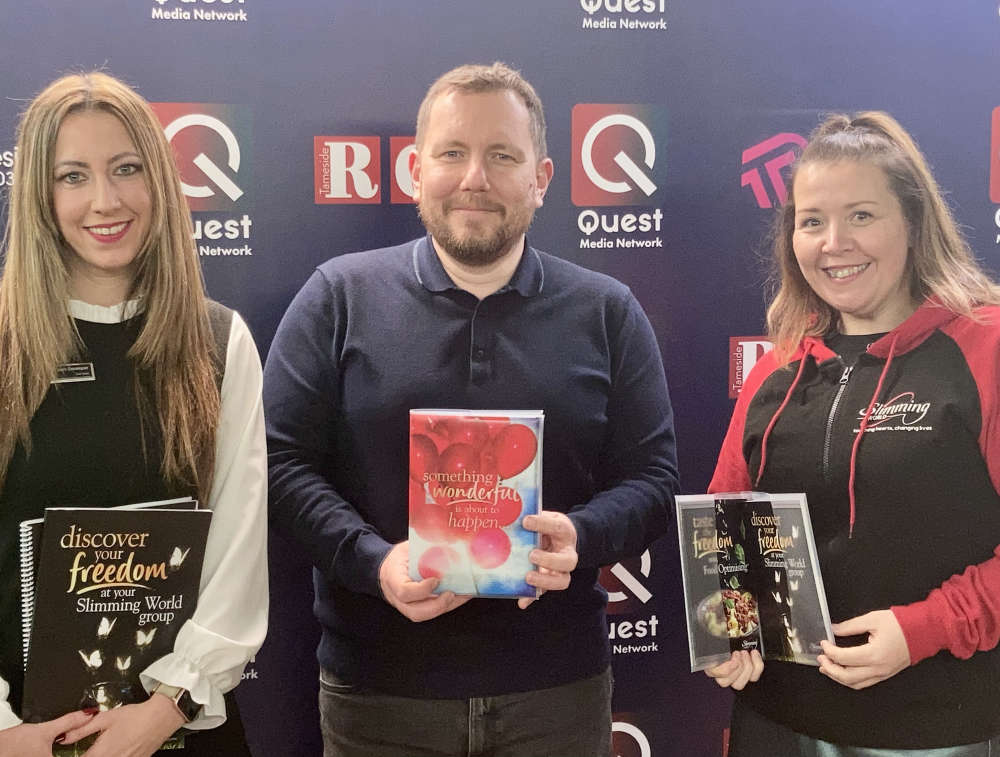 Alex Cann with Jane Sigley and Gail Taylor from Slimming World.
The Tameside Radio presenter updates us on what his plan with Slimming World Tameside entails. Would you be able to stick to it?
On Monday, I was in the most fun meeting I've attended in years! By the way, I'd like to make it clear it definitely wasn't a party.
Gail and Jane from Slimming World Tameside came into Quest Media Network to talk me through the basics of the plan, and I was left gobsmacked by several things:
1) No food is banned. It's all about concentrating on foods that fill you up, are nutritionally balanced, and not empty calories. Pasta, boiled rice and potatoes are amongst the items you can eat without any guilt. In fact, in spite of naughty treats being classed as syns, the whole ethos is about embracing the joy of food and eating in a more mindful way.
2) The syn values in some of the items I used to grab without a second thought are pretty shocking. I'm pleased to say the odd hash brown with a black coffee won't be a problem, but I think I've had my last Big Mac for a while. Lovely though they are, I just can't contemplate using all of my naughtiness for the day in a three minute scoff. The programme makes you think about what you're putting in your mouth, and you'd be surprised how many items are free! Pretty much all fruit and veg for a start, plus you can even have fish without the batter and mushy peas from the chippy without using a single syn.
3) Exercise doesn't have to mean running! The Body Magic section of the programme gives lots of tips for achieving your goals without having to wear lyrca or running shorts. Thank goodness for that, since the last time I went for a jog, Relight My Fire was in the Top 40 for Take That and Lulu. Yes, it was cross country running at school. The only thing worse was being picked last for the football team. Mind you, I did run speedily on one occasion when there was a wasps' nest in the woods. The point is...just by moving more, every little helps towards your goal. Getting a Fitbit has been really good for me too, as I can track my steps. Being a radio presenter and writer is not conducive with high totals, but it buzzes on my wrist every hour reminding me to move.
4) Healthy extras are added to your plan, which can include my favourite, a handful of cashew nuts. Sadly, Curly Wurlys are not included on this list, but I discovered this week that a retro Chomp bar is only three syns. Perfect for a sweet treat!
I'm sure Jane and Gail explain all of this far more skilfully than me, but I hope I've captured the essence of it. I don't see this plan as a flash in the pan diet. It's something you could easily stick to for life. If you're going out for a meal or getting a takeaway, most places have their menus online, so it's a doddle to plan ahead and plump for something that's not off the scale in terms of syns. This isn't a fad, or something you need special items to follow. It's eating real food, and making better choices.
I have always piled on weight easily, and as I've mentioned in this column before, I adore eating! That will never change.
I'll keep you posted on Tameside Radio each week with my progress, but I honestly believe anyone could follow this plan if they wanted to.
Elsewhere this week, my last column on 'Partygate' drew a fair bit of reaction on our social media pages, most of it negative.
I'm always up for a debate as long as we keep things civilised, and I'm certainly as happy to criticise Labour where it's warranted. I just can't see how Big Dog Boris can bounce back from this entire tawdry spectacle, even with his teflon qualities.
His government made the rules, and to pass the buck to an unelected civil servant's forthcoming report in answer to every searching question is not good enough.
The old story dredged up about Sir Keir Starmer smacks of desperation from those seeking to change the narrative, as does the ridiculous BBC bashing and other so-called 'red meat' items designed to stir up favourable tabloid headlines.
Who even enjoys work parties anyway? It's a mystery. I certainly wouldn't have wasted any syns on sausage rolls from the Downing Street trestle table, that's for sure.
You can listen to Alex every weekday from 7am to 11am and on the 'Super Scoreboard' show on Saturdays from 3pm to 7pm, on Tameside Radio 103.6FM.
Read more from the Tameside Reporter
Click here for more of the latest news
Click here to read the latest edition of the paper online
Click here to find out where you can pick up a copy of the paper