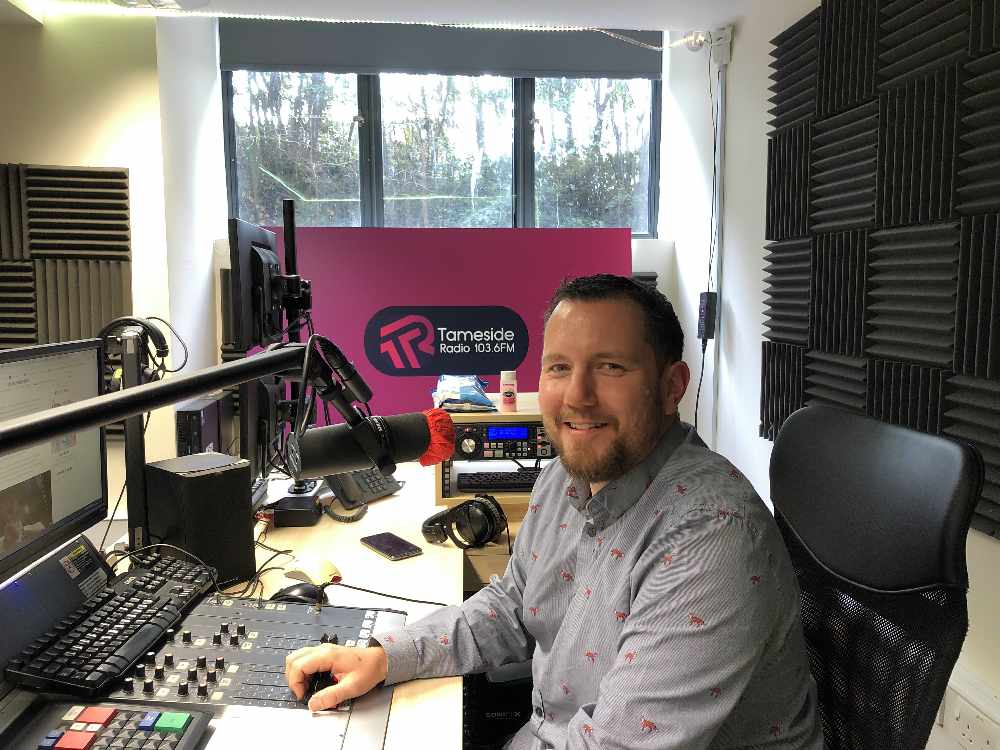 Tameside Radio's Breakfast presenter Alex B Cann.
The different ways we stay connected, changes in socialising and an unusual Christmas dinner choice all feature in the Tameside Radio presenter's latest words of wisdom.
I had an interesting chat with my mate Patrick over a pint last Friday evening.
OK, perhaps it was more than one real ale that we imbibed on a tour of the local pubs near mine, if I'm being honest. We got talking about all the different ways in which all of us are now connected.
During lockdowns one, two and three, the sequel no-one wanted (like Shrek 3), the likes of Whatsapp, Zoom and Skype were lifesavers. Admittedly, it really was no substitute speaking to my parents on a screen compared to giving them a big hug in real life over Christmas.
I remain hopeful that we can have something approaching a normal festive weekend this year, and we've even decided just to have pizza and chips, to save my mum stressing for hours in the kitchen and striving not to leave the sprouts simmering for too long. Their company is far more valuable to me than a roast dinner, and I feel a little sympathy for anyone whose festive season would genuinely be ruined by the absence of a frozen bird.
I'll be sorting my booster jab next week too, as we're told that's the best way of ensuring Trivial Pursuit and repeats on TV happen as usual this December 25th.
Anyway, I digress. Back to all the different platforms which most of us are on. In spite of this being the case, have you tried arranging to meet up with friends lately? It can't just be my chum Paddy and I who are finding it increasingly difficult to pin folk down to a firm plan. A glib phrase like 'we must meet up for that coffee sometime' is sadly the equivalent of telling a charity collector in the high street that you're just popping to the cashpoint, and you'll definitely return with some loose change just as soon as you've broken a tenner.
It's about as reliable a promise as a genuine HS2 Northern Powerhouse rail upgrade plan. Fine words for a rousing Party Conference speech, but unlikely to ever materialise.
Scroll to the bottom of your Whatsapp or Facebook Messenger when you get a second. It's like the graveyard of friendships! I bet you'll find several 'we must meet up' conversations in there.
Is a general reluctance to commit to meeting up something you've experienced in your social circles, or is it something we said? I wonder if folk have simply got out of the habit of going to the pub like they used to. Maybe it has to be something a bit more elaborate to justify leaving Netflix and the sofa behind. Or perhaps it's just us.
I'd love to know if you're socialising like you used to, or whether you've made changes. I guess I'm also looking for a little reassurance, as this column is often like my therapy session. I've got the candle burning as I type this, and the usual Air 'Moon Safari' album.
On a brighter note, I do have firm plans for Saturday night. After my radio show, I'm off to see the magnificent OMD at Manchester Apollo, and can't wait! Martin Emery from We Are Tameside (11am-3pm weekdays) is my 'plus one', and we're right looking forward to hearing the whole of the Architecture and Morality album played live. I'm also hoping they do Pandora's Box and Sailing On The Seven Seas, if I'm honest. You can still catch my chat with singer Andy McCluskey here.
Other than that, my only other frisson of excitement this week has been counting down the sleeps until I can play Wham's Last Christmas and Freiheit's underrated Keeping The Dream Alive on the wireless.
Even my nephew cancelled plans with me to watch Ron's Gone Wrong at the cinema last Sunday, as he was at a Park Run getting his daily exercise whilst I ate his Milky Way Stars! How rude. I ended up watching a kids' film on my own, looking a little bit like a spare part in a cinema screen full of families. Great film, though. I also hugely recommend Spencer and Last Night In Soho, both of which continue at Cineworld Ashton this weekend. Next on my list is the new Ghostbusters. I'll be going on my own though. Far easier to arrange!
You can listen to Alex every weekday from 7am to 11am and on the 'Super Scoreboard' show on Saturdays from 3pm to 7pm, on Tameside Radio 103.6FM.
Read more from the Tameside Reporter
Click here for more of the latest news
Click here to read the latest edition of the paper online
Click here to find out where you can pick up a copy of the paper