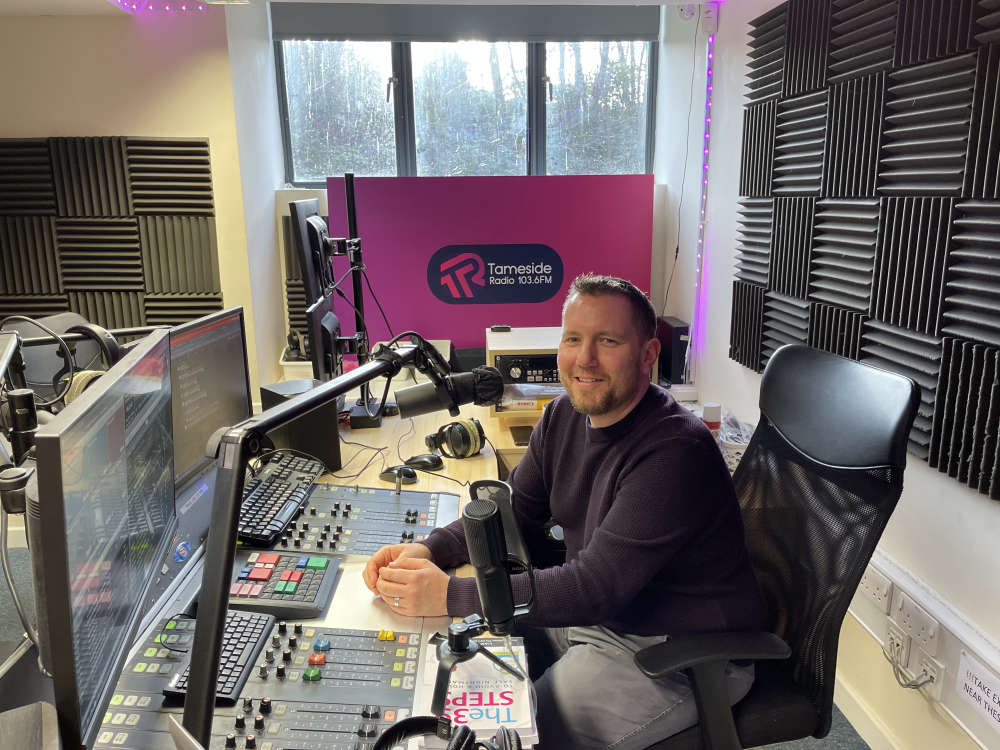 Tameside Radio's Breakfast presenter Alex B Cann.
With loneliness the theme of Mental Health Awareness Week this week, the Tameside Radio presenter talks about how we can look after ourselves and others.
I've just started reading a charming book called The Mindset Handbook - Little Nuggets For A Mental Evolution by Larry Meyler.
In the first chapter, there's a really nice quote - 'Your mind is a canvas, and you are the artist. You may have been created by others, but YOU can take control of the final exhibition'.
It's a book that aims to clear your mind clutter, and enable you to put your foot down on the path of your life.
I'm enjoying it so far, even though I clearly have a bad case of tsundoku (Cambridge dictionary definition - the practice of buying a lot of books and keeping them in a pile because you intend to read them but have not done so yet). At some point, I'll need to take a year off any form of paid work in order to clear the backlog. I find it pretty difficult to settle down with a newspaper or a book these days, such are the distractions of modern life.
I mention this book because it ties in nicely with Mental Health Awareness Week, which is running until Sunday. This year's theme is loneliness, and it has been hosted by the Mental Health Foundation in the UK for the past 22 years.
We're running a Mental Health Minute on Tameside Radio on Friday, joining up at 10.59am with 500 other radio stations around the UK. You'll hear familiar voices, including the Duke and Duchess of Cambridge and Dame Judi Dench.
Prince William spoke movingly about grief at the opening of the Glade of Light monument in Manchester city centre this week, which is dedicated to the 22 people who tragically lost their lives at the Ariana Grande concert five years ago this month. It was from the heart, I thought, and a world away from the traditional staid reputation the royals have had in the past.
It's startling to think that one in four UK adults have felt lonely for some, or all of the time, over the last month. This is why loneliness has been chosen as the theme for Mental Health Awareness Week, and the pandemic has certainly exacerbated things.
Although a lot of the narrative in the media is that the pandemic is 'over', it's easy to forget those who are still shielding, or are scared to socialise after a succession of lockdowns and being repeatedly told to stay at home by the Government.
I had a great chat this week with Peter Lloyd, a Get Up And Go Coach at Age UK Tameside, about the fab work they are doing to get over 50s who've been through a difficult time back on track.
You can hear it on the Reporter Show on Tameside Radio on Thursday night from 7pm, and anyone can be referred without the need for a GP to be involved. Just Google Get Up & Go Tameside to find out more. They provide a wonderful service.
Overall, I think we've got better at having honest conversations about mental health. We can all do little things in our daily lives to help. Random acts of kindness without expecting anything in return rarely go amiss; messaging a friend who you've not heard from in a while; smiling more and having a positive approach to things (although not to the extent of Buddy The Elf on the smiling front, perhaps); and remembering that just because someone seems OK, it's worth asking again. I know some will read this and think it all sounds fluffy, but I honestly believe we need to be less cynical and more helpful in order to make the world a better place. Social media can be especially toxic.
Other things you can do include inviting conversations, volunteering your time and sharing your experience of loneliness on social media, using the hashtag #IveBeenThere. Support is available from the Samaritans helpline on 116 123, or Mind on 0300 123 3393.
Elsewhere this week, TOG Mind is running a series of activities for Mental Health Awareness Week, including arts and crafts from 2-4pm on Thursday, as well as Mental Health First Aid training to staff from Tameside Council. On Friday, they are hosting an event to celebrate all their brilliant volunteers, and you can use the hashtag #MHAW2022 to find out lots more that's going on.
One of my favourite escapes from the world is a trip to the cinema, and I'm planning a trio of treats this week!
Father Stu is the new Mark Wahlberg movie about a former boxer and agnostic who gets a second shot at life and decides to train as a priest. It's described in one review as an 'inspirational true story'. I'm also watching Firestarter, a horror about a girl with a gift for creating flames, and Everything Everywhere All At Once, which sees a worker in a launderette fighting surreal forces from the multiverse. It looks a little like a quirky Matrix, and I hope it proves to be the perfect Saturday night tonic, as my wife is vanishing to America for a week with work. Alright for some!
You can listen to Alex every weekday from 7am to 11am and on the 'Super Scoreboard' show on Saturdays from 3pm to 7pm, on Tameside Radio 103.6FM.
Read more from the Tameside Reporter
Click here for more of the latest news
Click here to read the latest edition of the paper online
Click here to find out where you can pick up a copy of the paper