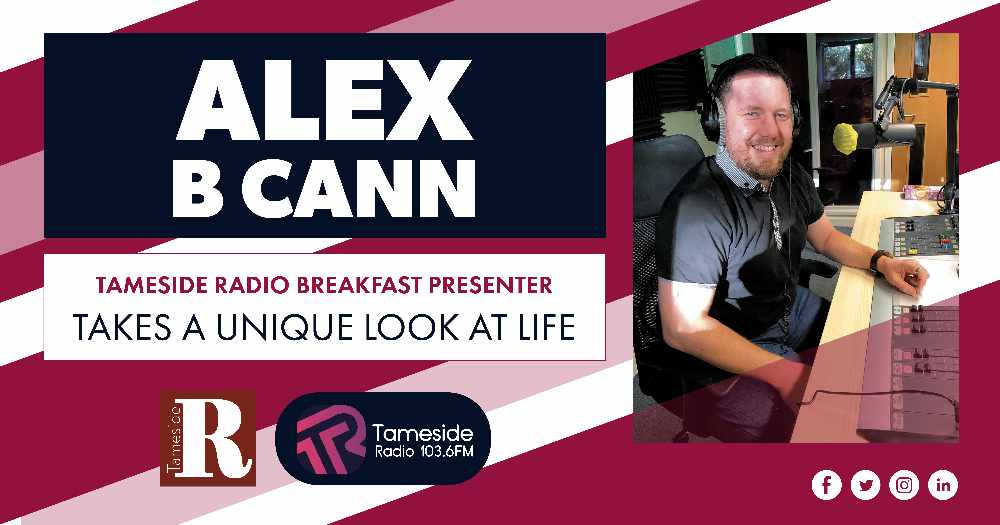 After the government's announcement on easing lockdown restrictions, wearing face coverings is the hot topic of discussion in Tameside Radio Breakfast presenter Alex B Cann's latest column for us.
Is wearing a face covering really such a huge imposition on us?
I ask because a great deal of focus has been placed on them becoming optional in England from Monday 19 July. Some high profile names have spoken about their glee at binning their mask, or even proudly declared they've never bothered wearing one, but is it really that big a deal?
Chief Medical Officer Chris Whitty said in Monday's Downing Street briefing that he would continue to wear a mask while in a crowded situation indoors, when required to by an authority, or if someone was uncomfortable with him not wearing one as a point of 'common courtesy.'
When I wear a mask in the supermarket, I'm making the decision to protect others, and I feel that point is sometimes lost in the rhetoric of Cabinet ministers. I'm not being controlled by the Government; I'm being a considerate human. I don't worry about looking daft, and in fact I'm quite proud of my collection of washable face coverings, bought from an enterprising local lady in the next village back at the start of the first lockdown. My wife and parents both think I look a bit daft in my sparkly one, but I reckon I rock it stylishly!
I wear a mask to support frontline NHS and care workers, who have not had a break through the last 16 months, and are right at the forefront of danger every single day. I've also not taken much time off, but at the end of the day I play records and talk on the radio, so it's not really a fair comparison. I also realise the whole planet does not revolve around me, and that life is about more than me and my creature comforts.
I don't 'live in fear' of the virus, but appreciate cases are on the rise again, and the simple act of wearing a piece of material over my nose and mouth might stop others from becoming infected, should I be asymptomatic and be carrying the virus. Hand washing and distancing are also things I'm keen we don't lose.
It's worrying that a recent study showed over one in ten people still don't wash their hands after going to a public toilet. This is beyond grim. Distancing has been great to deal with those folk who get 'in your face' when talking to you, and I'd be sad to lose it!
Back to face coverings, and I honestly think too much emphasis has been placed on gleefully binning them. No-one is suggesting wearing one when out walking the dog, or in the car on your own. I also have no desire for us to return to one way systems in the supermarket, as these caused a lot of passive aggressive tutting from me aimed at people who ignored the arrows, and did nothing for my blood pressure! However, when in a situation surrounded by lots of people, can you honestly look me in the eye and tell me it's a big deal to stick a mask on?
I accept there are genuine exceptions, but those who claim to be exempt but could perfectly easily put a face covering on really get my goat. I just don't understand the selfish thinking behind this. As for the prominent rock and pop stars who use their position to spread fake conspiracy theories, they really ought to be ashamed of themselves. Anyone who thinks world governments are joined up enough to club together and organise a 'global reset' has more faith in the organisational skills of those at the top than I do! They also never seem to be able to clearly state what the end goal of this reset is.
Life has to carry on, and the vaccination programme has done a huge amount to reduce hospitalisations. Figures show that cases will inevitably increase as more of us attend the theatre, sports matches, concerts, nightclubs, pubs and so on. Isn't it just sensible to reduce your risk by wearing a mask when you can?
I've said before in this column that I am pleased not to be the one making the decisions, but I just think if we all do our little bit to consider others, we'll get to the other side of this pandemic that bit quicker.
Seven million are said to have put off visiting hospital for other conditions, and this is clearly a worry, and another reason for us to keep deaths at a minimum. Wearing a mask is more likely to do that than binning it.
You can listen to Alex every weekday from 7am to 11am and on the 'Super Scoreboard' show on Saturdays from 3pm to 7pm, on Tameside Radio 103.6FM.
Read more from the Tameside Reporter
Click here for more of the latest news
Click here to read the latest edition of the paper online
Click here to find out where you can pick up a copy of the paper