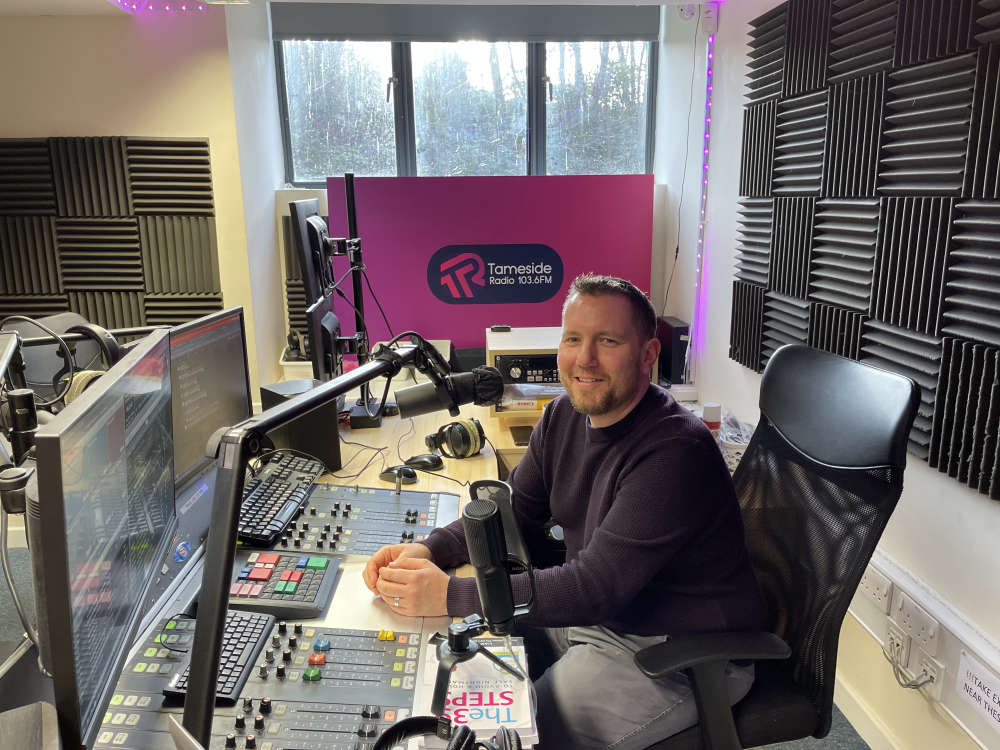 Tameside Radio presenter Alex B Cann in the studio.
In his latest column, the Tameside Radio presenter talks about the Conservative Party leadership contest and being more mindful about drinking alcohol.
Forget 'red meat'. This week, it's been more a case of 'blue on blue', with the remaining candidates to be our next Prime Minister slugging it out on television, and trading barbed insults as well as clashing on policy matters. I am afraid I haven't caught any of the live debates, much to the surprise of some of my friends and family.
Even though I did a degree in Politics and Communication Studies, and am a huge politics geek, I'm finding it tricky to feel invested in a democratic process where I don't have a vote. It seems curious to me that roughly 160,000 Tory Party members will determine our next PM this summer. Perhaps Simon Cowell could have been roped in to devise a new TV format, or more sensibly we could have just had a General Election. One feels more than overdue to me, a bit like a heavy thunderstorm clears the air after a horrid muggy day.
During the pandemic, I remember from my daily Government permitted walks around the block seeing overflowing recycling around where I live, and thinking some of my neighbours must have been having a lot of work events, judging by the number of cans and bottles I saw piled up awaiting collection.
Now, joking aside, NHS England and the University of Sheffield have compiled some research that shows while lighter drinkers reduced their intake in the last couple of years, heavier drinkers ended up coming more and may never return to the level they were at.
Social pressure to drink is still very much a thing, but perhaps that's changing, with more and more 0% and low alcohol versions of everything from gin to IPA craft beer. In fact, another piece of research this week found that almost a third of visits to the pub are now booze-free, whilst 37% of restaurant visits are also sober.
Those aged from 25 to 34 were more likely to increase their boozing during the Covid-19 years than any other age group, apparently.
The stark conclusion of the report is that, even in a best-case scenario, there could be 42,677 extra hospital admissions and 1.830 alcohol-related deaths over the next two decades. Worst-case scenario figures rocket to 972,382 admissions and 25,192 deaths respectively over the same period. That sounds like huge numbers to me, not to mention the extra cost on an already creaking health service, with millions on the waiting list for treatment as it is.
UK guidelines stipulate we shouldn't be exceeding 14 units a week, which is scarily easy to do. We're told these stark figures mean we need a recovery plan after the pandemic, and that's probably true. Sadly, I don't have the answers, but I wonder if the proliferation of alcohol ads at the cinema and on telly could perhaps be more tightly regulated?
Scotland and Wales have a minimum unit price for alcohol, which is said to have reduced consumption of ciders and cheap, strong spirits. Our Government has so refused to follow suit, but said back in May 2021: "We are committed to systematically addressing the causes of preventable deaths and ill-health, including the harmful consumption of alcohol, and this year we have outlined details of the new Office for Health Promotion which will spearhead these efforts".
It all feels a bit token and piecemeal, to be honest. I enjoy a craft beer and glass of red on a Friday night, but I do worry that we're storing up long term problems by kicking this national issue into the long grass, much like proposals to tackle obesity.
If you are looking to try some mindful drinking, I can recommend Heineken 0%, Ghost Ship 0.5% and non-alcoholic Martini, which is a tenner at Sainsbury's if you want to go retro. They are all really nice. Oh, and they often contain fewer calories than their alcoholic equivalent too, which is a bonus when it comes to Slimming World syns! Let me know if you have any more recommendations. If anyone says 'what's the point', I just roll my eyes these days.
Let's just hope they don't bring back the 5pm Government Downing Street briefings. Those often made me reach for something very strong. Have a good week.
You can listen to Alex every weekday from 7am to 11am and on the 'Super Scoreboard' show on Saturdays from 3pm to 7pm, on Tameside Radio 103.6FM.
Read more from the Tameside Reporter
Click here for more of the latest news
Click here to read the latest edition of the paper online
Click here to find out where you can pick up a copy of the paper