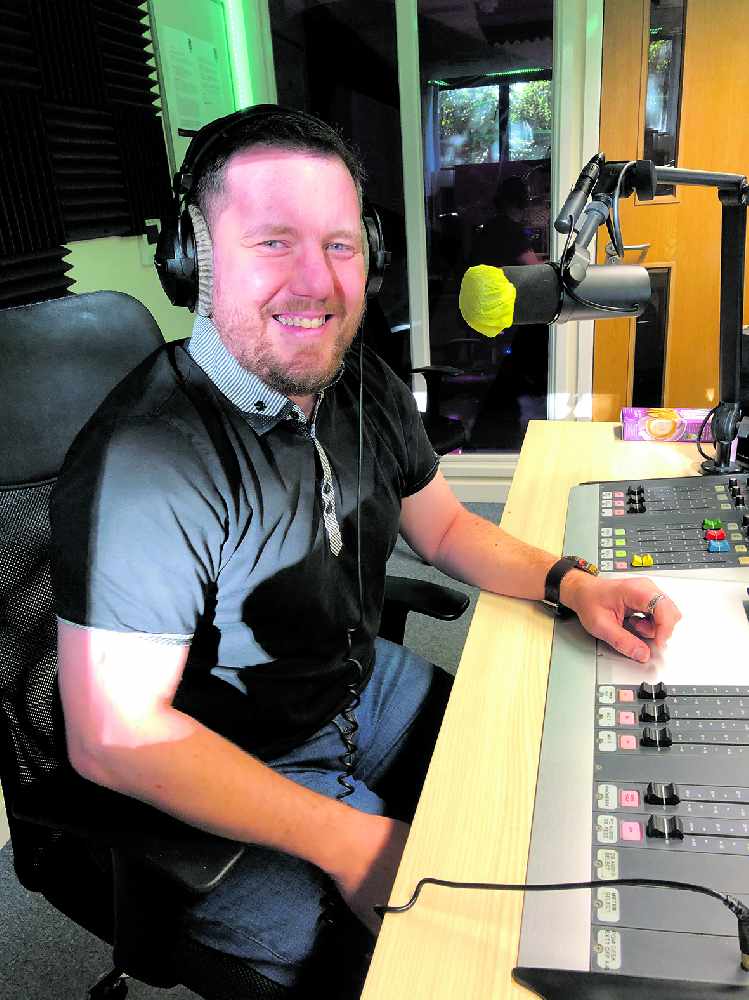 As this newspaper rolls off the printing presses, there are a mere 36 days until Christmas. 
My decision to put a small tree up in the Tameside Radio studio on Monday wasn't universally welcomed by the team, but I don't begrudge anyone opting for some early festive sparkle, after a trying year for all of us in so many ways. Don't worry, you won't hear Cliff and Mariah's festive offerings on air until 1st December, I promise!
The Amazing Ashton Awards have been announced this week by Ladysmith Shopping Centre, with some incredible winners.
I was honoured to meet one of them, Angie Wild from the Anthony Seddon Fund, on my second show at Tameside Radio back in September, covering for Sarah Hall.
Angie is a whirlwind of inspirational energy and kindness towards others. Everyone nominated for the awards should be really proud. Tameside has a wonderful community spirit.
Diwali was celebrated at home last weekend, and my thoughts are with all who couldn't mark it in the usual elaborate way.
Elsewhere, I'm a Celebrity has arrived onto our TV screens from a windy Welsh castle, and thankfully banana bread and Zoom quizzes don't seem to have been too prominent during the current lockdown.
I definitely had something in my eye watching ITV's tribute to Bobby Ball at the weekend.
It's also being repeated tonight (Thursday) at 11.05pm, if you fancy setting your VCR!
"Rock On, Tommy: The Bobby Ball Story" features heartfelt contributions from Lisa Riley, Shane Richie and loads of others who worked with him over the years, all narrated by Tommy Cannon.
If you read the lovely piece in the paper recently by Philip and David Williams, you'll already know that they sold more tickets in 1985 than Bruce Springsteen! Not bad for two welders from Oldham. Sad news about Des O'Connor's passing too.
The most surprising few hours for me this week were spent attending a speed awareness course...via Zoom! Me and eight people I'll never meet again, gathered remotely to go through some rules of the road.
Whilst I was dreading the experience, I came away feeling inspired, and wanted to share a few pearls of wisdom with you:
1) If you're driving in a 30mph zone, keep the car in third gear. Ignore its constant prompts for you to shift into the highest gear. It makes you far less likely to 'drift' up to 36mph, which caused me to attract the attention of the mobile speed van in the first instance!
2) If you're on a road with lamp posts and it's not a motorway, chances are you're in a 30 zone, unless you see regular 'repeater' signs showing a different speed limit.
3) The key to keeping your blood pressure in check when being tailgated is to pull over (where it's safe) and let them roar past you. I have tried this a number of times in the last ten days, and recommend it highly! I also derive a certain sense of satisfaction when I inevitably catch them up at the next traffic lights anyway.
4) There's usually one person on every Zoom call who doesn't know how to use the mute button! Someone on my course had an extremely noisy washing machine.
I certainly feel after 25 years of driving that taking the course was worthwhile.
It costs between £75 and £95, and allows you to avoid the three penalty points which would have been added to your licence otherwise.
It's astounding how little difference driving a few mph slower makes to your arrival time. It's about the time it takes for the kettle to boil... simply not worth the risk of breaking the speed limit.
You can catch me on Tameside Radio every weekday morning from 7-11am, plus on Saturdays from 3-7pm for the Saturday Super Scoreboard Show.