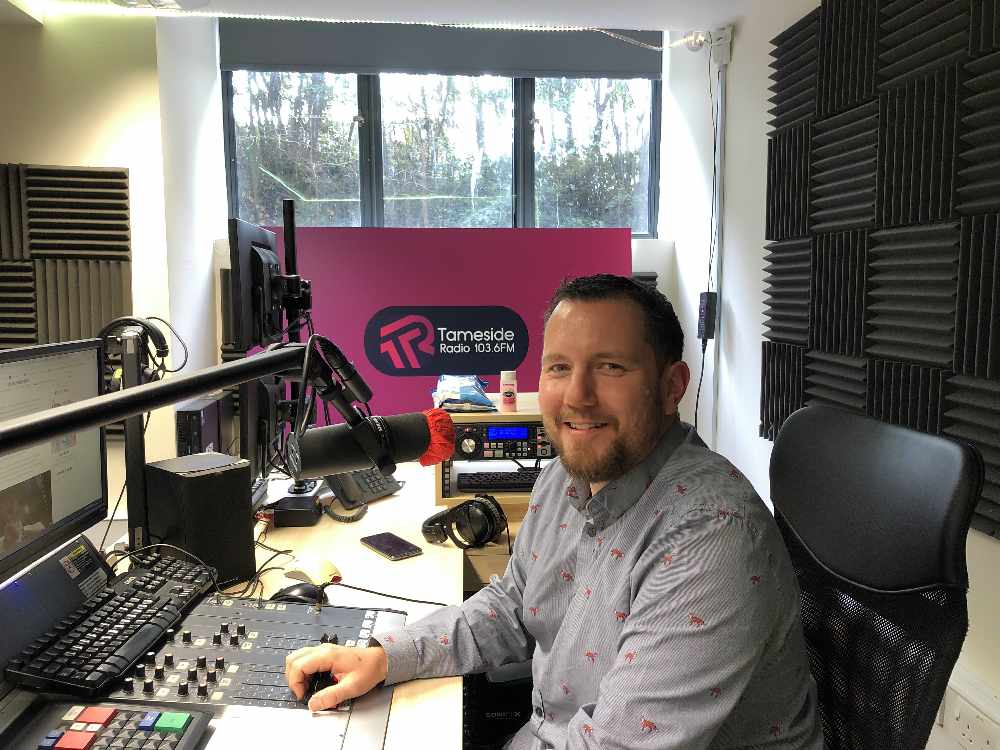 Tameside Radio's Breakfast presenter Alex B Cann.
Tameside Radio presenter Alex B Cann writes about his visit to a newly-opened Ashton restaurant and how a new Fitbit has helped change his routine...
I am writing this week's column still feeling pretty full after a superb meal out at the Purple Olive in Ashton, which opened its doors this week on Stamford Square.
Now, I'm no Jay Rayner, but let me tell you I will never take a meal out with friends for granted again after all the various lockdowns.
I arrived ready for a poppadum or two after an evening stroll from Portland Basin Museum (and following my Google Maps to a different address initially...my sense of direction doesn't get any better!) and found the restaurant was already buzzing.
It's so nice to see groups of people sitting at tables and enjoying each others' company again, after we all spent so long staring at the same four walls.
After a liberal dollop or two of mango chutney and those lovely little onions you get with a pickle tray, it was onto a delightful mixed veggie starter.
My fellow diners Andy and Tom plumped for the mixed meat option, which also looked delicious.
My veg samosa was particularly exquisite.
The main event was a medium spiced chicken dish served with a generous bowl of chips (don't judge me!) and peshwari naan, plus pilau rice.
The only thing I forgot to order was kulfi, so I guess we'll have to return to sample that, but what a lovely way to spend an evening.
I wish the Purple Olive team every success in their new venture, and the decor really does look fantastic if you're planning to take advantage of their 50 per cent off offer, which is running until September 5.
Attentive service, wonderful ambience and authentically cooked food. Compliments to the head chef, who we were told was too shy to come and say hello.
My mother-in-law and wife both make amazing curries, and this was definitely up there with theirs, so huge props to the team at the Purple Olive. I'm sure we'll be back soon!
Elsewhere this week, I watched The Night House at the cinema, and Rebecca Hall really is on cracking form as a recently widowed woman living in a creepy lakeside house designed by her late husband.
I won't say too much about the plot, as it's much better if you watch it not knowing any of the twists and turns, but it was a bit like being on a rickety ghost train ride in Blackpool. I loved it!
There's been quite a lot of talk about how we watch films lately, with Scarlett Johansson taking legal action against Disney for putting her latest blockbuster Black Widow onto their streaming platform at the same time as releasing it in cinemas.
She argues it's affected her earnings, which are based on box office takings, but Disney has put up a robust defence.
For my money, I'd always rather watch films on the big screen, but I do wonder if a lot of people have got out of the habit during the last 18 months. Screens at home have definitely got bigger.
I know this from my early evening walks, and peering into living rooms to nosey at what people are viewing! I'm told this is a bit of a strange voyeuristic habit, and that I really ought to stop. I'm working on that.
I've been doing loads of walking actually, since acquiring my new Fitbit just over a week ago.
It tracks everything from your resting heart rate to your water consumption, as well as buzzing on your wrist if you haven't moved in a while.
Us radio presenters are a bit like sloths, so it's proving a useful reminder to move every now and then!
Another revelation has been the sleep tracker, which tells me I average about five and a half hours a night. I'm not sure the Sleep Council would approve of this total, so I'm working on getting it above six.
After last night's curry, I fell asleep as soon as my head hit the pilau. I'll see myself out...
You can listen to Alex every weekday from 7am to 11am and on the 'Super Scoreboard' show on Saturdays from 3pm to 7pm, on Tameside Radio 103.6FM.
Read more from the Tameside Reporter
Click here for more of the latest news
Click here to read the latest edition of the paper online
Click here to find out where you can pick up a copy of the paper