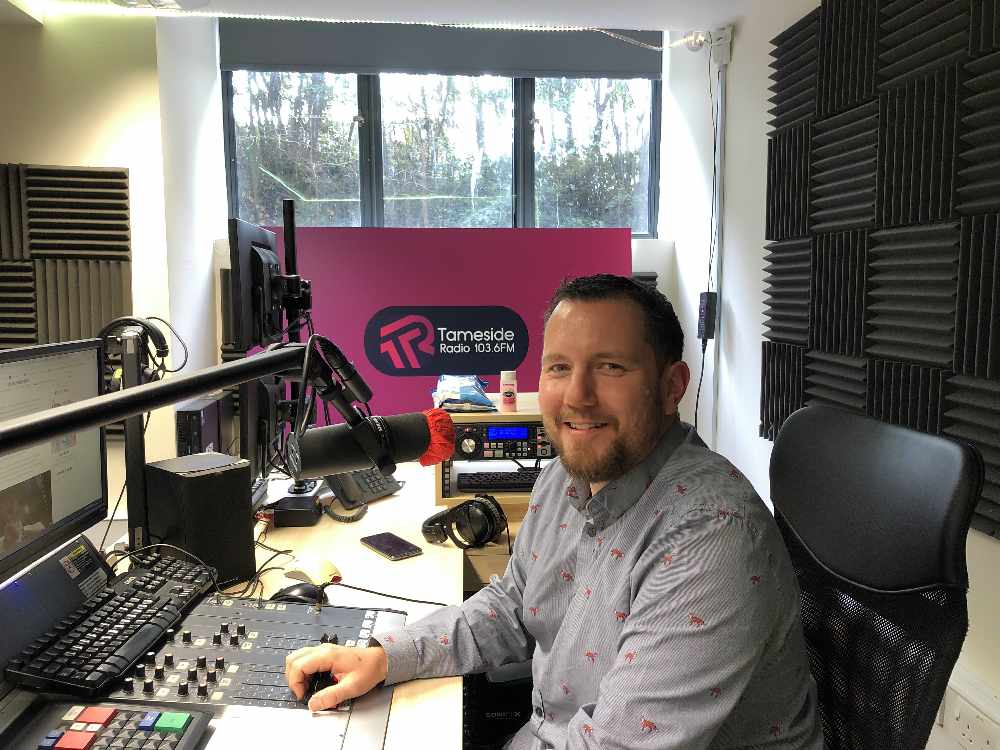 Tameside Radio's Breakfast presenter Alex B Cann.
Tameside Radio's Breakfast presenter discusses the subject of weight - and in particular the thorny issue of putting calories onto restaurant menus.
Whilst my step count is definitely a little down on the daily recommended total of 10,000 a day this week, I have notched up half a dozen movies at Cineworld Ashton since the return of the big screen on Wednesday 19 May.
From these, I'd select Nomadland as the finest. It was every bit as good as Three Billboards Outside Ebbing, Missouri, which was my film of 2019, and Frances McDormand earns her Oscar within the first few frames of the movie.
Alas, with it being school holidays in Tameside, Peter Rabbit and Cruella have taken over proceedings for the coming week, although there's some horror in the Spiral Saw franchise. Just don't eat a big lunch before watching it!
Talking of lunch, there's been a return this week to the thorny issue of putting calories onto restaurant menus.
In the Queen's Speech, the Government announced plans to force restaurants, cafés and pubs with more than 250 employees to include the information. It's a piece of legislation, designed to tackled burgeoning waistlines and entice us gently towards making healthier choices when we dine out.
Beat, an eating disorder charity, asked 1,118 people with an existing or past eating disorder whether it would impact on them in a negative way, and a rather alarming 93 per cent said it would with 89 per cent stating their opposition to the plans.
One response said: "The thought of seeing the calories on menus makes me feel so sick, and sends me straight back into the depths of my eating disorder. It's going to affect so many people and, instead of helping, will only make the mental health crisis worse."
This is heartbreaking to read. There is undoubtedly an issue in this country with too many of us weighing in above our recommended BMIs, but it does sound to me like including calories on menus is a 'using a sledgehammer to crack a nut' approach. If you're like me, and you've tried most diets going, you'll know the struggle of trying to make wise choices when out in restaurants. However, calories are only part of the story, with avocado and nuts being two examples of healthy foods that are also high in calories.
I feel a better tactic would be to teach more cooking skills in schools, which might already be happening now. In my school days, all I remember from Home Economics is the time I opened the wrong cupboard and smashed a mixing bowl that someone had clumsily piled against the door, and being shouted at by the teacher.
Supermarkets could definitely do more to entice us with offers on fruit and vegetables. Look at the end of any aisle, and nine times out of ten it's the donuts, cakes and biscuits that have tempting multi buy price deals. This is particularly dangerous when you go shopping hungry.
Some 'diet' ready meals are also packed full of sugar so, whilst being low in calories, the high sugar used to give them flavour is arguably just as bad for us. Many have turned to plant-based milk in their drinks, and some of those contain far higher sugar content than you might realise as well.
My wife Sofia is still suffering from the after effects of long Covid, and has very little taste now when she eats. This has been the case since she had the virus back in March 2020. She tells me it's taught her to eat more to fuel her body than binging on the wrong things, so at least she's taken a positive from something so awful. I adore eating, so I don't think I would have coped half as well with loss of taste as she has!
My BMI currently tops 33, and it's something I'm desperate to reduce. There's a lot of insensitivity around the subject of weight, and we must remember there are also people who are desperate to gain pounds. I'm just not sure plonking calories onto every restaurant menu would do much to change things. We need proper conversations about education, nutrition, mental health and all the emotions linked to eating, from comfort binges to loss of appetite. It feels like a broadbrush approach to a very complicated issue.
Enjoy the half-term if your kids are off, and remember to support our local town centres. They need your support more now than ever before.
You can listen to Alex every weekday from 7am to 11am and on the 'Super Scoreboard' show on Saturdays from 3pm to 7pm, on Tameside Radio 103.6FM.
Read more from the Tameside Reporter
Click here for more of the latest news
Click here to read the latest edition of the paper online
Click here to find out where you can pick up a copy of the paper