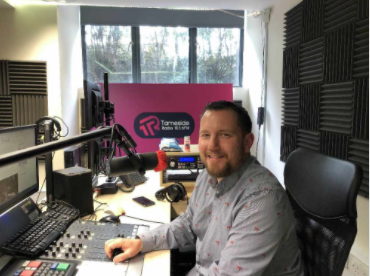 The Tameside Radio's breakfast presenter talks about the BRIT awards and music legends.
It's been a week of missing the boat for me. I didn't catch the Great British Bake Off final on Tuesday. In fact, I've not got round to watching any of this series since week one, when the Black Forest's Jurgen won the Star Baker accolade.
I've also not found time to catch I'm A Celebrity, but I imagine Richard Madeley is living up to his reputation as pure Alan Partridge.
To make matters worse, I missed An Audience With Adele on ITV on Sunday night, including a moment where an old teacher of hers made a surprise appearance and reduced her to tears. Much like some of her songs do to me.
One show I never miss is the Brits. There have been some surreal moments over the years, from Chumbawamba's Danbert Nobacon chucking an ice cold bucket of water over John Prescott in 1998 to Jarvis Cocker getting up on stage when Michael Jackson was performing his overblown Earth Song (although its themes are strangely poignant now, in fairness).
Another highlight was Sam Fox and Mick Fleetwood attempting to redefine the word 'hosting' in 1989. It was a live telly fiasco, and resulted in the Brits being pre-recorded for the next 18 years.
Wrong winners were announced, a Michael Jackson acceptance speech was forgotten, and Bros were presented with Best Newcomer by Ronnie Wood. It was like a bad cheese dream.
Anyway, fast forward to 2021, and it's just been announced that Dua Lipa was the last winner of Best British Female. She certainly made an impression in her acceptance speech, saying: "It's very good to clap for frontline NHS staff, but we need to pay them."
Annie Lennox has won it most frequently, with an impressive six trophies.
For the men, J-Hus picked up the final Best British Male award, with his hybrid of rap and African pop. I have to admit I'm not massively familiar, but I'll give him a go on Spotify after I finish writing this.
Robbie Williams is the most decorated bloke, with four Best British Male awards to his name. He has also had the most number of songs featured on numbered Now albums. I'm a mine of useless information!
The reason Dua Lipa and J Hus are the last is that the gendered categories are being axed from 2022, and replaced with a single Artist of the Year.
Much like 'man size tissues' and 'not for girls', they have been deemed anachronisms in a gender fluid world.
Clearly, it's a real quandry for the organisers, as the likes of Sam Smith were not eligible for consideration this year, which seemed unfair.
I have no issue with any title someone wants to use, but I do think it's a shame the categories are being scrapped. It's such a big part of musical history.
I also worry in the long term that it could mean women will struggle to get fair representation in the Brits, although clearly Adele has 2022's Artist trophy in the bag already after breaking all records with her 30 album. I'd love your thoughts, as I'm not totally on one side of the fence or the other.
Elsewhere in music, yesterday marked 30 years since the world lost Freddie Mercury, and we played loads of classic Queen songs on Tameside Radio to mark the anniversary.
Freddie died aged just 45. His incredible musical legacy will stay with us for generations to come and he's simply irreplaceable.
Talking of which, where on earth IS time going? This week also makes 26 years since the first Toy Story was released in cinemas.
Buzz and Woody feel like they've been with us forever, admittedly, but over a quarter of a century since we first heard 'there's no sign of intelligent life anywhere' is quite scary.
It's also a phrase I found myself muttering when watching our Prime Minister address a room of business professionals, and having what one might politely term a shocker.
Losing his place on the script, burbling about Peppa Pig World and impersonating a car were amongst the dubious highlights.
Unless of course, much like watching the Brits in 1989, it was just a bad cheese dream.
Read more from the Tameside Reporter
Click here for more of the latest news
Click here to read the latest edition of the paper online
Click here to find out where you can pick up a copy of the paper