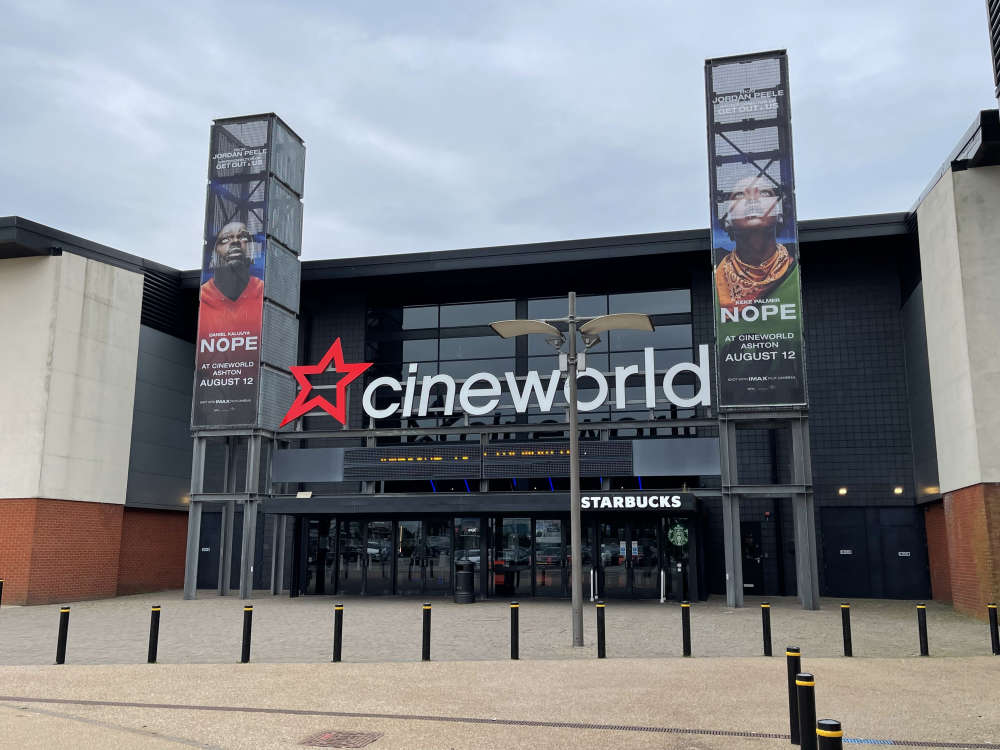 Cineworld in Ashton.
The Tameside Radio presenter and avid film fan has been to see three movies this week which can be linked by different modes of transport...
This week, the magic of the movies took me on a high-octane tram ride through Prague, a gentle steam train ride into Oakworth, and finally a boat trip through the marshes of Barkley Cove in North Carolina!
The Gray Man has already been signed off for a sequel and top secret spin-off movie, and arrived last Friday on Netflix after a short run at cinemas. You can see from the opening scene where some of the eye watering 200 million dollar budget was splurged (£166 million), with fireworks going off left right and centre, and a trail of destruction being left as Ryan Gosling slugs it out from scene to scene with Chris Evans and his stick on moustache.
Critics have been divided on how good the film actually is, and I have to admit some of the script was a little on the corny side, perhaps knowingly. You don't really watch something like this its highbrow plot though, so if you're looking for an action flick that's a cross between Bond, Bourne and Mission Impossible, this should tick the movie night boxes for you. The audience score on Rotten Tomatoes is far higher at over 91% than that of the critics, which is a lowly 48%.. One critic, Peter Rainer, said "it's kind of like watching a movie that's a trailer for itself", and that does ring true at times, as the screenplay feels pretty disjointed. But like I say, take it for what it is, and I think you'll enjoy it. Whether it justifies a sequel is another matter.
Meanwhile, The Railway Children Return is more of a matinee movie than a gripping Saturday night blockbuster. Jenny Agutter is back as Bobbie, and she really shines in every scene, although those are sadly few and far between. I read in a recent interview that she wrapped up her filming pretty quickly, and I'd have liked to see more of her in this sequel to the 1970 classic. The Yorkshire countryside is the real star of the show, with gorgeous Oakworth station looking as stunning as ever. Yes, some of the acting is a little hammy and wooden, but you can cut a bit of slack to a film as likeable as this one.
Some have argued that the racism storyline felt crowbarred in, but I thought it worked well, and you could easily come to the cinema to watch this film having not seen the original. I liked John Bradley as the grandson of Bernard Cribbins' character Albert, and although the finale is a little too close to the original for comfort, it was an enjoyable 90 minute cinematic canter. Sheridan Smith shone as the head teacher of the local school, and has said in promotional interviews that "to be there when Jenny Agutter walked on set - it was really powerful". I can't imagine a modern Northern Rail train having the same magic on screen as those steam locomotives...although they do have a handy USB socket for charging your phone.
Completing my trio this week, Where The Crawdads Sing has upset some fans of the book, but having not read it, I thought it was pretty decent. There's another split in opinion on Rotten Tomatoes, with critics disliking it, but the audience 96% enjoying it.
There's a murder in the marsh, but was it Marsh Girl who was responsible? We follow Kya (played by Daisy Edgar-Jones) as she grows up abandoned by her entire family after a tumultuous start to her childhood, and fending for herself in isolation, with only the local shopkeepers showing her any kindness. It borders on being overly glossy a little at times, but having no knowledge of the story, I'd give it a solid seven out of ten. I think when you've read the book, you often build your own picture of the characters, so film adaptations often fall short of your expectations. The Tom Cruise Reacher flicks immediately spring to mind as the best example.
This week's big one for the summer is DC League of Super-Pets, but I'm more excited about a new Olivia Coleman film called Joyride. Happy film watching!
You can listen to Alex every weekday from 7am to 11am and on the 'Super Scoreboard' show on Saturdays from 3pm to 7pm, on Tameside Radio 103.6FM.
Read more from the Tameside Reporter
Click here for more of the latest news
Click here to read the latest edition of the paper online
Click here to find out where you can pick up a copy of the paper