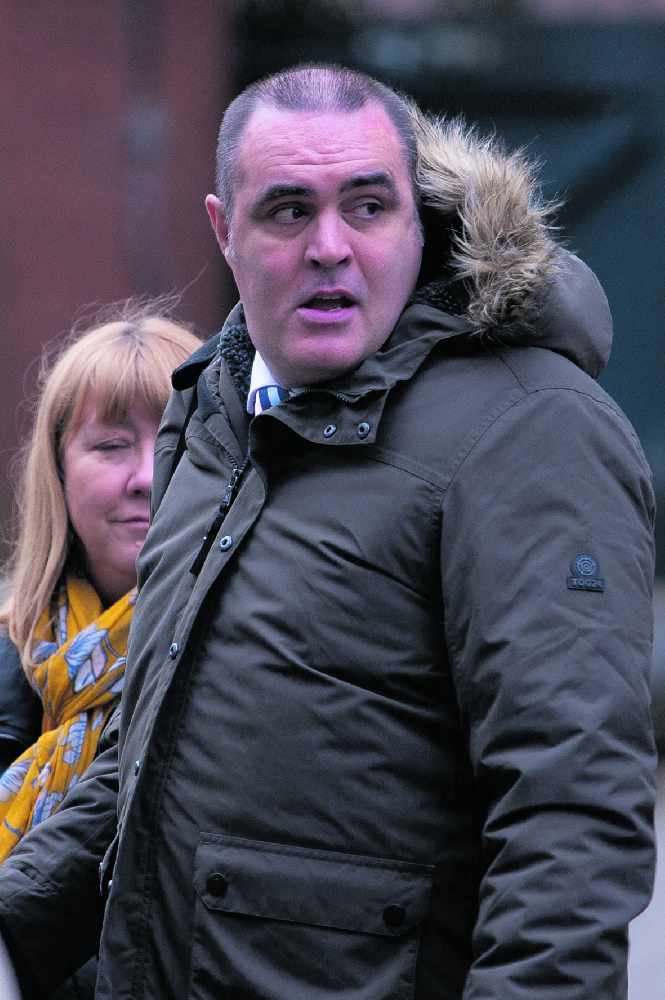 An accountant who plundered £17,500 from a primary school PTA has walked free from court.
Lee Williams (pictured), 44, had been appointed treasurer of the association due to his experience but he drained the account of cash after getting into financial difficulty at home.
Williams was confronted after staff at Friends of Buckton Vale School in Stalybridge examined the Parent Teacher Association accounts and found it contained just £57 when it should have been £14,000.
He later admitted the thefts claiming he had lost his home, had mental health problems and gambling debts and was receiving threats.
In a statement, the chairman of the PTA said: "I wrote the blank cheques for him. I feel a sense of guilt, which I shouldn't. The school suffered financially with school events, school trips, all affected by the loss of that money.
"This has affected not only the children, but the parents and teachers alike.''
Deborah Brown, the headteacher at Buckton Vale Primary School, said: "As soon as irregularities in our PTA's accounts were identified, we took swift and appropriate action to ensure it was properly investigated. The defendant no longer has any association with our PTA.
"It's been a difficult time for the school and we have supported those affected by this case throughout. We'd like to reassure parents and staff that the PTA continues to work hard for the benefit of pupils and the school community."
At Minshull Street Crown Court, Williams, from Mossley, admitted fraud and was given a 12 months jail term suspended for 18 months and ordered to complete 100 hours unpaid work.
The missing money has since been repaid in full.
The thefts occurred between September 2015 and July 2018 shortly after Williams was selected by parents and teachers to be treasurer.
Prosecutor Miss Sarah Johnston said: "This was an unpaid role for which he was more than qualified to undertake, as he had previously been a qualified accountant.
"But in 2018 concerns arose because of attempts that the association were making to become a registered charity. They required various statements for the piecing together of information from Mr Williams.
"Suspicions were confirmed when the school made contact with not only the defendant asking him for statements, but also contacted the bank for confirmation of the account balance. It should have had £14,000, but the actual amount was £57.
"Attempts were made to contact Williams but he was evasive. He then assured that the monies were in a separate account that he set up. He provided to the chairman of the PTA a false report to show in excess of £14,000 was held in a legitimate account he had been operating.
"But it turned out to be a false document and the funds had already been dissipated when he came to be arrested and interviewed.
"When persistent attempts were made to ascertain where the money was and what happened to it, he eventually confessed to the chairman that he had taken the money through desperation and he intended to have it all back in two weeks, and it would be paid back then... The monies were never received."
He was subsequently arrested and in interview he accepted he was responsible but had difficulties in 2015 where he lost his home, had mental health problems and gambling debts and was receiving threats.
Miss Johnston added: "The defendant did express a degree of remorse. A number of people involved with the PTA have left and are wary of being involved now because of the distrust in positions such as this.
"Individuals don't want to be caught out or caught up with the dishonest actions and the association itself has been jeopardised."
She stated the money had now been repaid in full.
No mitigation was offered on Williams' behalf after he offered to complete unpaid work.
Sentencing Judge Paul Lawton told him: "You are here because of a quite disgraceful episode of fraud against the Parent Teacher Association.
"They placed their complete trust in you from September 2015 as you had formerly been a qualified accountant and they came to place their trust in you in full.
"But between then and July 2018 you pillaged £17,500, which was a gross breach of trust on your behalf. The ramifications go way beyond your appearance before this court.
"All of those involved in those funds and the association itself has been tarnished unfairly by what you have done. You have brought shame upon yourself and the PTA itself. Schools are gossipy places and they didn't deserve to find out your behaviour in the way they did. You confessed when you were confronted with your dishonesty. Had you not made repayment I would have sent you straight to prison."
Report and image from Cavendish Press