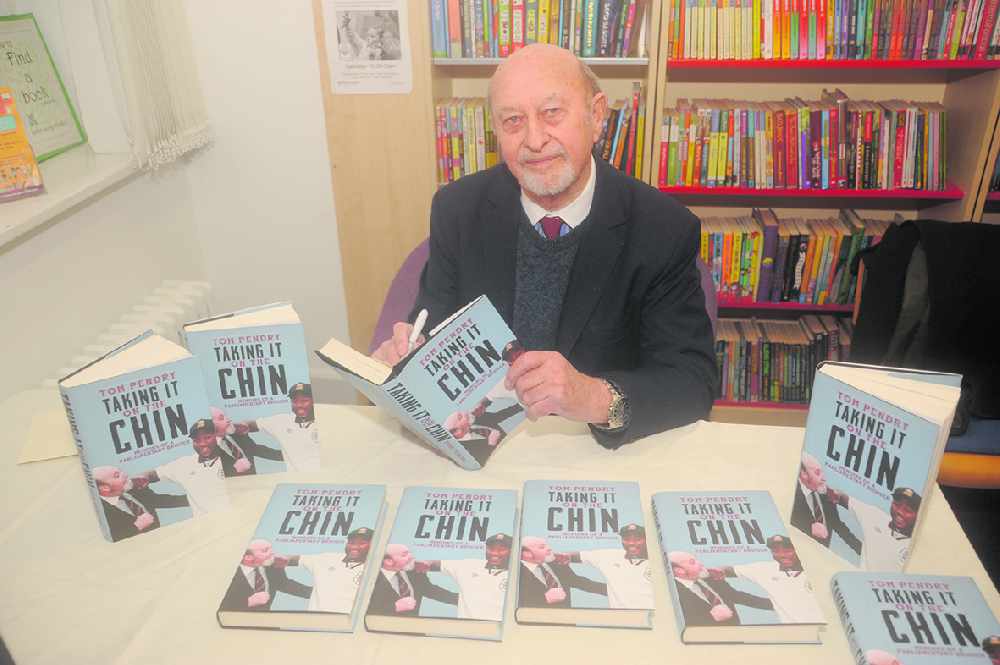 Fifty years since first being elected MP for Stalybridge and Hyde, Tom Pendry is still playing a major part in politics as a member of the House of Lords.
The former Shadow Minister For Sport who had lived in the constituency since being elected as an MP in June 1970, recently moved back to his home town in Broadstairs, Kent.
He is currently 'locked down' in his London flat due to the coronavirus pandemic, but still plays an active part in House of Lords debates and question times via Zoom.
In an interview this week, Lord Pendry spoke of his long political career and his love for his former constituency and its people.
"I was honoured to be their representative," he said.
Topics in our telephone interview ranged from him being shot at in Belfast, his determination to keep Moors Murderers Ian Brady and Myra Hindley in prison, to the everyday life of a busy constituent MP, looking after the needs of Stalybridge and Hyde.
And he is just as proud of 'saving' Stalybridge station buffet bar from closure as his possibly much bigger achievements.
During his National Service in the 1950s, the sports-mad Tom Pendry served with the RAF in Hong Kong, becoming the colony's middleweight boxing champion.
He still takes a great interest in the former British territory and worries about its future, recently posing a question in the House of Lords over the Covid 19 situation there.
Lord Pendry was made a member of the Privy Council in 2000 on the recommendation of Tony Blair, a year before he retired as Stalybridge and Hyde's MP after 31 years' service.
On entering the House of Lords, he chose the title of Lord Pendry of Stalybridge, he wanted to add Hyde, but it seems there was already a Lord Hyde.
Lord Pendry took over as Labour MP from Fred Blackburn and in his 31 years won eight General Elections before retiring.
He had a meteoric rise as a young MP, being promoted to the Front Bench ahead of Neil Kinnoch, John Prescott and the late John Smith,
He was also appointed a party Whip. Success followed and in Harold Wilson's Government in 1974 the former University Boxing Blue was appointed Lord Commissioner to the Treasury.
Then in November 1978, he took on the testing role as Under Secretary of State For Northern Ireland.
It was the time of the 'Troubles' and he was a frequent visitor to the Province, once being fired at.
Speaking just a few days ago, he joked: "The bullet hole is still in the door of Belfast Town Hall."
Lord Pendry was supported throughout his political career by his late wife Moira.
They have two children, Fiona and Dominic.
Tom Pendry's reign as MP coincided with part of the time when child killers Brady and Hindley were in jail.
Hindley in particular was petitioning to be freed and had a staunch ally in Lord Longford.
A series of Home Secretaries met the MP to gauge his views.
Tom Pendry was always against setting her free, a view the Home Secretaries secretly agreed with.
The MP also prevented a controversial play about the Moors Murders being staged in the North.
Speaking from his flat he said: "It was performed in London and was coming to Salford and Manchester... I stopped it."
In the interview Lord Pendry spoke of visiting Brady in Ashworth Hospital in a bid to get him to reveal where he had buried the body of victim Keith Bennett.
He said: "I was with him for five hours, I got him to go back to the moor (Saddleworth)."
Tragically nothing was found and Brady' secret sadly died with him.
Lord Pendry writes about the meetings in his book 'Taking It On The Chin', Memoirs of a Parliamentary Bruiser'.
Despite being 86, Lord Pendry is showing no sign of slowing down.
He has just started to write a book about Ian Brady and Dr Harold Shipman and will continue to be active in the House of Lords.
Stalybridge and Hyde may not be seeing as much of their former MP as they used too.
But there are buildings, a road and even a football stand named in his honour to remind people.
Main image:
TREASURED MEMORIES: Lord Tom Pendry signs copies of his book at Hyde Library in 2017. He is now working on a new book.