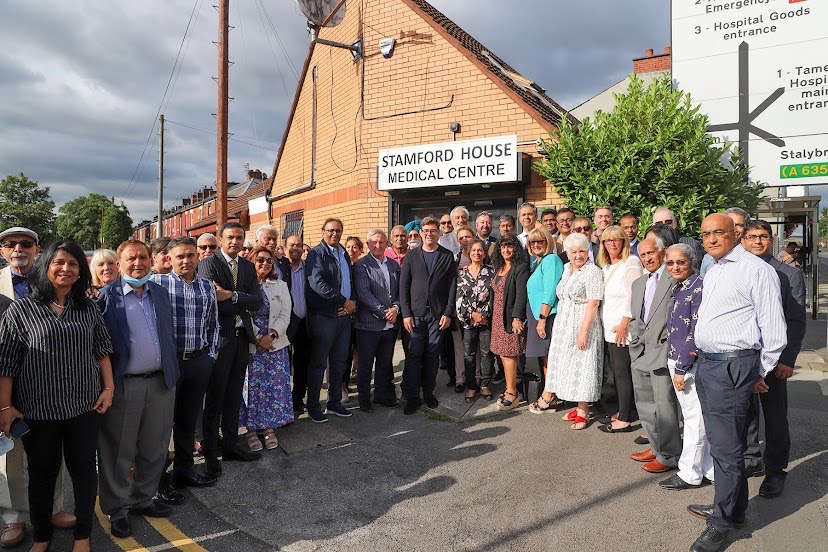 More than 50 special guests including eminent members of the local health profession have attended a special memorial.
Alongside civic dignitaries, former patients and friends, they gathered at Stamford House Surgery, Princes Street, Ashton, to remember former Ashton GP Dr Kailash Chand OBE.
The poignant and sometimes emotional occasion marked one year to the day of the passing of the highly respected GP and 'fearless defender' of the NHS who died at the age of 73.
A plaque in his memory was unveiled at his former surgery by his son Dr Aseem Malhotra and Greater Manchester Mayor Andy Burnham, who paid tribute to his great work and influence in the health world over the years.
He paid tribute to his daily social media 'Lessons for Life' and his enormous achievements.
"You couldn't meet Kailash without feeling as if you had always known him, such was his warmth, humanity and wisdom.
"We miss his Lessons for Life and were privileged to know him. For everyone he met he changed their life in some way or other and left an impression - and certainly that was true for me."
Andy recalled when he had first met Kailash properly when he visited the surgery 16 years ago to open an extension when he was a health minister.
"He and I began a conversation then that never ended - and still doesn't as he still inspires us," he recalled affectionately.
Andy remembered that day as a 'wonderful and special' occasion and said Kailash could not have been more proud as the surgery he had built continued to grow.
"He was a guide and mentored and nurtured so many people. He was loyal to his profession, his friends, the BMA and most of all to the National Health Service," he said.
"But it was not blind loyalty, he would question and challenge and he encouraged us all to do that in life. He taught us to make a stand for things that are important and to fight for what is right and important.
"The passion he showed for the NHS was infectious, you couldn't help but feel that when you were with him - and he taught me that passion for the things that really matter.
"He was a fighter for people, was proud of his heritage, and was absolutely committed and dedicated to this borough and its people, putting down his roots here and caring for the people here - and was always here for others and we honour him today."
Also paying tribute at the short ceremony were Kailash's son and eminent cardiologist Dr Aseem Malhotra and surgeon Dr Ram Jha, who explained how he had come to take on the Stamford Street Surgery from Dr Chand.
Listen to Andy Burnham's tribute to Dr Chand below.