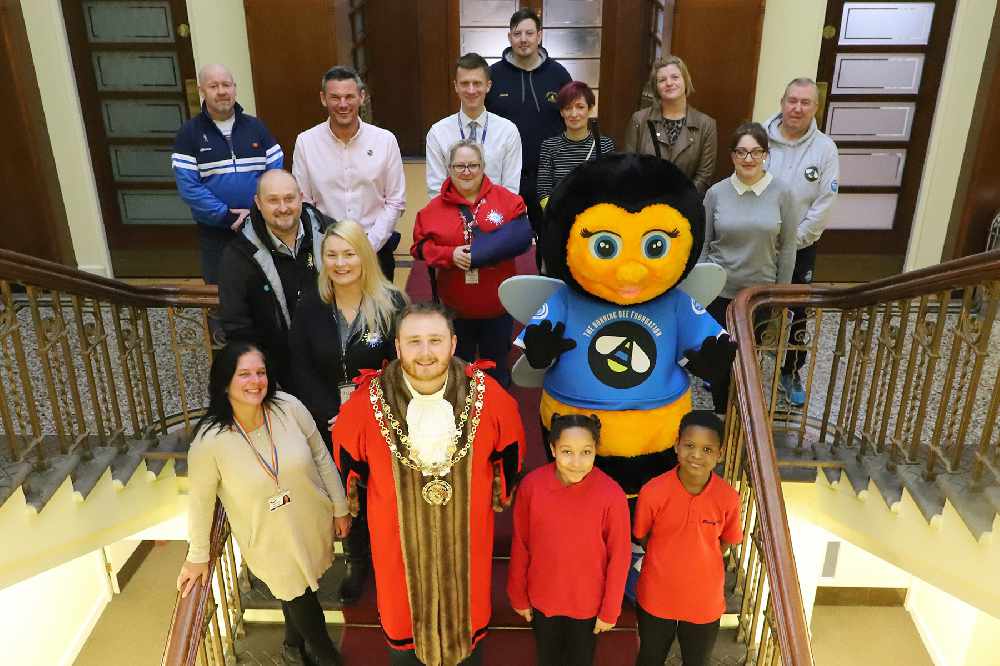 A charity has used profits from last years successful tour of Tameside to hand out £5,000 to good causes across the borough.
The Running Bee Foundation shared out the wealth in a ceremony at the Mayor's Parlour at Dukinfield Town Hall.
Nine groups were in attendance to receive their cheques of up to £500 to help them continue the good work they do across the borough. The winners were…
Cancer warriors, a cancer charity founded by Derrick Evans after he was diagnosed with stage 4 cancer in 2007. They work to help support people with the disease and to raise money for people in Tameside with cancer.
They were awarded money to help them with their community work, going into schools to educated children about what the disease is and how to spot the early signs of it.
Founder Derrick Evans said: "It makes a massive difference, we're all volunteers and it's very hard to get grants. It's going to make a massive difference to us."
Flowery Field Primary School, based in Hyde, received funding to help improve their active play sessions at break or lunchtime. They say they're going to use the funding to encourage a healthier mindset and lifestyle in their students through both nutrition and play. Students Julia and Malik from class 6ME both attended along with their teacher Paul Smith who said: "It's going to go towards enhancing our provision both before and after school.
"It's great we're able to offer the kids so many activities and this will go to enchanting that and getting our running club back up and running."
Mind Body & Soul is a women's social club that emphasises the benefits of physical and mental wellbeing, the monies will help them develop an evening running session. Ashton Albion Boxing received a grant to provide new equipment and inspire more young people to get fitter and healthier.
Friends of Conduit Street in Glossop will use the grant fund to build an outdoor tennis table in the local park for the whole community to enjoy.
Infinity Initiatives helps vulnerable people in Tameside with local support and counselling services, their donation will be used to improve their café facility to ensure they can provide and teach healthy meal options during the winter months.
Being There is a local charity that supports people with life threatening illnesses, led by Suzanne Roberts, the donation from The Running Bee Foundation will help fund their continuous work of providing transport for lonely and vulnerable people to hospital appointments and treatments.
Tameside Brass Band received a grant to help the running of its brass band contest. Now in its 144th year, it is the longest serving community event in Tameside.
St. George's Primary School in Hyde were the final group to receive a grant which will be used to encourage their in-school wellbeing activities and help the children lead better lives through connecting with other people, learning about the environment, giving to others, being active and learning about new places.
Carl Austin-Behan OBE DL said: ''I was delighted to present the cheques to the nine worthy causes. The Running Bee Foundation is there to help improve the health and wellbeing of others and encourage people to be more healthy and active in the community. It was a pleasure to witness so many organisations doing amazing things for the community and I'm looking forward to following up with each of their stories to see how others have benefitted from the donations.''
The Running Bee Foundation's Operation Manager Stephen Owen also said, ''It was brilliant to see the first group of recipients of our grants all in one room. I'd like to say a special thanks to Tameside's Mayor for hosting the ceremony and for all the groups who came along. I'm proud that we can help others through the profits made at our North West events.''
Also, Civic Mayor of Tameside Leigh Drennan said, "I'm extremely proud of the contribution The Running Bee Foundation has made to many local groups around Tameside. Their grants will go a long way in helping so many deserving people who give their time as volunteers. I really enjoyed hosting the hand over in my parlour and hope this will become an annual event".