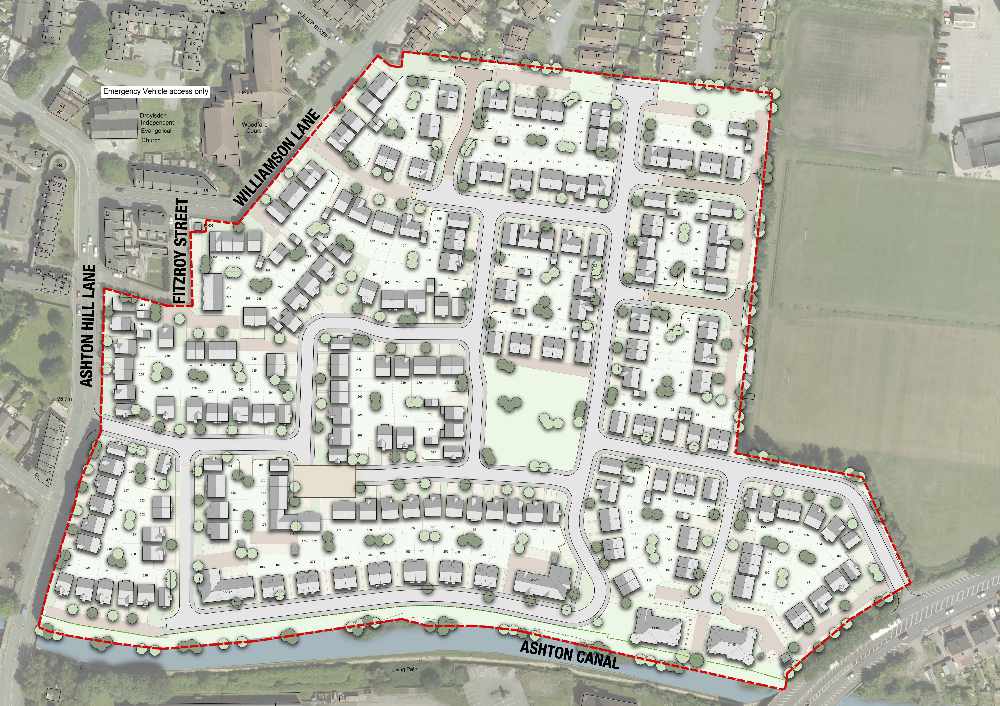 Plans for 300 new homes in Droylsden have moved a step closer after home-building company Taylor Wimpey completed the purchase of the 20-acre former Robertson's Jam Factory site for £15m.
The site has been unused since the factory closed in 2006. The land already has outline planning permission for a maximum of 350 homes, which was granted to Willsgrove Developments Ltd in December 2018.
Taylor Wimpey are proposing a mixture of three and four-bedroom detached homes, three-bedroom semi-detached homes and two-bedroom apartments.
The company is preparing to submit a detailed 'reserved matters' planning application to Tameside Council this month for the 300 new homes, creating what they describe as a 'new, sustainable community'.
As per the outline planning permission, 5% of the homes must be affordable housing and Taylor Wimpey will have to invest £400,000 in transport infrastructure.
This will involve improving both the capacity and safety of local roads for the benefit of existing and future residents by upgrading highways, installing new crossings and improving junctions. Main access to the site will be via its south-eastern boundary on Manchester Road.
Taylor Wimpey say their proposal will regenerate the Ashton Canalside for the benefit of the local community, providing a positive contribution to the local environment and an attractive new amenity space for the use of local people.
Gareth Bancroft, senior land and planning manager at Taylor Wimpey Manchester, said: "We will soon be submitting reserved planning matters for the former jam factory site off Manchester Road in Droylsden.
"Our proposals will transform what is currently an unused, brownfield site into a thriving, sustainable community, catering for house hunters at all stages of their lives, as well as bringing much needed investment and infrastructure to the area."
Taylor Wimpey hope to receive full planning permission next spring, with construction proposed for summer 2020 and the first homes occupied by late autumn.
Chloe Dunn, sales and marketing director for Taylor Wimpey Manchester, added: "This is a really exciting time as we look to progress plans for much-needed new homes in Droylsden.
"With local amenities accessible, Manchester city centre nearby and plans to enhance the local environment for all, we're confident that the 'former jam factory' development will prove popular with house hunters keen to be part of this bustling new community."
For more information or to register your interest, visit www.taylorwimpey.co.uk/manchesterroaddroylsden.