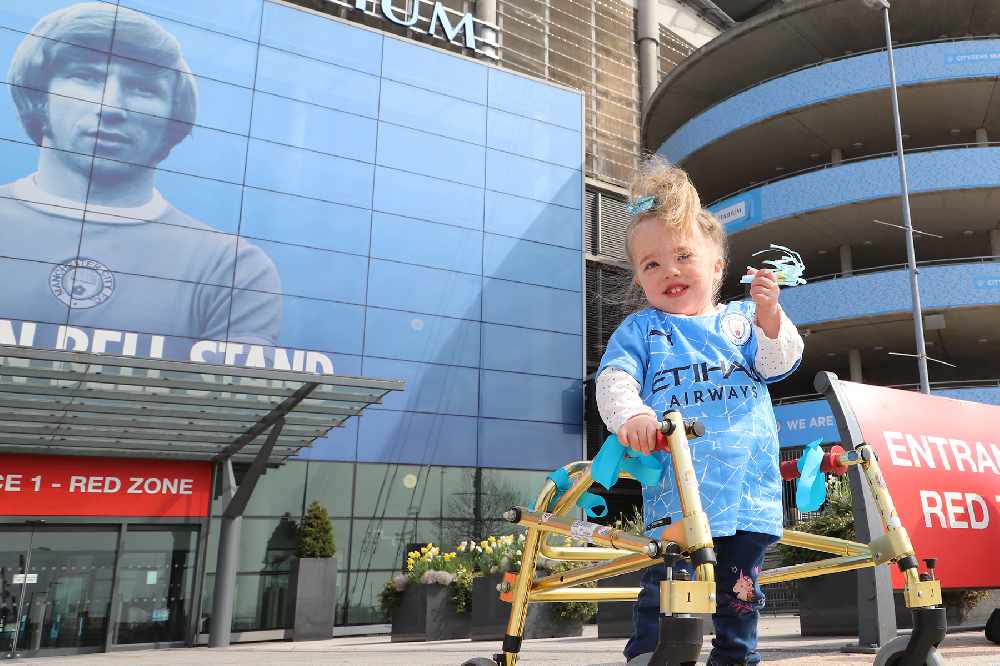 A determined little girl from Ashton has raised more than £1,000 for a charity close to her heart by walking around her favourite football team's stadium.
Ella Cooper, two, from Ashton, suffers from a rare developmental disorder known as Weidemann-Steiner Syndrome, which means she struggles to walk without the aid of a frame. Despite that, she took on the challenge and has raised plenty of money to help others in her position in the process.
Ella, joined by her close family, completed a full lap of the outside of the Etihad Stadium in just over half an hour, a fantastic achievement for the youngster.
Her parents Kay Garratt and Scott Cooper were over the moon to see their little girl striding out so confidently and said they were amazed by her progress.
"It went really well," said Scott. "Ella whizzed right round the stadium, she did it a lot quicker than we thought she was going to."
Her mum, Kay said: "It only took her around 30 minutes to get round the stadium so that was really good."
The club showered Ella with gifts, presenting her with her own Manchester City kit with 'Ella 2' proudly printed on the back. Also received were plenty of teddy bears, a backpack and a signed picture of star striker Sergio Aguero, which has been quickly commandeered by her City-mad dad.
Kay explained: "She loved every minute of it. She was smiling all the way through and loved the buzz that was going on around her with her family tooting the horns, the balloons and having her picture taken.
"We're really proud of what she did. We didn't actually think she'd do the whole circuit of the stadium but she managed it.
"Everything you put in front of her she manages it no problem."
The endeavour has so far raised more than £1,000 for The Wiedemann Steiner Syndrome Foundation, which works to provide education and foster a community around the genetic disorder.
Kay said: "We only wanted to raise £50 originally thinking that people would give the odd pound here and there, but everyone has been so generous, we've been overwhelmed with how generous people have been."
A keen runner, Kay is looking forward to getting back in the gym and training for the Manchester 10k when allowed.
Sunday's event was a celebration for Ella, who has so far been denied a traditional childhood by her condition. The first 12 months of her life were spent in and out of hospital while doctors carried out numerous tests to discover her condition. Then the pandemic hit and she was forced to stay at home instead of visiting parks and playgroups.
Despite these challenges, her mum says she relishes getting out and about.
"The first 12 months of her life we were stuck in hospital and then when she came out the pandemic hit and we've not been able to go to playschool or nursery, she's not been able to play with other kids. We're hoping now that the more she goes to nursery the more she'll come on.
"When she has been able to go to nursery she goes straight in, no bother, it doesn't matter that Mummy's not going to be there, she's straight out to play with the other kids.
"She's such a people person, she loves the other children and I think that's what she's missed with the pandemic. She's not been able to mix with the other children and it's really nice to see her getting involved with the other kids.
"We'd just like to thank Manchester City for everything they've done for Ella. When she was in hospital and all the players came to see us it just gave us that hour break of all the stress we were going through. Her dad's a big City fan and he absolutely loved it. She got some great gifts back then and now again, for her."