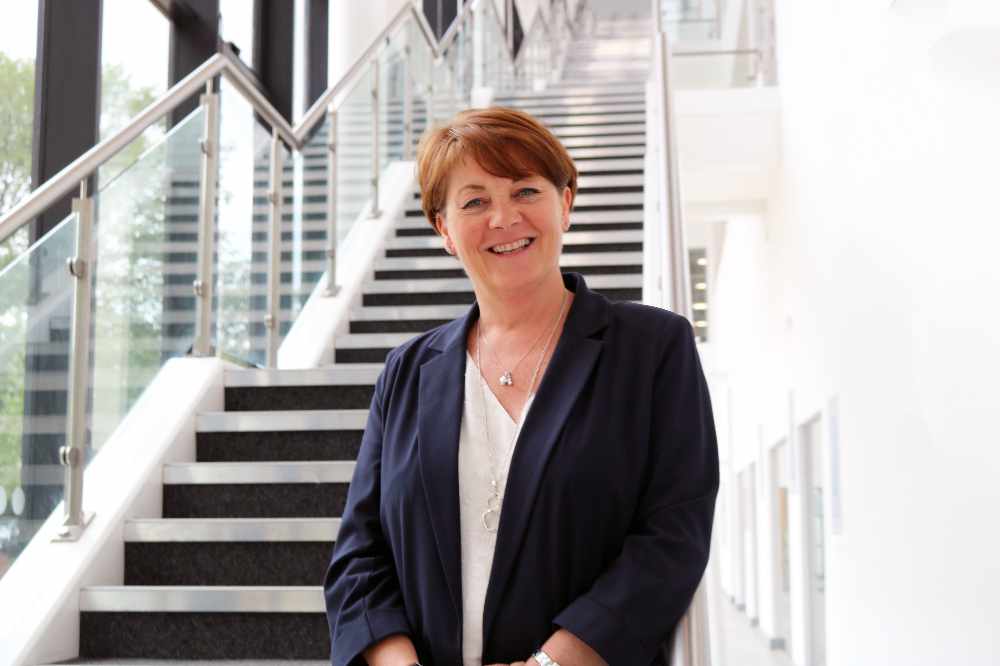 Jackie Moores, Principal and Chief Executive of Tameside College and Clarendon Sixth Form College.
Tameside College has invested more than £100 million in the last six years to provide state-of-the-art educational facilities across its Ashton campuses.
But that investment and determination to provide the very best community college for the whole of the borough and beyond shows no sign of stopping, with plenty more in the pipeline.
In fact, Principal and Chief Executive of Tameside College and Clarendon Sixth Form College, Jackie Moores, says she is looking towards investments in the future of up to another £50m.
The college has undergone a phenomenal growth and transformation as part of the long-planned Vision Tameside project, delivering Clarendon Sixth Form and Tameside One in the heart of Ashton and the Advanced Technologies Centre at Beaufort Road.
Next is the 'official' opening of the new Construction Skills Centre by Greater Manchester Mayor Andy Burnham following an £11.6m investment in the incredible building and its facilities.
"I honestly believe it is the best construction facility in the north west," states Jackie.
"Construction is a massive employment sector in Greater Manchester and beyond and you can work across the world with the skills you can gain there."
The astonishing investment and expansion at the college, rated 'Good' by Ofsted, has all taken place under Jackie's watch over the last six years.
"Our vision / mission is very much about empowering people to enrich their lives through learning whether they be school leavers, adults, apprentices or people returning to do an HE qualification closer to home," she says.
"It has been six years of continued investment. We have a partnership with the local authority 'Vision Tameside' and that is a combined strategy to ensure post-16 education and the accommodation that it is in is of the highest possible quality for residents in Tameside.
"We have invested more than £100m over the last six years which is an astronomical amount of money."
Those funds have come from college reserves and public investment from the Department for Education and Greater Manchester Combined authority.
Building works have seen the establishment of the new Clarendon Sixth Form Centre in the centre of Ashton, the new Tameside One Centre and the Advanced Technologies Centre at Beaufort Road which houses the college's engineering, mechatronics and robotics provision.
"We work closely with lots of employers across Greater Manchester and the UK with regard to engineering," adds Jackie.
There has been a further £2m refurbishment investment over the last two years for internal provision at the existing Beaufort Road site.
But the original Vision Tameside project now focuses beyond the original parameters.
On the horizon is a brand new automotive and electric vehicle technology centre, driving the training for the green auto mechanics of the future.
"We are working with Greater Manchester Police at the moment and training some of their auto mechanics on electrification," reveals Jackie.
There are plans for a much bigger animal management campus than the present site and in fact Jackie estimates another £40-£50m is required to finish the estate.
"It is an eye-watering figure, but gives us state-of-the-art facilities that are needed in this day and age."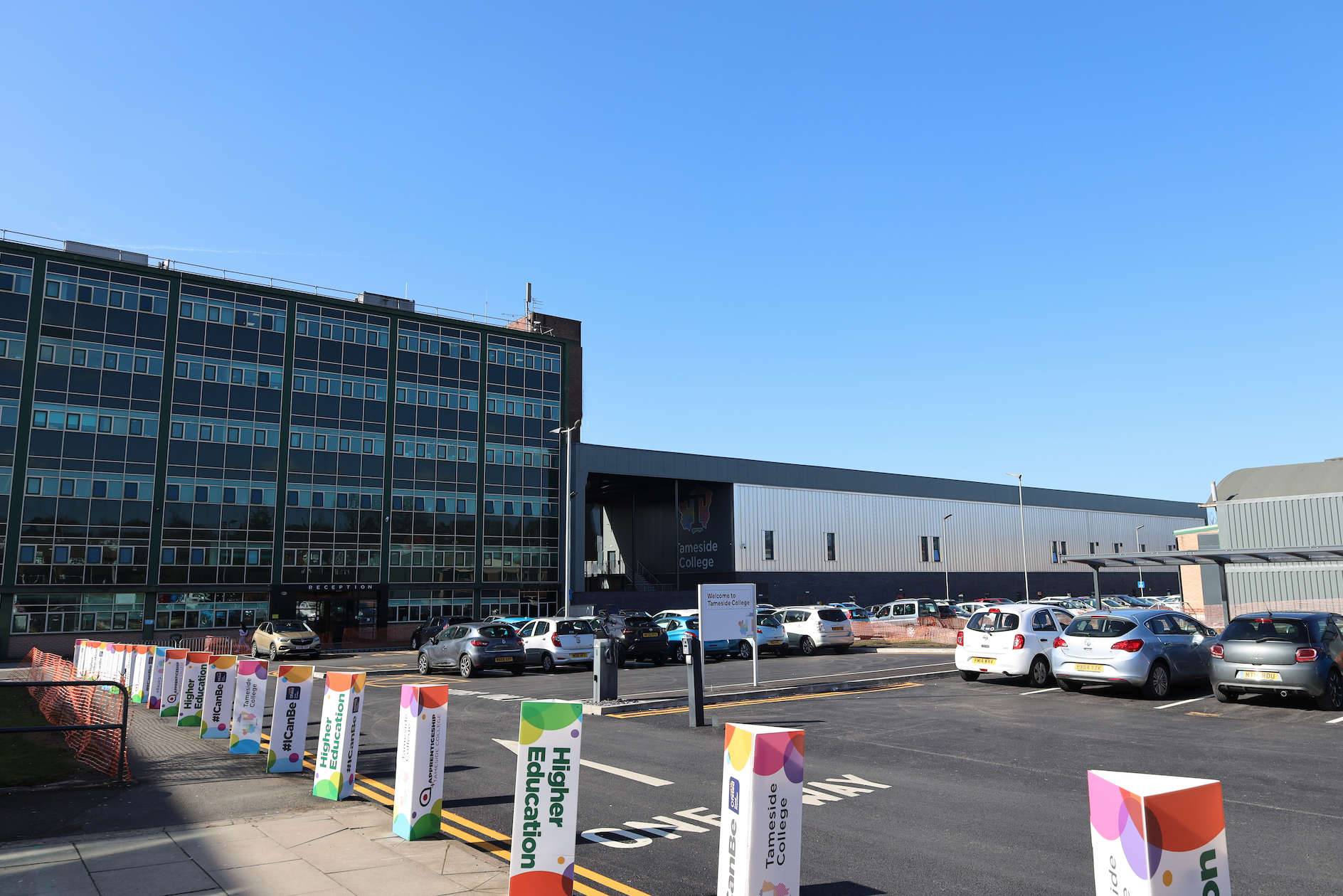 Tameside College
Variety
Courses at the college are wide and varied - literally from floristry to electric vehicle to technology.
The college has in fact grown by some 350 school leavers each year - which is about offering the right courses that employers want too.
One new course at the college is floristry which has already proved incredibly popular.
As reported last week, floristry students were involved in dressing the hall at Dukinfield Town Hall on behalf of the Civic Mayor of Tameside's recent ball, as well as being involved in other corporate work, plus typical floristry work.
Animal management is also a new provision as are electric vehicle technology courses.
The college has significantly grown its higher education provision too.
Jackie points out that five years ago Tameside was one of the lowest boroughs for adults with Level 3 qualifications, so many couldn't access higher education as they lacked the qualifications to get onto it.
A lot of work has gone into remedying that and now Tameside lists as one of the highest boroughs in Greater Manchester for adults with Level 3 qualifications.
"The next step for us is to get our adults higher education qualifications and then they can access those great jobs, not just in Tameside but right across Greater Manchester."
Investment in engineering facilities and kit has been vast to provide the very best and the college is about to invest a further £1.2m into engineering this year alone to have and remain the best in engineering provision.
There has been investment in time, money and effort in teaching and learning too across the board to motivate and encourage students.
While the expansion continues, with the college also merging with Tameside Adult and Community Education Services, with the adult education service coming into the college from the beginning of this month.
T Level
The college works closely with work partners across the region.
"We have a fantastic team at the college," says Jackie.
"So we have a work experience team who start those initial conversations with partners and curriculum specialists visiting employers where the college is doing apprenticeships for example."
There are new partnerships with the hospital with the introduction of the new T Level in health from next September, with a £1.5m investment in new health facilities at Beaufort Road which will be ready after Easter.
Level 3 students undertaking a T Level in health therapies will spend 800 hours over two years doing work experience right across the trust, not only in the hospital but with the community mental health and GP teams preparing them for their university educations.
T Level or Technical Level qualifications are Level 3 qualifications and equivalent to three A Levels.
They are new qualifications and the first will be introduced at the college in September. These will be in health and health therapies.
Around £1.2m has been invested in a health simulation suite, having worked with universities like Salford as well as the hospital in its establishment. The students will work two days a week with the health trust.
"We are very excited and it is about all elements of health and social care across Tameside and this will offer a great opportunity for students to be talent spotted across the trust."
The college also works with the likes of Siemens and Amazon with the college training all of their engineering apprentices.
But with all the exciting advancements, Tameside College's heart is in the borough.
"We describe ourselves as a local community college, we are trying to develop more apprenticeship opportunities in Tameside," says Jackie.
"We want to improve life chances in terms of people being able to access jobs but help with the local economy as well."
Covid
The college is back after the incredible challenges of Covid, even those challenges have not gone away as we learn to live with the virus.
Helping and being aware of mental health issues has never been more important, explains Jackie.
The college has a professional pastoral team, student counsellors and works closely with external agencies to support young people, with the pandemic exacerbating the struggles young people especially face but adults too, Jackie says.
It is also the first time in some two years that exams are back on the agenda and not purely for GCSE and A Levels.
The college spends £1.2m in exam fees every single year, which remain huge across so many courses, with the college spending the last year preparing its students again for those exams.
The national Covid catch-up fund is helping, particularly with practical subjects.
Open evening
Tameside College and Clarendon Sixth Form now offers a vast array of courses for everyone, from school leavers, adults, higher education, and courses for employers.
There are full-time courses, apprentices, vocational qualifications, part-time courses, evening classes, commercial and distance learning, degrees and more - so there really is something for everyone.
So for those taking their exams now, whether that is at GCSE or A Level - there's nowhere better to look if you are wondering just what you would like to do next.
No matter what your results, the college can offer everything from studying classics, politics and history at A Level if you have aspirations of reaching Oxbridge, to any of a plethora of other courses - there really is something for everyone.
If you would like to find out more, there isn't long to wait until the college's main open day on May 9 when all of the sites open across all areas with the entire college and sixth form on show.
Read more from the Tameside Reporter
Click here for more of the latest news
Click here to read the latest edition of the paper online
Click here to find out where you can pick up a copy of the paper