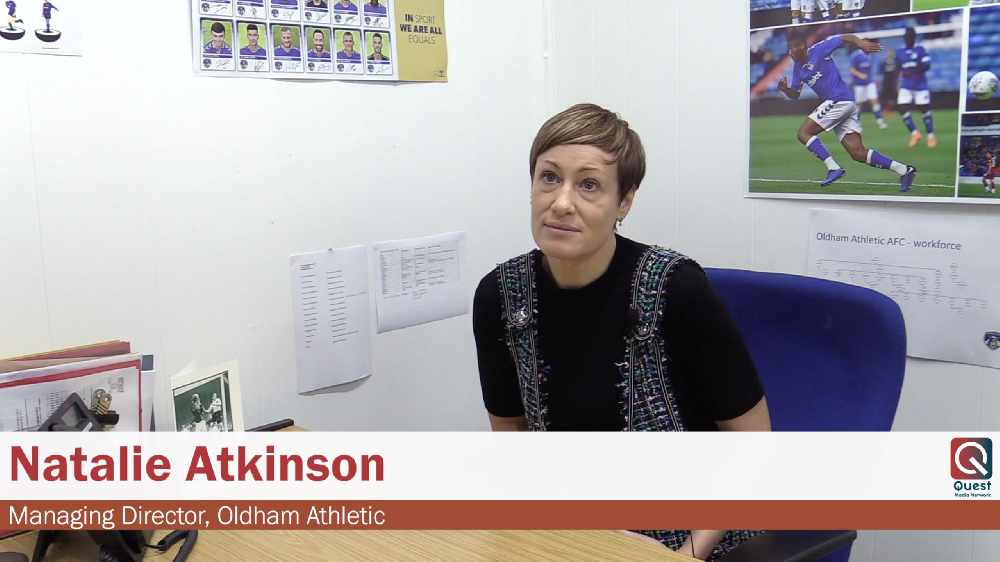 We caught up with Oldham Athletic's managing director Natalie Atkinson to discuss her path into sport, her previous clubs, how she has settled in at Oldham, women in sport and also her future ambitions. 
What made you want to get involved with football at the start of your career?
"I come from a really sporty background, I've always participated in both running and triathlon events and my brother has played football to a very high level. Also, my mum and dad have always been supportive and encouraging in our sporting careers as a footballer and a runner. So one of the things that always wanted to do was go to sports university so I did sports science at university and then my career progressed from there.
"Then I started my first sports job which was at Salford sports development in the athletics department which then progressed on to the British Triathlon where I started competing as well. I then started a job at the Manchester FA as the development manager and my career in football led from there really."
You are in a senior role at Oldham. Have you always enjoyed taking control and leading?
"I've never played football and I always get asked that question, so I've never played and my background is running and triathlon. But one of the things I'm really passionate about is the running of a business and behind the scenes, so my new role here at Oldham Athletic and previously at Southport and Curzon Ashton was very much behind the scenes. Making sure that the business is running and is functioning to a high level where we can bring in investment whether that's through commercial sponsorship or community programmes.
"All of this is to ensure that the players have the best facilities, the best pitch to train on, have all of the equipment that they need including nutrition etc. So I've always been passionate about being behind the scenes to ensure that on a Saturday my enjoyment comes from watching the 11 players play to the best of their ability because of the work that myself and the team have done."
How important was your stint at Curzon Ashton for your development?
"Absolutely critical really because I was given free rein to work with the board with Harry Twamley, in particular, who was chairman at the time to really change and raise the profile of the football club within the local community. So that was with local community groups, school groups etc to develop a community programme which is still thriving now.
"We also raised the profile in terms of the business community so working with local businesses in terms of sponsorship and so on but for me, it was really good grounding in terms of how a business ran from the financial side to the community and also the playing side. So I learned so much in such a small space of time and I will always be thankful to Harry and the board for that."
Watch The Interview With Natalie Here:
How are you finding your time at Oldham Athletic?
"A rollercoaster but in a good way! This football club is so unique in the fact that is was a founding member of the Premier League. It has such an amazing history within the football club and next year is our 125th anniversary so we have lots of things happening next year. Abdallah the owner and his brother Muhammad could not be more passionate about this football club, my team off the field could not be more hard working. The players and the team I see day in day out how hard they are working and this football club is going through an absolutely massive transition and I firmly believe that we are in a period now where things are going to change for the better."
Does that excite you to be at the forefront of a club that has a vision and is heading in the right direction?
"Absolutely! For me, the most exciting thing is that we have got a team of people that I'm really enjoying working with and we've all got clear roles and responsibilities. Abdallah the owner has empowered me and my team to deliver. He almost wants to stay in the background and let us deliver the programme and the vision that we want as a team and what we know is right for the football club, the town and the fans.
"There are lots of things that have not been done previously that we're going to introduce with things such as ticket initiatives, we have a new business club launching in January and we have our 125th-anniversary celebrations.
"Fan engagement is absolutely critical so now I've been here for six months and we have been through a whole workforce restructure which wasn't easy to do but now I feel we have a strong team that is moving forward in the right direction."
How proud do you feel to be one of few women to hold senior roles in professional football?
"I'm very proud of that. I've never been someone that bangs on about being a female in a football club as I think if you can do the job and you're committed then it doesn't matter whether you are male or female. I think for me the proud part is that I can teach my daughter that if you work hard you can achieve your dreams. I've always been a person that works really hard in every job I'm in so I give everything to Oldham as I did at Curzon Ashton and Southport. I will always say to my daughter and I'll say to anybody that if you're committed and are ready to learn from mistakes then you can achieve.
"For me being a female in this particular role it's about how I can support other people now because I've been in football for a long time and I am still learning as being a part of an EFL club but I can help the people around me learn as well."
You say if you're good enough you should get the job but in some football clubs there is still that prejudice so how important is it for more women to occupy senior roles in football?
"The women and girls game has changed dramatically and we saw that when England played Germany in front of 70,000+ people at Wembley a couple of weeks ago. My daughters now apart of a football team at her school and I've got friends asking me where their daughters can play locally. There's also been a huge shift in women occupying senior roles with football and I think that can only be a good thing. There has been a huge shift in the play participation of women also.
"I think as a football club we can only harness that and one of the things that we have been taking part in was the FA women and girls football weekend which happened last week and we embrace our women's section and will continue to do so. "
What are your ambitions for the future?
There's a huge job here at Oldham Athletic and for me, this is a long long term vision and I don't want to go anywhere and I would hope Abdallah and the board support the vision and everything that we're doing. I want to stay at Oldham and I want to achieve something that I'm proud of here so for me the future is with Oldham."