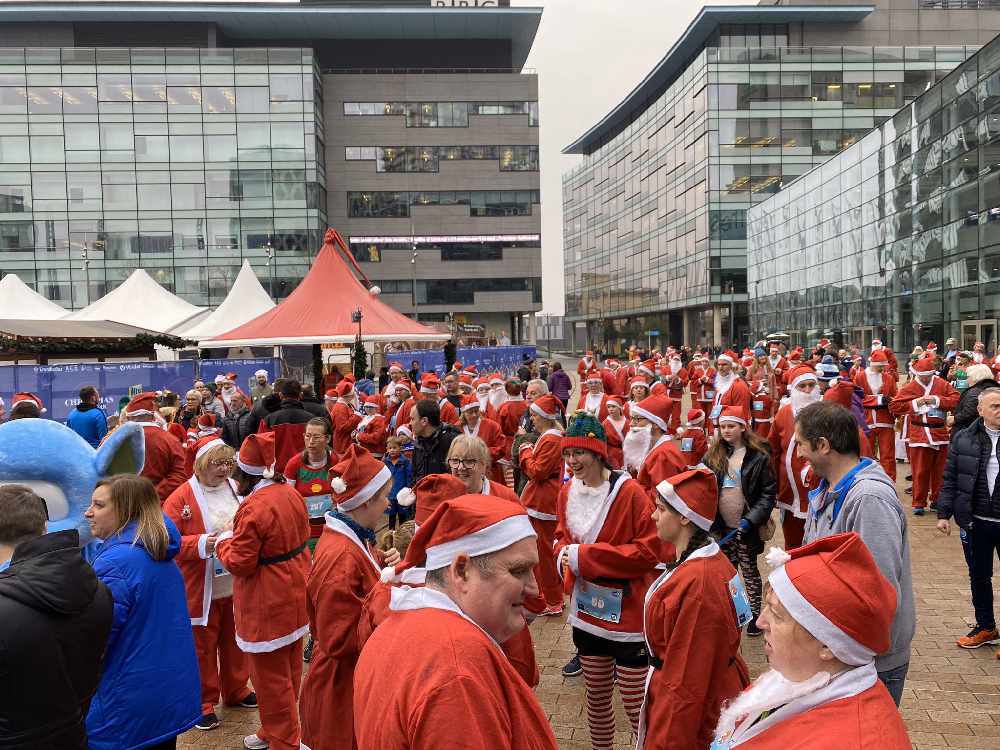 Hundreds of Santas assembled a Media City UK on Sunday morning for the Jingle Bee Jog.
All finishers received a special Christmas medal, plus all little runners got their hands on a tasty selection box too!
All profits from the event were chanelled into The Running Bee Foundation, which aims to tackle childhood obesity amongst other things.
The Running Bee Foundation has donated all profits from the four-day event back into communities and Quest Media Network is supporting the foundation's mission to encourage our communities to be more active, stay healthy and BEE happy.
We have a grant fund of £5000* available to apply for during December to local groups and organisations who are delivering community-focused health and wellbeing projects or implementing initiatives to help fight childhood obesity.
We want you to tell us your story and why your group or initiative should receive a Christmas grant from The Running Bee Foundation. Each grant will be assessed by the Foundation's trustees and the successful applicants will be contacted directly before the 30th of December.
You can apply via the link below: https://www.questmedianetwork.co.uk/the-running-bee-active-healthy-5000/?fbclid=IwAR0P2BaSMdu3tlCZxnE9_arkHa-EzbncavhDbjYsU_H2-BJU1LzdQrsac_k
Jingle Bee Jog

WATCH: Hundreds of Santas assembled a Media City UK on Sunday morning for the Jingle Bee Jog. All finishers received a special Christmas medal, plus all little runners got their hands on a tasty selection box too! All profits from the event were chanelled into The Running Bee Foundation, which aims to tackle childhood obesity amongst other things. The Running Bee Foundation has donated all profits from the four-day event back into communities and Quest Media Network is supporting the foundation's mission to encourage our communities to be more active, stay healthy and BEE happy. We have a grant fund of £5000* available to apply for during December to local groups and organisations who are delivering community-focused health and wellbeing projects or implementing initiatives to help fight childhood obesity. We want you to tell us your story and why your group or initiative should receive a Christmas grant from The Running Bee Foundation. Each grant will be assessed by the Foundation's trustees and the successful applicants will be contacted directly before the 30th of December.

Posted by Tameside Reporter on Monday, November 25, 2019