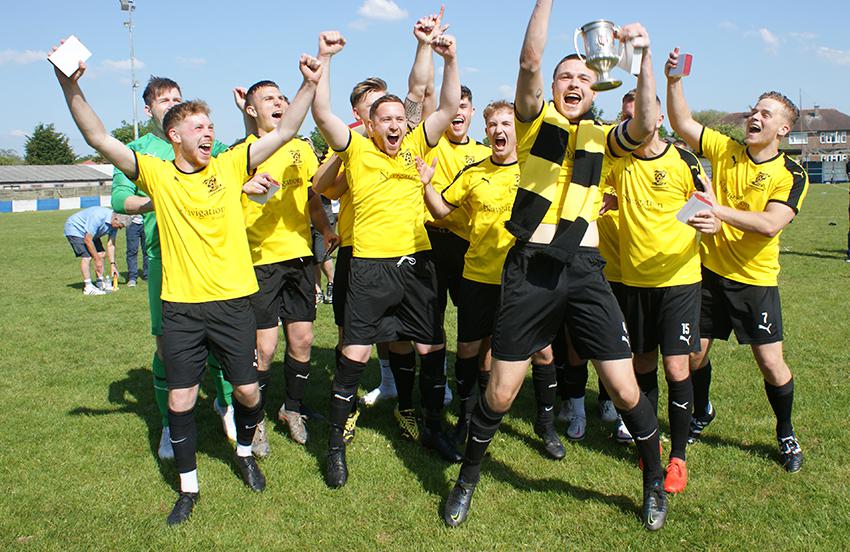 The busy and popular cup competitions reached a dramatic conclusion in the last final as Signol Athletic and Chadderton Cott battled it out for the Wray Cup for teams in divisions two and three.
The final was staged at Flixton FC in near tropical conditions between two very evenly matched teams.
Both teams created chances but were denied by some excellent goalkeeping from Aaron Barrow (Chaddy Cott) and Chris 'Fingers' Singleton (Signol) and resolute defending at both ends throughout a hard-fought 90 minutes.
Signol's Jake Burkit unfortunately suffered a very nasty dislocated elbow on 33 minutes to end his game in hospital.
As the game ended at 0-0 it was down, for the third time in the four finals played over the weekend, to the dreaded penalty shoot-out.
In an amazing conclusion both teams were ruthless with just a handful of misses from the spot with the final decisive one coming from the 36th spot-kick to give Signol the trophy by 16-15.
This was definitely a record for the L and C by a massive margin and possibly a record for amateur football in the region.
L and C chairman Mike Yates and President Andy Rowlandson (AFC Oldham) gave deserving thanks to Flixton FC, both teams and their officials and supporters, management committee officials and to the match officials for their part in setting up an enthralling marathon encounter before Signol were able to celebrate their victory in style.
The closeness of all four finals played showed the quality of the even competition in the L and C across their eight divisions and augers well for a full season beginning in August which hopefully can follow the normal course of league and cup competitions.
In other related news, clubs competing in the L&CAFL next season are on the lookout for pre-season friendlies.
VMFC Firsts are looking to schedule friendlies against any comparable team. To register your interest, contact Fernando on 07380207870. The same applies to the second team.
Rochdale Galaxy have their 3G Pitch available and will share referee fees. Contact Sabar Ansari on 07966 166587
Deans FC reserves are available for friendlies home or away. Contact Ashley Sykes Baines on 07739877267.
South Manchester Reserves are looking for friendlies from teams across any division. If you are interested, please contact Mark on 07980 005492.
For more information on the league and to keep up with the latest developments, head to https://landc.org.uk