Katie Catherall is the newest member of the sports team and will be presenting a weekly column that focuses on the success of inspirational women in the borough.  
Underwater Hockey is a rare sport for the most part, with only 20% of players in Manchester being women. Charlie Brincat from Stalybridge is hoping to inspire others to get involved within the sport by sharing her story.
The 20-year-old is currently training for the 2022 World Championships in Turkey after they were postponed this year due to Covid. She began playing when she was 13 after seeing a poster at a local pool, initially taking part in it for fun and to become fitter, but she soon fell in love with it and has since enjoyed great success.
Charlie says her biggest achievement will forever be her first competition, as she was the only girl to represent the U16 team that went on to win nationals. Charlie started as a Junior at Denton-based Xarifa Underwater Hockey Club and then moved onto the Manchester Aquatics team, and she currently plays for Lancashire Ladies and Team GB U24 ladies.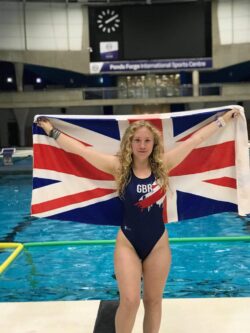 The pandemic has affected her training and the sport massively, as the worlds have been put off for a year and the squad has been unable to have their training camps. These camps normally take place at weekends with people from all over the country attending. When the rule of six was introduced, the team had to play 3v3.
Now, the group are back to working on zoom calls, with cardio and strength exercises completed to keep them active and fit. Charlie believes keeping active during lockdown is beneficial for everyone, advising people to get out every day if they can, even if it's not running or cycling, merely just taking in some fresh air.
Underwater hockey, invented in 1954 by a British Diving club, is an incredible sport with the basis being two teams trying to push a puck into the opposing goal using sticks that are a foot long. Each team consists of 10 members but only six can play at a time. Other players act as a substitute to come into play when a player runs out of breath underwater.
Charlie is also an Active Champion within Active Tameside, using their facilities for her training. She normally undergoes an intense weekly training regime, which includes two to three pool sessions with five or six days at the gym. Ranked fourth in the Underwater Hockey Championships and first in the Ladies Nationals 2nd Division, Charlie has enjoyed some great success and would love to see other women involved too.
You can listen to our chat with Charlie here: