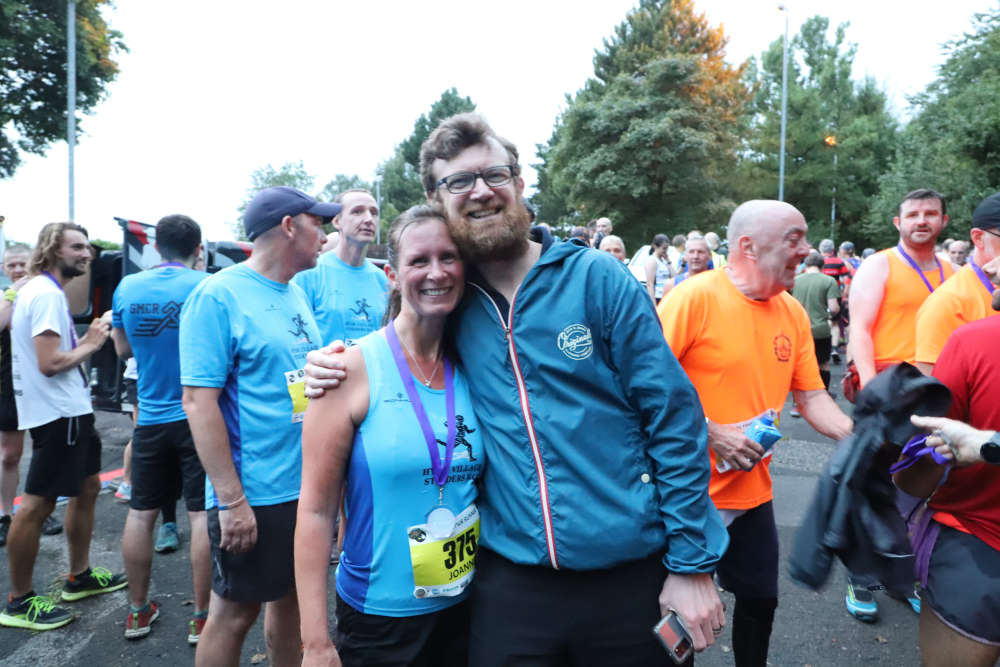 Joanne after completing stage 2 of the Tour of Tameside.
For most runners, the prospect of running one marathon is challenging enough, but Joanne Egerton is set to face 10.
The 10 in 10 challenge takes place in Windermere and sees competitors racing the Windermere Marathon for 10 consecutive days starting on 12 May.
This mammoth challenge concludes on the 22 May, the day in which the usual marathon takes place.
Joanne is among just 25 people who have been selected for this and is now on the journey to raise £3,000 for the Brathay Trust, a charity that has a very special place in her heart.
The trust work to inspire young people and offer further opportunities for vulnerable children and young people.
"When I came across it I just though that's perfect, it's the perfect time and it's the perfect charity considering the things people have been through in the past 18 months," Joanne says.
Having started running in 2013 as part of Hyde Village Striders, Joanne has spent the past eight years improving her running skills and looking for new ways to keep herself active.
She is also a run leader for the club, meaning she is able to tailor specific runs for her group and watch them flourish each week.
"I love helping them, they all progressed and got some excellent personal bests and then unfortunately Covid hit.
"Suddenly I wasn't able to help anybody, and I found it really difficult as I'm a very sociable person and I missed the drive of going to the club and knowing that I could benefit people by doing so.
"Running on my own was lonely and when things started to reopen again, I thought about how charities had no fundraising events, and I knew they relied on that fundraising to continue to function.
"I needed something that was major and something that I wasn't even sure I'd be able to do myself and the work that the Brathay Trust do is amazing, so I knew I wanted to help them out," she says.
As a single mum with three boys, Joanne says running is her 'therapy' and is beyond excited to be back racing again.
Yet the idea of running 10 marathons in consecutive days is still something she is apprehensive about. Joanne has dedicated her time to ensuring her fitness is the best it can be, finding a love of yoga and enjoying the activity of swimming.
As well as this, Joanne has been training with personal trainer Mark Storie at Astley Sports Village.
"I feel so comfortable training with Mark, and he knows exactly what I need. He's really helping me to build up the core muscles that will get me through the runs.
"Being able to run long distances is great but you need to make sure you don't injure yourself so having a strong core will help me to prevent injury and feel strong for the event," she says.
Joanne remembers the day she completed her first marathon, during which she injured both her hamstring and her shoulder.
Despite these setbacks, she was adamant to make it to the finish line and will be bringing this determination once again to her race.
If the long distance didn't sound challenging enough, Joanne is also preparing to tackle a route which is known to be undulating and 'one of the toughest UK marathons'.
Her willpower is undoubtedly impressive and a skill which will carry her through the 262 mile course.
Having currently raised £452 for the Brathay Trust, Joanne is looking to reach her £3,000 charity goal and provide much-needed funds for a highly valuable cause.
You can donate to her JustGiving page here.
You can find out more about the Brathay Trust here.
Do you know an inspirational sporting woman in Tameside or Glossop?
Women in Sport is a weekly column which shares the incredible stories of ladies involved in sport across the area. We are always on the lookout for fresh stories to tell. To nominate someone for the column or get involved yourself, please email Katie on katie.catherall@questmedianetwork.co.uk.
Read last week's column here.
Want more local sport stories?
Head to https://www.questmedianetwork.co.uk/news/sport/ to see more of our coverage - from community and non-league football to local and county cricket, boxing, athletics, basketball, Esports and golf.