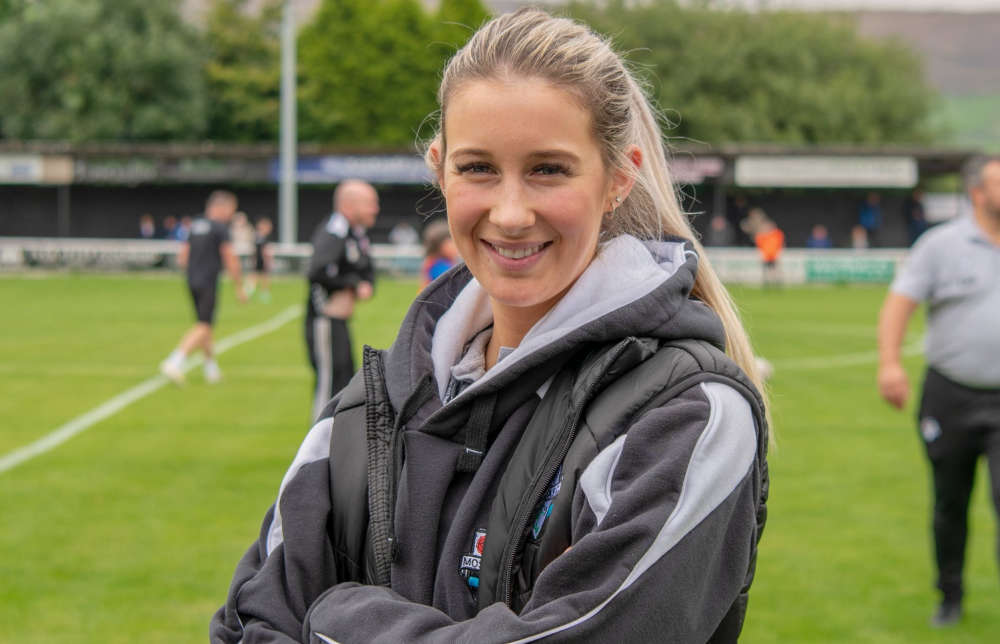 Eve supporting the Seel Park team. Image by Martyn Nolan.
Players on the pitch are often congratulated for their incredible sporting skills, however the team that keep them on that pitch deserve just as much praise.
As a physiotherapist, Eve Elliott is tasked to ensure that all players are in their best condition before heading out to begin kick off.
She has spent the start of her career working at Mossley AFC, preparing the Lilywhites both pre and post-game. Her support means that players can rest assured knowing they will be safe during games and has accompanied their brilliant start to the season.
But Eve's time at Seel Park has now come to an end. The talented physiotherapist will instead be directing her time to Crewe Alexandra Football Club where she works with the academy team.
Saying goodbye to her Mossley family has been emotional for Eve, starting off as a student and now rising to become a successful physiotherapist.
"The club will always hold a special place in my heart for having faith and trust in me at the beginning of my career.
"I really wanted to make sure that Mossley could have someone who could give them their full attention so instead of juggling both, I decided to leave the club," she says.
Eve's career is undoubtedly flourishing and is sure to continue upwards from here.
Having always wanting to become a physiotherapist, success has come as welcome news to Eve, who has worked incredibly hard to get where she is.
She did not receive the grades she needed to go straight into physiotherapy, so took an extra science degree before beginning her journey at Salford University.
Throughout this extra study she knew that her path led to physio, maintaining that passion during her course.
As a fresh graduate, Eve says she would recommend the career wholeheartedly.
"There's so much more to physio than just sport and musculoskeletal. There's so much more to discover, most aren't aware that you can go into things like respiratory therapy.
"There's so many people that never want to work in sport and it just happens to be that sport was the route I wanted to go down," she says.
Finding her passion has been life changing for Eve, and as someone who would dodge sport during school, her path has led her somewhere she may have never imagined.
"I was never sporty at school and in fact I would do anything to avoid PE. However, I had always ridden horses and then I got involved within Muay Thai.
"But now I have my own clinic based in Intensifit in Manchester to provide physiotherapy to clients and I am also in the army," she says.
Living her life to the fullest at a fast pace, Eve keeps herself busy throughout her days and continues to strive to be the best version of herself.
She wishes everyone at Mossley all the best for the coming season as she sets off further on her journey.
Eve is sure to have a highly prosperous career and one which will see her making a well-deserved name for herself.
Do you know an inspirational sporting woman in Tameside or Glossop?
Women in Sport is a weekly column which shares the incredible stories of ladies involved in sport across the area. We are always on the lookout for fresh stories to tell. To nominate someone for the column or get involved yourself, please email Katie on katie.catherall@questmedianetwork.co.uk
You can read last week's column here.
Want more local sport stories?
Head to https://www.questmedianetwork.co.uk/news/sport/ to see more of our coverage - from community and non-league football to local and county cricket, boxing, athletics, basketball, Esports and golf.