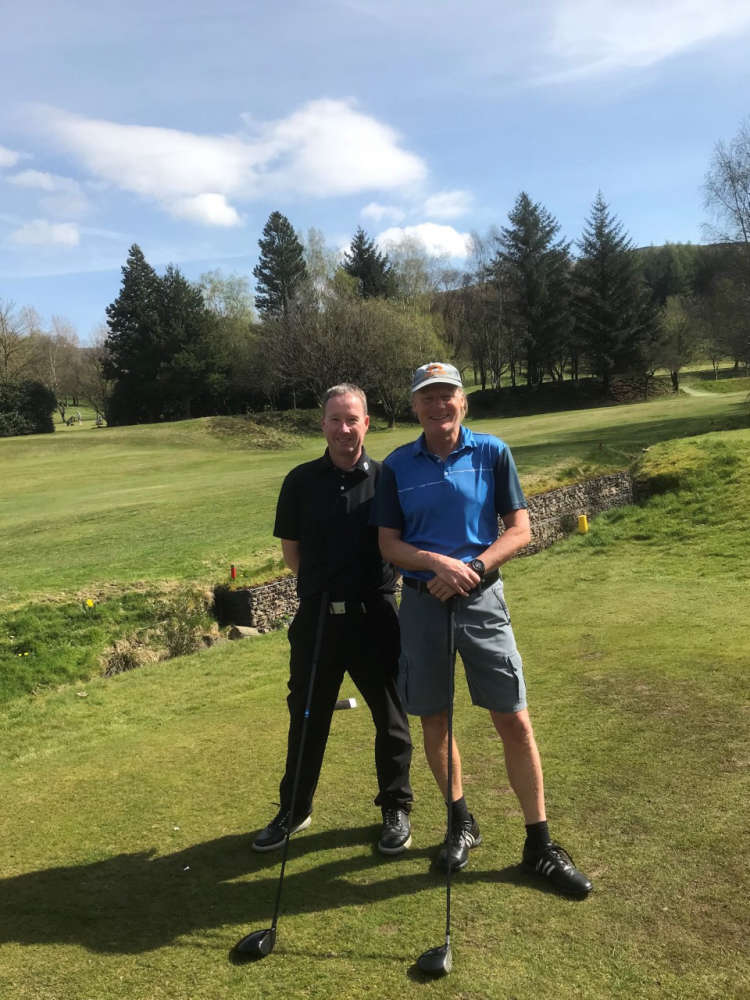 Glossop Golf Club's Winter League final saw Nigel Broadbent and Darren Shanahan competing against the pairing of David McKeown and Dave Wyatt after both teams had fought their way through qualifying rounds and the knock out stages that had run from the end of October up to the beginning of this season's opening day.
David and Dave qualified as leaders of the league stages, some distance ahead of Darren and Nigel who took up the eighth and final qualifying spot, but this meant nothing in the final itself as Darren and Nigel (pictured) secured the title with a relatively comfortable 6 & 4 victory over 18 holes of match play.
The final month of the winter season, March, produced some very well supported competitions, the last of which was an individual stableford over 13 holes won by Dave Jones with 31 points, two ahead of second placed Alaister Lee who pushed John Wilkinson into third after a card play-off.
Earlier in the month a four-man team competition was won by Denis Wild, Kyran Collum, Andrew Shepley and Martin Lloyd on 67. Runners up on the day were Alex Clayton, Joe Hall, Declan Ashton and Jon Wray.
Another individual stableford competition resulted in Ryan Marsden taking the honours with 30 points, followed by Carl Chester on 29 and Dave Statham in third on the same score.
A four ball better ball pairs competition produced a really close finish as a card play-off was needed to separate the first two teams. On this occasion Graham Dodd and Dave Statham led the way with Declan Ashton and Darren Shanahan second, both teams ending the day on 32 points.
The summer season's opening day four ball better ball was won by Liam Bottomley's and Sam Godfrey's impressive 44 points with Stephen Pearson and Paul Harvey claiming second on 42 points. This was followed by a Texas scramble that found the team of Chris Mountfort, Steve Bottomley, Duncan Pike and Paul Round taking the honours on 51∙9, with second placed Alex Clayton, Chris Singleton, Sam Godfrey and Paul Laing finishing runners up on 52∙75.
A bogey bisque resulted in Mike Peake leading the way in division one on four up, followed by Darren Shanahan's three up. The second division was won by Guy Wilkinson after posting a tremendous 8up with Paul Harvey's equally good seven up in second.
The Derek Horsey Charity Shield required a card play-off to decide the winners. Dave Money and Stuart Crymble led in the club house until late in the day when the team of Chris Eccles and Tony Meheran matched their score but took the honours after a card play-off. Chris and Tony will now represent Glossop in the inter club knock out stage of the tournament.