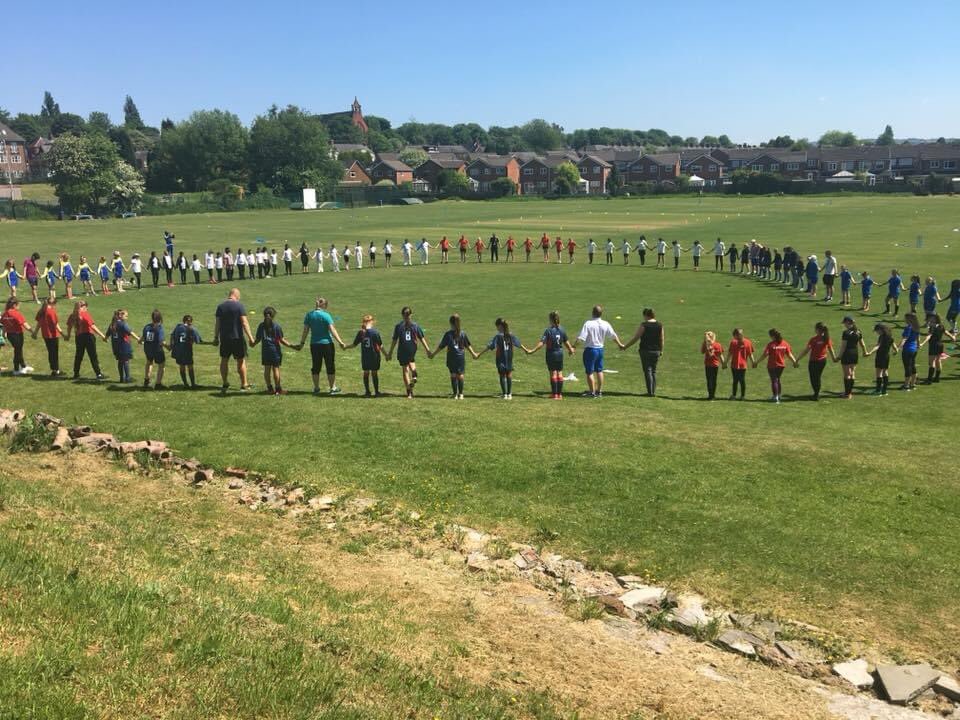 With the ever changing nature of the coronavirus outbreak and the measures being enforced to ensure a safe return to society, the future of school sport could change dramatically and competitions could be thrown into doubt.
If social distancing remains in place when pupils return in September, contact sports could become a thing of the past and new, inventive ways of keeping children active and engaged will emerge.
Emma Toone, partnership development manager at Tameside School Sports Partnership, says there will undoubtedly be a new set of challenges to overcome as a result of the pandemic, but she is relishing the chance to see pupils engage with a new form of physical activity - and even believes it might spark a bigger interest in those who traditionally avoid sport.
Speaking to Reporter Sport, Emma said: " I think we have different challenges facing us in September; I think we need to support the mental health of children as well as their physical wellbeing.
"Our work program will adapt to that to help us reintroduce children to PE and sport. Competition is my main work program and that's going to be totally different, however looking at it positively, we can now probably have a whole school taking part in a competition, in a virtual way.
"We think it will change but in a positive way. There is a massive challenge on our hands in making sure the children are ready. Socially, sport and PE is a thing we can embrace a bit more, and I know the Department for Education guidelines have produced that.
"One guideline is that there are no contact sports involved, which is something that we do quite a lot of, such as hockey, rugby, netball and basketball. It's expected that sport will change and competitions will be based around a skill circuit or skill challenges, such as how many socks pupils can throw into a bucket. Lots of running and lots of fitness exercises related to that sport. It might not be the football, hockey or rugby we're accustomed to, but it will be something related to those. Hopefully we can get children involved a little bit more in these sports, by breaking them down further and making sure that we focus on the skills associated with invasion sports. Hopefully, once schools are back up and running with after school clubs, we can look at Zoom competitions."
In a bid to keep pupils active, healthy and happy upon their return to school, the Government has announced a £320 million support package to fund primary school PE.
The PE and Sport Premium is designed to help children get an active start in life, supporting primary schools to improve the quality of their PE and sport provision so that pupils experience the benefits of regular exercise – from becoming healthier both mentally and physically to improved behaviour and better academic achievement.
It's hoped that the funding will continue the uprise in physical activity amongst children, who have been using their spare time during lockdown to take part in a number of workouts from home as part of National School Sport Week.
Commenting on the national campaign led by the Youth Sports Trust, Emma said: "It's something that we get involved with every year and normally the schools will adopt a week in June and do lots of activity, including sports days, bringing clubs in, and we've also sent in Olympic athletes to deliver motivational speeches in the past.
"It's very much a celebration of sport. This year, the Youth Sports Trust have had a record number of schools registering, which is phenomenal. It's also been sponsored by Sky Sports, so it's been pushed on TV. Parents could register this year as well, as have clubs. Schools have been uploading challenges every day on school, and Mr Allen, deputy head teacher at St Paul's in Hyde, has been amazing. He's been dressed up as a super hero and sending videos to children to engage them.
"The schools have really embraced everything and they've gone to town on engaging their pupils with work, but mainly with physical activity, which has been great, especially at the minute when children are at home. At the beginning of lockdown they weren't allowed to go out too much, but that was actually a blessing because a lot more people went out and took part in their one hour of allotted exercise. I think the children were quite inspired by that.
"I have a five-year-old son who learnt to ride his bike in that time, so I think there has been benefits to take from the lockdown, especially regarding exercise and physical activity".
Fifty-one schools in Tameside have been acknowledged for their efforts and awarded the School Games Award, whilst 3,000 pupils have also completed the Dr Ron Hyde 7 Mile Challenge.
Emma said: "We work with the Youth Sports Trust, and they wanted to make sure that schools weren't missing out on the School Games Awards, which is an annual event, so we decided to create a Virtual Award and so far, at the time of speaking, 51 schools have achieved it in Tameside. To have that amount of school sending work home constantly about PE was encouraging to see.
"Ourselves and the Running Bee Foundation had a plan and a meeting before lockdown to discuss how we were going to move ahead with supporting the Tour of Tameside. Obviously the situation changed, but we wanted to go ahead with it as there were so many children who were already walking with their parents in the day. We wanted to give them extra incentive, so we launched the virtual Tour of Tameside and created a certificate to go with it. It's been brilliant, and we've even had some children complete the seven miles in a week.
"We expect the tour to be back, bigger and better next year."