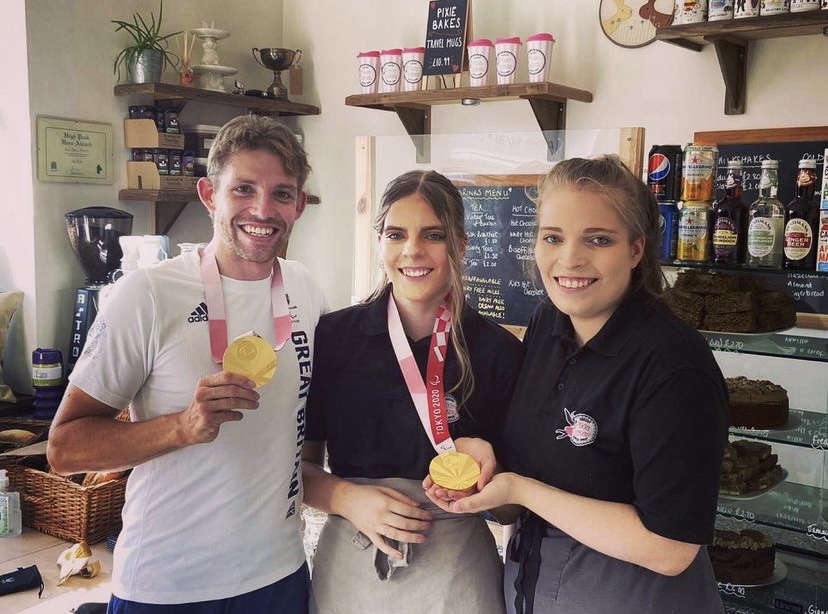 Celebrating success with staff at Pixie Bakes in Tintwistle.
Ben Watson has been welcomed back to Glossop with open arms after his outstanding success at the Tokyo Paralympics.
The 32-year-old raced an impressive feat after achieving double Paralympic champion status during his debut Games.
He has now returned to the UK and is set to enjoy some much-deserved time away from the bike.
Ben says his friends and family 'absolutely love' his achievements and have been blown away by how he has performed.
Residents of the High Peak have also eagerly been awaiting Ben's return. Visiting a few local businesses this week, Ben says he has received plenty of gifts which he is extremely thankful for.
Pixie Bakes Cakery and Coffee Shop opened their doors to his unexpected visit during which they were able to chat about his success.
"During the Paralympics we baked a Paralympic themed cake to celebrate the event, especially as we had athletes from Glossop competing.
"We were therefore absolutely thrilled when Ben Watson visited us at Pixie Bakes to say hello and show us the two gold medals he had won.
"It was so good to meet him and has been lovely to see Glossop getting behind our local heroes," they told the Chronicle after his visit.
Ben will now spend the next week recovering, evaluating his performance during the Games and looking to fine tune his training ahead of his next large competition – the 2022 World Cup in Belgium.
"We'll be back training in a couple of weeks which I'm really looking forward to. Fundamentally, I really enjoy riding my bike, I don't find training hard especially when its high volume, I'm just enjoying riding with my friends," he says.
The Paralympics has been a huge success for British Cycling, with every athlete bringing home a medal.
"In the end we ended up winning 24 medals for 14 bikes. I think everybody who could multi medal managed to do so too which is outstanding.
"The teamwork that we've had has been brilliant too, we've been quite secluded into our sports due to restrictions so it's been amazing to encourage everybody along," he says.
Ben's achievements have been spread across the High Peak and local areas, with so many residents getting behind such an incredible story.
Local MP Robert Largan has also spoken on Ben's success, saying he has written to Royal Mail requesting a gold postbox in his honour, creating an inspirational monument in Glossop.
Listen to our full chat with Ben here:
You can read all about Ben's backstory here.
Want more local sport stories?
Head to https://www.questmedianetwork.co.uk/news/sport/ to see more of our coverage - from community and non-league football to local and county cricket, boxing, athletics, basketball, Esports and golf.