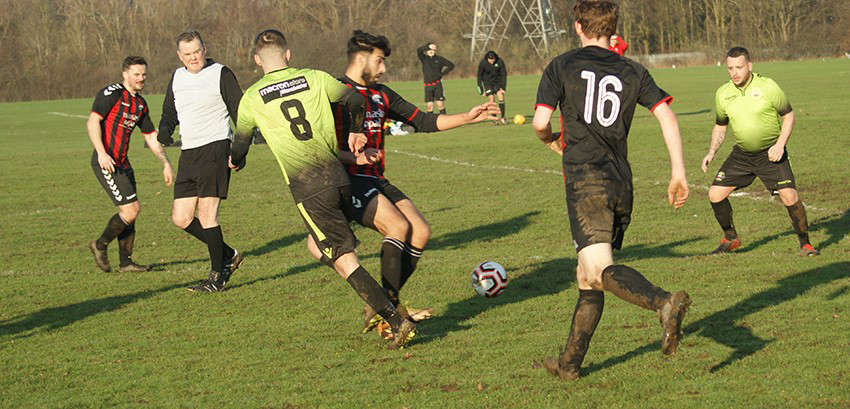 It was virtually back to a full programme of fixtures for the first time in a number of weeks much to the relief of fixtures secretary Malc Kershaw.
Premier division leaders Stretford Paddock were without a game and chasing them down were De La Salle who had a comfortable 9-1 win over basement team AFC Oldham to move within a point of Paddock with a game in hand.
Moston Brook are also firmly in the title hunt but they were taken all the way by Rochdalians who showed their recent upsurge in form as they restricted Brook to the only goal of an excellent game which leaves them four points behind Paddock with a game in hand.
The other two games were entertaining contests with North Walkden winning by the odd goal in five at Milton and Manchester Challenge Cup finalists Abacus Media shared eight goals in an end-to-end thriller at Salford Vics.
Just one game in division one with Trafford United hosting Bury in an enthralling game.
Trafford took an early lead and with Bury reduced to ten men after 30 minutes they added a second before the break.
But Bury raised their game and dominated the second half despite dropping to 3-1 down as they kept all guns firing to win 5-4 in a breathless encounter.
There was a full programme in the highly competitive division two.
Leaders Hattersley extended their healthy lead to eight points after coming from a 2-1 deficit to win 4-2 over Mellor.
Second-placed Eccles United were held 2-2 at Sale Ams and Wythenshawe Wanderers had to work hard for victory against basement club Newton.
Newton took the lead with a stunning strike from Danny Ball but Wanderers showed their fighting spirit to quickly get on level terms before grabbing the winner for three vital points to keep the pressure on the top two.
Baguley Athletic kept up their steady start in the league with a 2-0 win over Stretford Paddock reserves.
Irlam Tiger Rangers could yet get up into the title chase as they have plenty of games in hand over the top teams and a resounding 7-0 win over South Manchester boosts their title hopes.
The other game saw Milltown lift themselves out of the bottom two with a 3-1 win over Bedians.
Village Manchester pulled off the result of the day in division three with 4-0 win at second-placed AFC Stockport allowing leaders Chadderton Park to open up a three points gap with an emphatic 6-3 win at Stoconians.
Salford Albion also hit six at Aldermere with Curtis Slater (three), Alex Law, Matthew McDonagh and Edward Burke netting while Aldermere had PeterWalksker and Kris Dickinson (two) grabbing the their consolation goals.
Plenty of goals in the other two games with Elton Lib Hargreaves winning 5-3 at Abacus Media reserves and Woodhouses moved from the foot of the table with a breathless 5-4 win at Hooley Bridge Celtic.
North Walkden reserves stay in control of division A with a 5-1 win over lowly Santos who deserved a late consolation from Owen Greenwood-Dawson. The win puts North four points clear of non-playing Woodsend Athletic who have two games in hand.
Kartel stay in the hunt with a 3-1 win over Milton Reserves and are poised behind the top two with plenty of games in hand.
The other games produced wins for Moston Brook reserves by 5-2 at AFC Oldham reserves and Greater Manchester by 3-1 over Trafford United reserves and a 2-2 deadlock between Stretford Paddock Development and Salford Vics reserves.
Alderemere reserves kept up their great form to maintain a 14-point lead in division B with a 6-0 cruise at Spurley Hey.
There was little between the teams in the other games in the division with wins for Parrs Wood Celtic by 1-0 at AFC Oldham thirds, Flixton JFC by 2-1 over draw specialists Heaton Mersey and Greater Manchester reserves by 2-1 at Oldham Saints with the other game seeing Moston Brook thirds and Old Stretfordians reserves sharing six goals.
Dukinfield Athletic enjoyed a 4-1 win at Urmston Town Vale to retain their lead of nine points over Mellor reserves who were firing on all cylinders in a 1-0 derby win over Stoconians reserves.
Altrincham Hale stay in the mix with a comfortable 6-2 win at Bury Ams reserves and Salford Storm were in seventh heaven with 7-1 win at Chadderton Park reserves.
AFC Stockport Warriors were held 1-1 by Eccles United reserves and Govan Athletic Development kept an immaculate clean sheet in a 3-0 win at Village Manchester reserves.
It's close at the top of division D and leaders Whalley Range hung on to top spot by the skin of their teeth in a superb local derby with lowly Didsbury reserves.
Many old memories were revived in a great game enjoyed by players, spectators and referee Graham Ellis as Range just hung on to win 3-2 with goals from Craig Haynes (two) and Danny Miller with Range centre back Mike Franklin giving Didsbury hope with a spectacular own goal.
Bury Ams thirds stay a point behind Range with a game in hand after a 6-0 win over Mellor Development and Moston Brook fourths lost ground as they went down4-2 to visiting Irlam Tigers A.
The other game in the division saw Altrincham Hale reserves share four goals with AFC Oldham fourths.
There were two delayed Manchester Amateur Cup matches played and they proved to be the end of the road for two L and C teams with Radclyffe losing out to Manchester Rovers by 3-1 and Didsbury found a well-organised Brownley Albion too hot to handle as they were trounced 9-0.