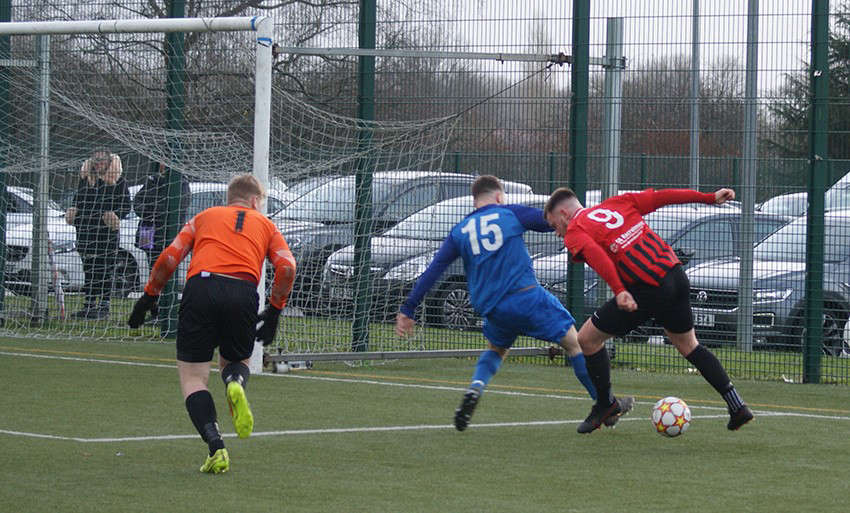 The Lancashire and Cheshire League resumed eagerly-awaited action after a three-week.
However the busy programme was hit by a combination of snow, frost heavy rain and covid infections causing great frustration and many postponements.
Artificial pitches provided a great life line as the players and officials showed their love of the game with some tremendous games played in great spirit to launch 2022.
The highlight for the league was provided by Abacus Media who hosted Cheshire League Denton Town in their twice-postponed Manchester Challenge Cup semi-final.
There were near misses at both ends and Abacus showed terrific spirit and defensive organisation as the game went goalless to set up the dramatic penalty shoot-out.
Abacus kept their nerve to win 4-3 and can now look forward to the final.
The other outside cup matches played saw Old Stretfordians bow out of the Altrincham and District Cup as they went down 5-1 to Wythenshawe Amateurs Development.
Newton played AFC Droylsden in the Manchester Amateur Cup and this went to the wire of a penalty shoot out after the teams shared six goals with Droylsden winning the shoot-out by 5-4.
The premier division's top match was another thriller as Moston Brook hosted De La Salle with both teams looking to close the gap on leaders Stretford Paddock.
Both teams did their clubs proud with their efforts and talent as the game ebbed and flowed for 90 minutes with neither team able to find a vital finish.
But the game, expertly controlled by referee Peter Darby and his assistants, was a great advert for the league with both teams giving everything they could.
Paddock had their lead reduced to four points over De La Salle, who have two games in hand and Moston Brook are also firmly in the mix also with two games in hand.
Rochdalians kept up their recent revival with a close 3-2 win at North Walkden and they were superbly led by club legend Davey Luker.
Salford Vics began 2022 in style with a comfortable 6-0 win at Manchester Polonia and Milton won 4-1 at AFC Oldham with again both teams putting on a great game.
Just one game played in division one and Chadderton Cott clinchéd the title with a hard-earned 3-2 win over Hadfield Athletic.
Division two was also restricted to one game and Bedians picked up a vital point in their relegation battle as they drew 1-1 in their local derby with Baguley Athletic.
In division three there were two games and Chadderton Park moved to the top of the table on goal difference from AFC Stockport with an emphatic 6-2 victory at Woodhouses.
It was much closer in the other game as a 2-1 win for Village Manchester over Elton Lib Hargreaves moved them up into fourth spot.
Plenty of action in division A with four games played with Woodsend Athletic missing the chance to overtake leaders North Walkden reserves as they shared eight goals in a thriller at Milton reserves.
There were plenty of thrills and spills at Santos in their local derby with AFC Oldham reserves
AFC Oldham took the spoils in the local derby. Santos led twice in first half through David Clegg and Ben Marshall.
Tim Gallagher added a third early in second half, however three quick goals around the hour mark settled it for the visitors.
Great Manchester FC reserves also scored four in a 4-2 win at Milnrow Firgrovia and the other game saw Salford Vics reserves and Moston Brook reserves share four goals in another exciting game.
Just two games played in division B and AFC Oldham thirds reduced the big lead of non-playing Aldermere reserves to 14 points with a 4-2 win at Hillgate.
Old Strets reserves had few problems in a 4-1 cruise over Oldham Saints to move up to fourth place.
Dukinfield Athletic also have a big lead in division B and Mellor reserves reduced it to nine points with three games in hand with a big 10-1 win over Deans Youth.
The other game was much closer with Village Manchester reserves winning 2-1 at Altrincham Hale.
Just one game in division D but it was a real title contender with Whalley Range overtaking previous leader Bury Ams thirds as they scored to only goal of their game at Moston Brook fourths who drop to third place but are still well in the title hunt.