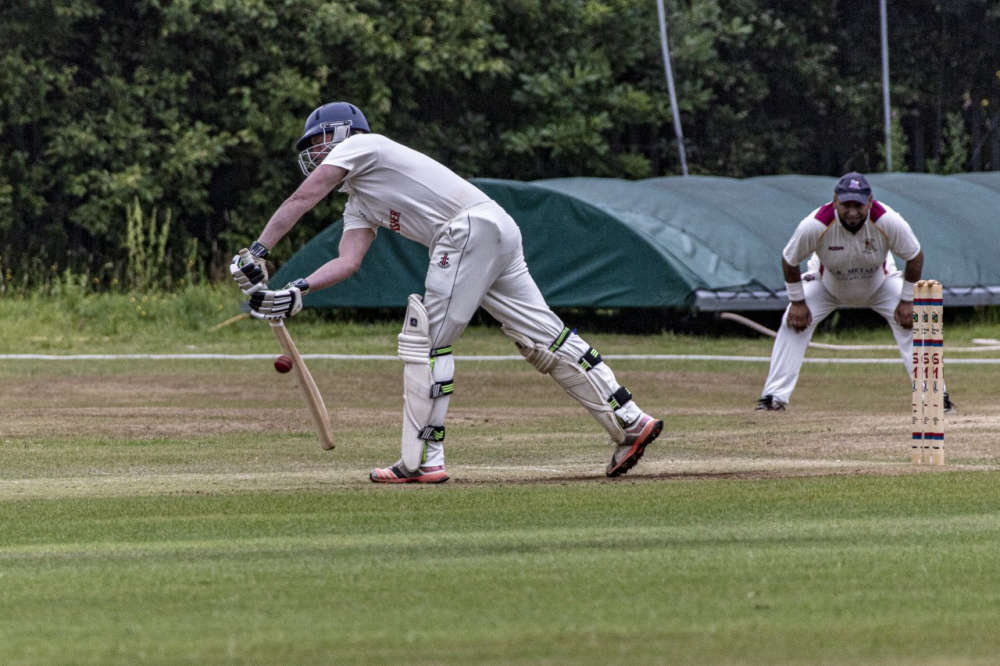 For the first time this season rain had a say, but relented sufficiently to allow results in all bar four of the 66 scheduled Saturday games, albeit that the provisions of the DLS system came into play in many cases.
Premier
Denton West built on last week's performance with a seven-run win over Moorside. Rain during the West innings restricted the game to 42 overs a side, and they totalled 281-8 with a really consistent display from the top order. An opening stand of 131 between Uzzair Shah, (57) and Callum Flynn, (70) was capitalised on by Liam Kilburn, (46) and a profligate Moorside attack which conceded 39 extras. The Moorside target was set by DLS at 273 for the win. They progressed well to 230-5 with six overs left and the game was evenly balanced. Siraj Khan then stepped up and taking four wickets, starting with the dismissal of Moorside pro Stuart Els, enabled West to get the upper hand in what was a tight finish.
Denton SL visited second placed Woodbank and saw the home side finish on 173-6 in a game restricted to 28 overs, pro Damitha Silva taking 4-31. The DSL reply never got going and with the elements bringing proceedings to a close with them at 45-6 after 15 overs they went down by 128 runs. Woodbank's win keeps them pushing Prestwich, who retained top spot after a seven wicket win at Heyside.
Roe Green 155ao Clifton 157-0; Woodbank 173-6 Denton SL 45-6 (Woodbank won on DLS); Edgworth 142-8 Walshaw 106-7; Heyside 141ao Prestwich 145-3; Egerton 158-6 Astley & Tyldesley 146-7; Denton West 281-9 Moorside 265-9
Premier 2
Flowery Field lost ground on leaders Heaton, (who had a comfortable victory over struggling Glodwick), when they went down at Flixton. The hosts ended on 193-7, (in a rain reduced 42 over game), with the wickets shared around a five-man Flowey attack. Needing a DLS calculated 193 for the win Flowery looked well set at 120-4 with 15 overs left with pro Shreevats Goswami on 61. His departure at that score was a blow and despite a couple of useful contribution late on Flowery just missed out, losing by eight runs.
Flowery will be looking to bounce back when they entertain Glossop on Saturday. The North Road side travelled to Stand and a late start left a 24 over a side game. Glossop got off to the worst possible start, losing two wickets in the first over and other than contributions from Dom Perrin, (32); Matt Sonczak, (28*) and extras, (13), the other nine Glossop batsmen managed only 19 between themselves. Stand have struggled for runs recently and there was no change as wickets fell regularly. The home side must have thought they were as good as home with seven needed; four wickets in hand and 15 balls left. Three quick wickets made it a nail-biting finish and Stand inched home by a single wicket off the first ball of the last over courtesy of five wides. Glossop are now in real danger of being dragged into the relegation fight, only seven points above the drop zone.
Bury 165-8 Brooksbottom 205ao; Stand 96-9 Glossop 92ao; Flixton 193-7 Flowery Field 184ao; Heaton 195-5 Glodwick 100ao; Greenfield 191ao Shaw 327-8; Heywood 152-8 Bradshaw 166ao
Championship
Dukinfield are in great form and made it five wins on the bounce after a trip to Whalley Range who sit rock bottom of the table. In one of the few games not restricted by rain Dukinfield totalled 209ao and were indebted to an eighth wicket partnership of 59 between Ben Pugh, (37), and Nahian Chowdhury, (43), after they fell to 137-7. Whalley Range were never in the hunt as Denuwan Rajakaruna, (432) and Syd De Silva, (4-9) ran through them for 77ao, and a Dukinfield win by 129 runs. They are now well placed for a promotion push standing only seven points away from the promotion spots.
Mottram, with a win over Westleigh and results elsewhere, eased the pressure on themselves at the wrong end of the table. In a rain interrupted first innings Westleigh got to 183ao as Oliver Andrew, (4-38) led the way with the ball for Mottram. Another rain interruption after 14 overs of the Mottram innings reduced the target to 180. Mottram had already got off to an impressive start as Andrew Metcalfe, (86) and Daniel Brightmore, (29), added 111 for the 1st wicket. The job was completed inside 31 overs as pro Tafadwa Tsiga and Oliver Andrew took them over the line by eight wickets.
Elton 149ao Stretford 153-8; Royton 160-9 Friarmere 209-4; Woodhouses 220-4 Winton 63ao; Mottram 180-2 Westleigh 183ao (Mottram won on DLS); Whalley Range 77ao Dukinfield 206ao; Monton 147-4 Swinton Moorside 143-8
Division 1
Droylsden last for the second week in a row and are now eight points adrift of leaders Saddleworth who convincingly beat Golborne. At home to Thornham, Droylsden faced a DLS target of 240 after the visitors ran up 234-8 in a rain restricted 38 over game. The chase started brightly with an opening partnership of 51, but the fall of the prolific Hashan Gunathila was the first of 8 dismissals for the addition of only 47 and Droylsden eventually fell 106 runs short.
Stayley had by far the better of their home encounter with Roe Green. Chris Tipper who shone with the ball a week previously showed his all-round quality with 40 but it was a brutal knock from Amir Shahzad which propelled them to an imposing 267-7 off their 40 overs. His 81* came off just 41 balls and included nine 'maximums'. Roe Green are only being kept off the bottom of the table by winless Oldham, but they made a decent fist of the response. At 165-3 with 14 overs left they were well in the game but with Shahzad picking up three wickets, for a great all-round day personally, they eventually fell 46 runs short.
Hadfield toiled at Austerlands who ran up 264-3 on their fast-scoring ground. Hadfield were never in the hunt and fell for 114ao. Twenty-four hours later they were well placed in a rearranged game against Oldham who were visiting Newshaw Lane. Inside 10 overs they had reduced Oldham to 32-5 with Cameron Ball taking 4-10. At that point, the rain which enveloped the region arrived and that was the end of proceedings.
Edenfield 325-4 Oldham 148ao; Stayley 267-7 Roe Green 2nd XI 221ao; Austerlands 264-3 Hadfield 114ao; Uppermill 87ao SW Manchester 87-5 (SWM won on DLS); Droylsden 134ao Thornham 234-8; Golborne 93ao Saddleworth 187-7; Sunday: Hadfield dnb Oldham 32-5 (abandoned)
Division 2B
In a local derby at Egerton Street the struggling home side got off to a decent start against town neighbours Denton West, reaching 69 before the loss of a wicket. Martin Leech top scored with 49 as Denton finished on 196ao, (Harry Welsby picking up 5-63 for West). Jamie Williams, (89*) and Leighton Derby, (64) put on 116 for the fifth wicket in the reply and provided the basis for a five wicket win for West. A win for Greenfield left Denton slipping to the foot of the table.
Micklehurst, hosting Wythenshawe, restricted the visitors to 210ao on the fast-scoring Richmond Hill ground as Shamar Marshall took 4-37. He now has 42 victims this season. Jonny Forrester, (24), and Daniel Clayton, (52), got Micklehurst off to a good start in reply and the arrival of Rizwan Hussain gave the innings further impetus. His 56 off 38 balls took them to within 18 of victory which eventually arrived by the margin of four wickets with time to spare.
Oldham 2nd XI 126ao Littleborough Lakeside 123-4 (LL won on DLS); Denton SL 2nd XI 134ao Milnrow 294ao; Micklehurst 216-6 Wythenshawe 210ao; Friarmere 2nd XI 92ao Greenfield 2nd XI 91-6; Glodwick 2nd XI 119ao Werneth 163ao; Denton 196ao Denton West 2nd XI 199-5
Division 3E
Ashton maintained their 100% record after 14 games, but the win over Royton was their least convincing performance of the season. They restricted the visitors to Rayner Lane to 139ao with the spin of Josh Gee, (3-30); Aaron Hurd, (4-33) and Ahasan Shahzad, (3-19), being crucial. Richard Taylor and Tom Rayson gave Ashton their usual quick start, (reaching 63 in 9 overs), in pursuit of a DLS target of 136. The fall of Rayson saw a faltering display as wickets fell regularly leaving them needing 12 with only two wickets left. They eventually got the win but there will have to be a return to their previous form if they are to get the better of second placed Heyside this weekend.
Glossop 2nd XI 177ao Springhead 273-6; Flowery Field 2nd XI 66ao Mottram 2nd XI 184-9; Ashton Ladysmith 133ao Heyside 2nd XI 135-4; Ashton 136-8 Royton 2nd XI 139ao (Ashton won on DLS); Dukinfield 2nd XI 181ao Heywood 2nd XI 148-3; Werneth 2nd XI 226-5 Woodhouses 2nd XI 128ao
Division 4E:
Milnrow 2nd XI 112-2 Stayley 2nd XI 109o; Moorside 2nd XI 65-3 Failsworth Macedonia 64ao; Saddleworth 2nd XI 180-1 Newton Heath 162ao; Shaw 2nd XI 197ao Droylsden 2nd XI 183-6; Springhead 2nd XI 225-7 Denton 2nd XI 100ao; Hadfield 2nd XI 161ao Austerlands 2nd XI 162-2
Picture by John Parkins (Austerlands 2nd XI beat Hadfield 2nd XI)