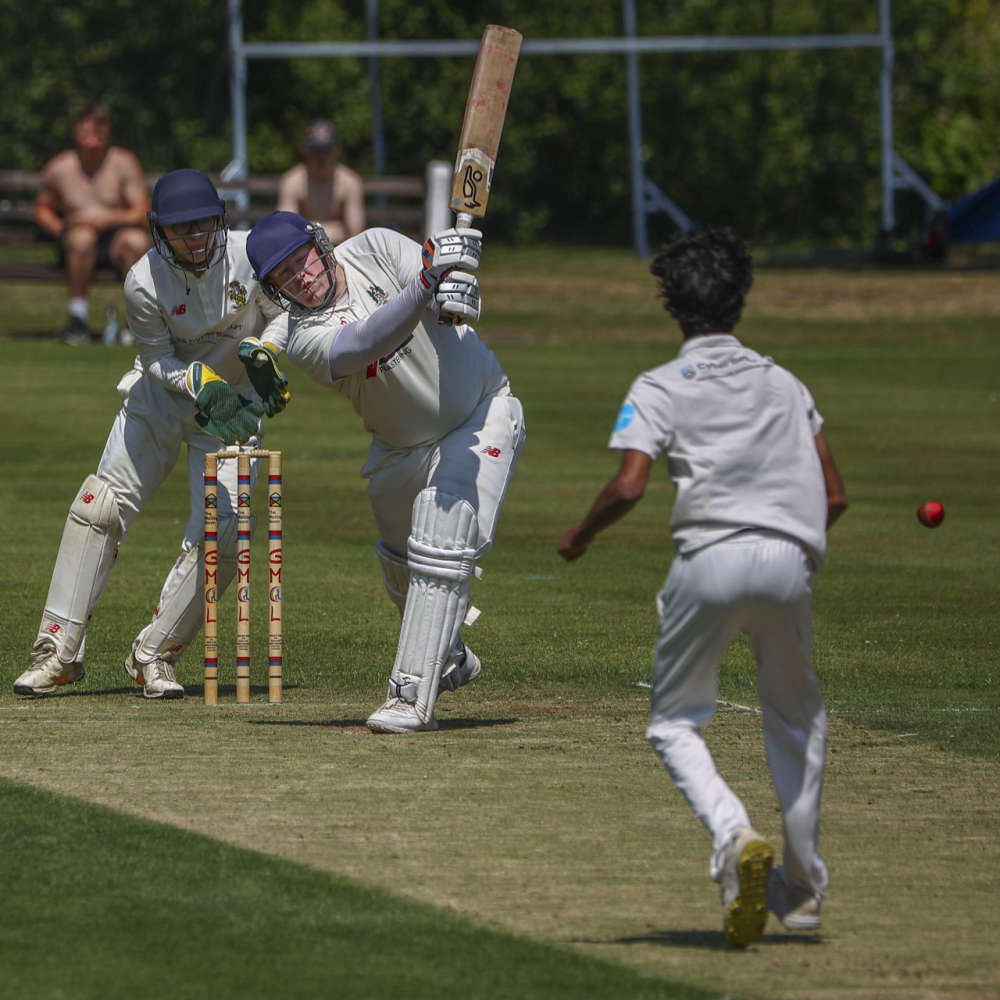 With 13 weeks of the season gone it is almost incredible that only 1 out of over 850 scheduled Saturday league games has fallen victim to the elements, and that number was never going to be increased on a glorious weekend.
The action locally saw Flowery Field and Ashton continue to push for honours although Droylsden, after a fine run went down and lost top spot in Division 1.
Premier
After a really poor run of five defeats Denton West returned to winning ways as they picked up a five-wicket victory at strugglers Walshaw. The home side batted first and reached 187ao. Jordan Williams, (4-45), and Siraj Khan, (5-47), led the West attack and a target of under four runs per over for victory will have given them confidence. After a brisk start Aaqib Uppal came in at 57-2 with 10 overs gone and took them to the win, finishing with 60*, helped by a quickfire 28* from George Hill.
A total of 180ao for Denton SL was not enough to hold off visitors Edgworth. Pro Damitha Silva top scored with 46 but DSL will have been disappointed to leave eight overs unused which proved to be crucial later in the day. The Edgworth reply went at a pace but with wickets falling regularly, (Mark Selby, Silva and Kyle O'Reilly featuring with the ball), it was left to the ninth wicket pair to get them over the line.
The title now appears to be a race between Prestwich and Woodbank with Walshaw and Astley looking prime candidates for the drop.
Astley & Tyldesley 113ao Roe Green 116-4; Walshaw 187ao Denton West 188-5; Clifton 101ao Woodbank 104-3; Denton SL 180ao Edgworth 181-8; Moorside 247-7 Heyside 210ao; Prestwich 213-6 Egerton 209ao
Premier 2
The race for the title continues as both Heaton and Flowery Field won for the 11th time.
Heaton visited Glossop and dismissed the hosts for 149ao. After reaching 81-2 Glossop will have been disappointed with the final total which was no problem for Heaton. They lost only three wickets, and in the process got a bonus point which may prove very valuable in the final reckoning.
Flowery were at home to Stand and this game went with the form book. Stand have struggled for runs recently, being dismissed for 59 and 69 in their last two games, and a perhaps below par Flowery total of 162ao was way beyond them. Flowery pro Shreevats Goswami, (100),dominated their innings, getting a second century of the season and assisted by Keegan Taylor, (43) provided almost the entire substance of the innings. The Stand line-up had no answer to Mike Finan. Fresh from a great performance for Yorkshire 2nd XI in the week he took 5-44 as Stand folded for 83ao.
The two clubs are now separated by three points and are looking firm favourites for two of the three promotion places.
Glossop competed in the T20 Finals day on Sunday but went out at the semi-final stage failing to challenge a target of 124 set by Prestwich, who then lost to Clifton in the final.
Shaw 261ao Heywood 191ao; Flowery Field 162ao Stand 83ao; Glodwick 151ao Greenfield 134ao; Bradshaw 187-6 Bury 185ao; Glossop 149ao Heaton 150-3; Brooksbottom 208ao Flixton 209-6
Championship
Dukinfield have picked up recently and made it four wins in a row as they inched home against Woodhouses. Jake Fenton put in a fine spell with the ball, taking 5-37, as Dukinfield contained the visitors to 160-9. At 71-4 in reply, with pro Denuwan Rajakaruna gone, the game was in the balance but Syd de Silva, (41), supported by Ben Pugh took them within sight of the winning target which was passed with two wickets to spare.
Mottram have found things difficult at the higher level after promotion last year, and struggled with the bat when they travelled to Winton. Only Oliver Andrew, (48*), made any meaningful impact as Mottram limped to 120ao, taking over 46 overs. The target was no problem for Winton who raced home by nine wickets taking only half the available overs. Mottram now lie just outside the relegation zone and need to put some wins together. There is an ideal opportunity this weekend when they host Westleigh who stand next to bottom.
Stretford 161ao Royton 162-8; Friarmere 163-8 Whalley Range 160-9; Swinton Moorside 103ao Elton 105-3; Winton 121-1 Mottram 120ao; Dukinfield 161-8 Woodhouses 160-9; Westleigh 136-8 Monton 135ao
Division 1
All three local sides were on the wrong end of the results. Droylsden went down at SW Manchester and in doing so lost top spot to Saddleworth who beat Austerlands. Droyslden batted first and the innings never really got going as they tolied to reach 125ao in 43 overs. Despite picking up a couple of early wickets in the SWM reply they were unable to capitalise on this and lost by four wickets. Droylsden will now be looking to bounce back this weekend as they face a Thornham side who convincingly overcame Stayley.
Chris Tipper was in great form with the ball for Stayley, taking 7-53, but Thornham managed to reach 216ao. Stayley reached 61-2 in reply, but the fall of top scorer Callum Clayton, (34) was the start of a collapse which saw the remaining wickets fall for the addition of 39, and a resultant 116-run defeat.
Hadfield would have been more than hopeful of winning points after dismissing Edenfield for 135 but they had little answer to the visitors' attack. Only Jonny Tranter managed double figures as Hadfield fell for 86ao. They have a 'double header' this weekend, travelling to Austerlands and then host Oldham and will be looking to return to their early season form.
Oldham 224ao Uppermill 227-8; Hadfield 86ao Edenfield 135ao; Thornham 216ao Stayley 100ao; SW Manchester 129-6 Droylsden 125ao; Roe Green 2nd XI 37ao Golborne 284-9; Saddleworth 186ao Austerlands 123ao
Division 2B
Denton travelled to league leaders Werneth and put up a decent show despite falling to a 32-run defeat. Containing the hosts to 233-8 on the fast scoring Coppice ground they progressed well in their reply to 93 before the fall of the second wicket brought Scott Allen to the crease. In his first appearance of the season he showed his pedigree,and batting through the rest of the innings reached 67. Whilst an encouraging display Denton desperately need to pick up some wins if they are not to drop into the regional divisions next year.
Micklehurst, after reaching the John Barrow Trophy final last weekend, went down at Milnrow, which was their fourth league reverse in a row. They had a disastrous start tumbling to 1-3 inside four overs but recovered through Rizwan Hussain, (74) finally reaching 163ao. The Ladyhouse club have been in fine form this year, and are only a point behind Werneth, but Micklehurst made them fight for the win. Milnrow were reduced to 117-7 as Hussain took 4-38, but the tail end rallied and they lost only one more wicket.
The game at Denton West, where Oldham were the visitors, ended in controversy as it was abandoned after just 13 overs. The GMCL scoring system notes "Umpire received abuse from Oldham players and spectators - decided to abandon Game". No doubt the League will be investigating the circumstances.
Littleborough Lakeside 200ao Denton SL 2nd XI 214ao; Denton West 2nd XI dnb Oldham 2nd XI 68-3 (West won after abandonment of game); Werneth 233-8 Denton 201ao; Greenfield 2nd XI 177ao Glodwick 2nd XI 261-5; Wythenshawe 369-3 Friarmere 2nd XI 219ao; Milnrow 165-8 Micklehurst 163ao
Division 3E
Ashton made it 13 wins in a row as they comprehensively beat a youthful Heywood team. Richard Taylor has been in great form since his return to Rayner Lane and picked up his third ton of the season, finishing on exactly 100. Pro Ruman Ahmed built on this and his 72 helped Ashton to an imposing 319-7. Tom Rayson, (4-15) ran through the Heywood upper order and the job was finished by Om Trivedi, (5-31), who picked up a second consecutive five wicket haul.
Ashton Ladysmith visited Royton and were set 190 for the win. Saeed Nazeer, (4-56), led with the ball for Ladysmith. In the reply they progressed well early on but the loss of four wickets for 17 runs left them on the back foot at 91-5 and despite some late resistance they fell 24 short.
Heyside continue to push Ashton at the top, having won 12 games, and the encounter between the two at Little Hey Street a week on Saturday promises to be a cracker.
Mottram 2nd XI 218-9 Werneth 2nd XI 290-4; Heyside 2nd XI 254-8 Glossop 2nd XI 192ao; Heywood 2nd XI 60ao Ashton 319-7; Woodhouses 2nd XI 125ao Dukinfield 2nd XI 76ao; Royton 2nd XI 189-9 Ashton Ladysmith 165ao; Springhead 192-4 Flowery Field 2nd XI 189-8
Picture: Ashton's Richard Taylor on his way to his third century of the season. By Jez Sayle